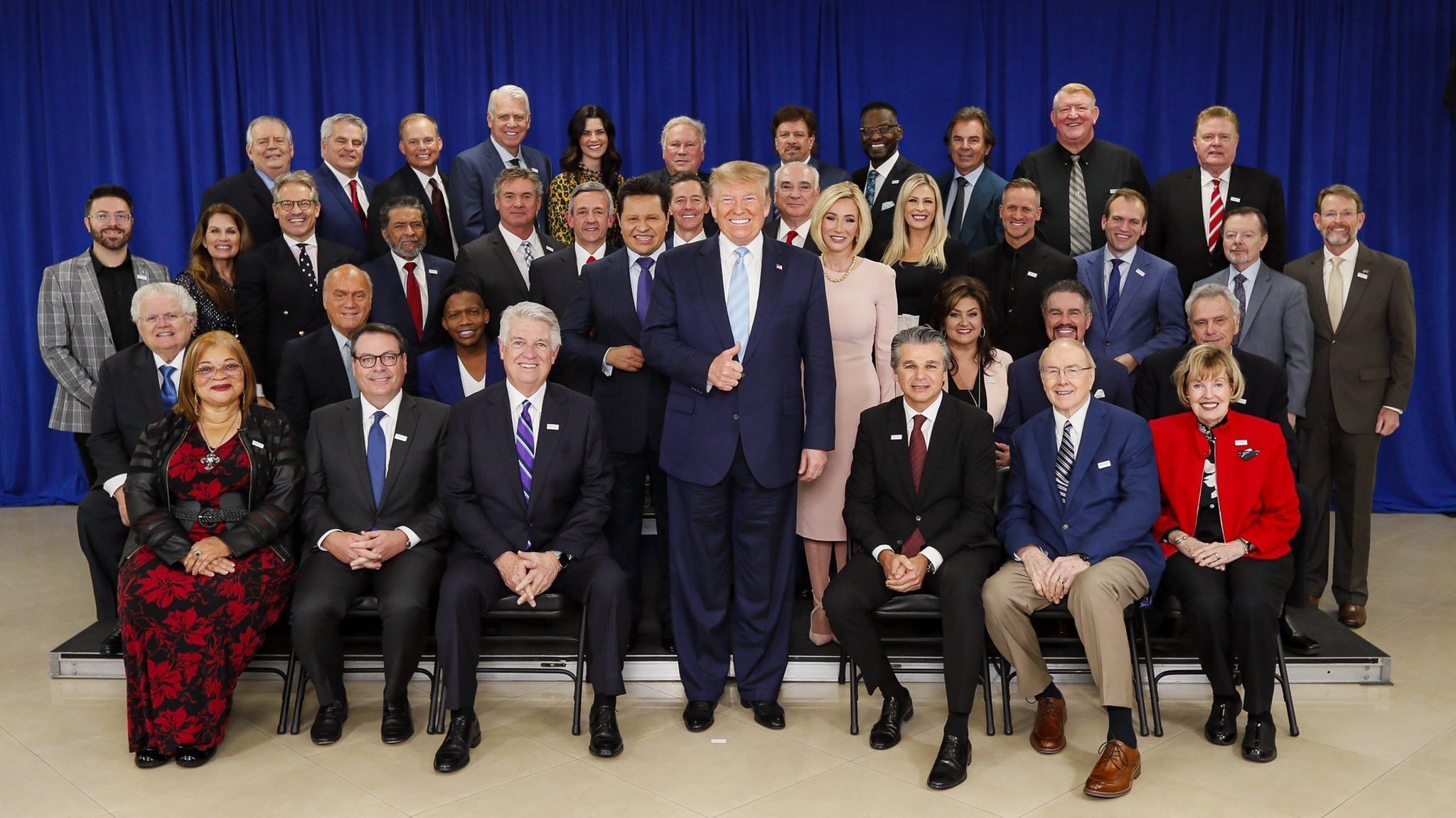 More and more Republicans are implying that it is time to move on from this election and admit defeat. I wish more would step up and proclaim Biden president-elect so that the country can move forward, but most of them seem more concerned about party loyalty than what is good for the nation right now. Many are probably afraid that Trump will somehow exact some kind of revenge if they dare speak out against his claims of widespread voter fraud. Others are worried that if they criticize Trump it will hurt the Republican cause in the two Georgia Senate run-offs on January 5. If Trump voters don't show-up for that run-off election, and the the Democratic candidates (Jon Ossoff and Raphael Warnock) win, the Democrats will gain control of the U.S. Senate.
Let's check-in if anything has changed among the court evangelicals. Remember, I have used this term to describe the pro-Trump evangelical leaders who regularly visit the White House for photo-ops with the president and to supposedly advise him on policy matters. Based on this definition, I am not a Biden court evangelical. I have never been to the White House. Nor do I expect to be part of some kind of Biden faith-advisory council! 🙂 )
The folks at the Falkirk Center at Liberty University is still pushing voting fraud. Today they interviewed Rudy Guiliani:
Today in my Pennsylvania History class we continued our conversation about the Whiskey Rebellion. We talked about how George Washington, Alexander Hamilton, and the Federalists believed that the followers of Jefferson and the members of the Democratic-Republican societies they established in the west were a threat to American ideals. But many of these societies were articulating their grievances against Hamilton's excise tax on whiskey in very American ways. In other words, they were appealing to the principles of the American Revolution, particularly the resistance to the 1765 Stamp Act.
Washington condemned the whiskey rebels and their societies as threats to national unity, but despite all Washington's well-rehearsed concerns about partisanship he was not above the fray. He wanted national unity on his terms. He failed to understand that in the 1790s there were two visions of American identity among the people and these visions were at odds with one other.

I thought of this again as I read a Falkirk Center tweet from Ryan Helfenbein. He wants to "proclaim Christ and defend America." Whose America?
At one point in this video, David Barton, a self-proclaimed historian, suggests that Donald Trump's tweets about election fraud should be taken seriously as a legitimate primary source. One of the first things we teach history students at Messiah University is how to evaluate sources. Barton is treating the Trump claim of election fraud in the same way he treats the American past. He collects stories about supposed fraud, adds them up without any larger context, and claims something happened. When he engages with the past he collects quotes from the founding fathers, adds them up without any larger context, and claims America is a Christian nation.
Eric Metaxas is encouraging people who are "losing hope that Trump can pull this off" to stay the course. He continues to speak with a sense of certainty that Trump will win this election. He also says that "Fox News has gone over to the dark side" and even implies that Fox is now working with George Soros. Then he tells his audience that he, Eric Metaxas, is now one of the only sources of honest news out there right now.

Metaxas says the Democrats are trying to steal the election and "there is nothing more disgusting" than this. Apparently at Metaxas's prayer meeting on voter fraud the other night some guy blew a red, white, and blue shofar.
Robert Jeffress wants to make sure he is not misunderstood. He is still a court evangelical:
Gary Bauer is fighting the good fight as he sees it. He apparently has some disagreements with Twitter about Trump's recent tweet.
Tony Perkins is still sowing seeds of doubt among his followers:
I am not sure Trump is doing much "leading" right now.