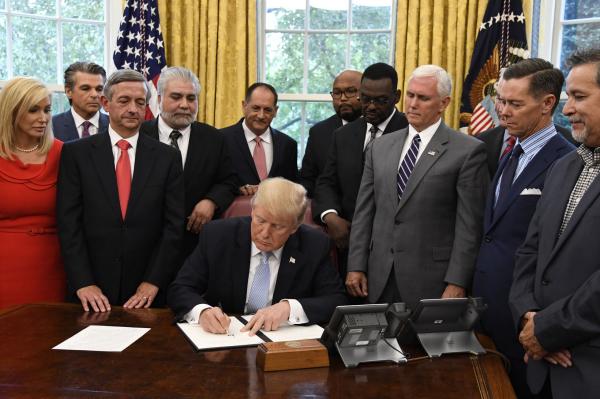 Here are a few bits from yesterday's piece by Elisabeth Dias and Ruth Graham:
After calling the Latino vote "the quintessential swing vote," court evangelical Samuel Rodriguez described Trump's "policies" as "absolutely remarkable."
Albert Mohler of Southern Baptist Theological Seminary said that forty years ago a vote for Trump was unimaginable to evangelicals, but today "they feel the wind facing them…with a clear sense that the culture is becoming reordered in a hostile and increasingly secular manner. Evangelicals are voting with the same values, but with a different set of priorities." I beg to differ. The priorities of white evangelicals on the Christian Right have not changed much in forty years.
Franklin Graham reminded Dias and Graham that the election was not yet "official." He added: "America is in such a moral decline…We are becoming a much more violent country. I am afraid for our country."
Robert Jeffress took out billboards throughout Dallas to advertise his upcoming sermon on Biden. He added: A Joe Biden win cannot erase all the positive accomplishments that can be attributed to President Trump."
Ralph Reed's Faith and Freedom Coalition is now focused on the Georgia Senate run-offs on January 5, 2021.
Read the entire piece here.