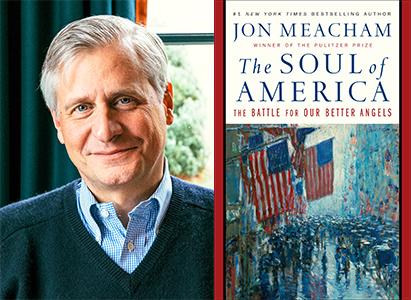 Back in April 2019 I asked, "Is Joe Biden the Jon Meacham candidate?" The Biden campaign's appeal to the "Soul of America" came from Meacham's book The Soul of America: The Battle for Our Better Angels.
Today The New York Times reports that Meacham has been writing speeches for Biden and worked on the victory speech the president-elect delivered on Saturday night in Wilmington.
The piece notes that MSNBC dumped Meacham as a paid contributor after the historian commented on the Biden speech without disclosing his role in its creation.
Here is a taste of Annie Karni and John Koblin's piece:
Mr. Biden's speech-writing process is run by Mike Donilon, the president-elect's longtime adviser. But behind the scenes, Mr. Meacham has been playing a larger role than was previously known, both writing drafts of speeches and offering edits on many of Mr. Biden's big addresses, including one he gave at Gettysburg last month and his acceptance speech at the Democratic National Convention in August.
TJ Ducklo, a spokesman for Mr. Biden, downplayed Mr. Meacham's role. "President-elect Joe Biden wrote the speech he delivered to the American people on Saturday night, which laid out his vision for uniting and healing the nation," Mr. Ducklo said. "Given the significance of the speech, he consulted a number of important, and diverse, voices as part of his writing process, as he often does."
A Biden official added that Mr. Meacham was involved in discussions about the themes in the victory speech.
Mr. Meacham, who has voted for presidents in both parties, played an unusual role during the campaign. He publicly endorsed Mr. Biden in an op-ed and received a prime speaking slot at the D.N.C. this year.
"To record history doesn't mean you are removed from it," Mr. Meacham said over the summer, noting he had been friends with Mr. Biden for a long time.
Mr. Meacham is currently not expected to join the administration. But his role helping to craft Mr. Biden's biggest addresses has shades of the presidential historian Arthur M. Schlesinger Jr.'s relationship with President John F. Kennedy. Mr. Schlesinger worked for Mr. Kennedy's campaign and as a member of his White House staff.
Mr. Meacham declined to comment on his role.
Read the entire piece here.