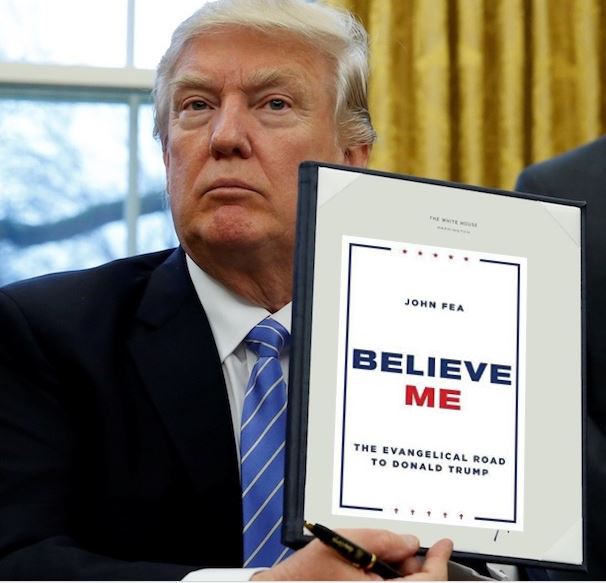 I published Believe Me: The Evangelical Road to Donald Trump in June 2018. I wrote the book in November and December of 2017 and finished it on New Years Day 2018.
Since then, we have learned a lot more about Trump and evangelicalism. Recently, historian Michael Hamilton of The Issachar Fund asked me to pick the best three books on Trump and evangelicalism and write a short piece on how these books have shaped my thinking since Believe Me.
The three books I chose were Kristin Kobes Du Mez's Jesus and John Wayne, Sarah Posner, Unholy, and Gerardo Marti's Blindspot. Here is a taste of my piece at Faith and Leadership, a publication of Duke Divinity School:
Upon learning that an overwhelming number of white evangelical voters — 81% by some estimates — voted for Donald Trump in November 2016, I was shocked, dismayed and angry.
How could my fellow evangelicals support a narcissistic reality television star with a checkered moral past and an adverse relationship with the truth? On the evening of the election, as I watched evangelicals take a victory lap on their social media feeds, I wrote a tweet of my own: "If this is evangelicalism — I am out."
About a month later, in a piece(link is external) for The Atlantic, religion writer Jonathan Merritt quoted my tweet. Within hours, two types of messages started filling my inbox. Evangelical friends wrote to encourage me to stay in the fold. "We need your voice," they told me.
Nonevangelical friends — Christians and non-Christians alike — wrote to praise me for my tweet. Many said that it was "about time" I disavowed a religious movement with a long history of racism, patriarchy and intolerance.
After a few months of soul searching and prayer, I concluded that I was not yet willing to abandon the word "evangelical" to describe my religious identity. For me, an "evangelical" is someone who believes in the gospel, the "good news" that Jesus died and rose again to reconcile broken human beings to God.
I believe that evangelicals, motivated by the demand the "good news" makes on our lives, have done wonderful things in this world. We have a long history of loving our neighbors, serving the poor and oppressed, and working for justice. The gospel transforms sinners into saints and offers hope to the hopeless.
Four years later, I am still an evangelical Christian.
Nevertheless, as an American historian, I also know that evangelicals have participated in some of the nation's darkest moments, and in many cases, have led the way.
Read the rest here.