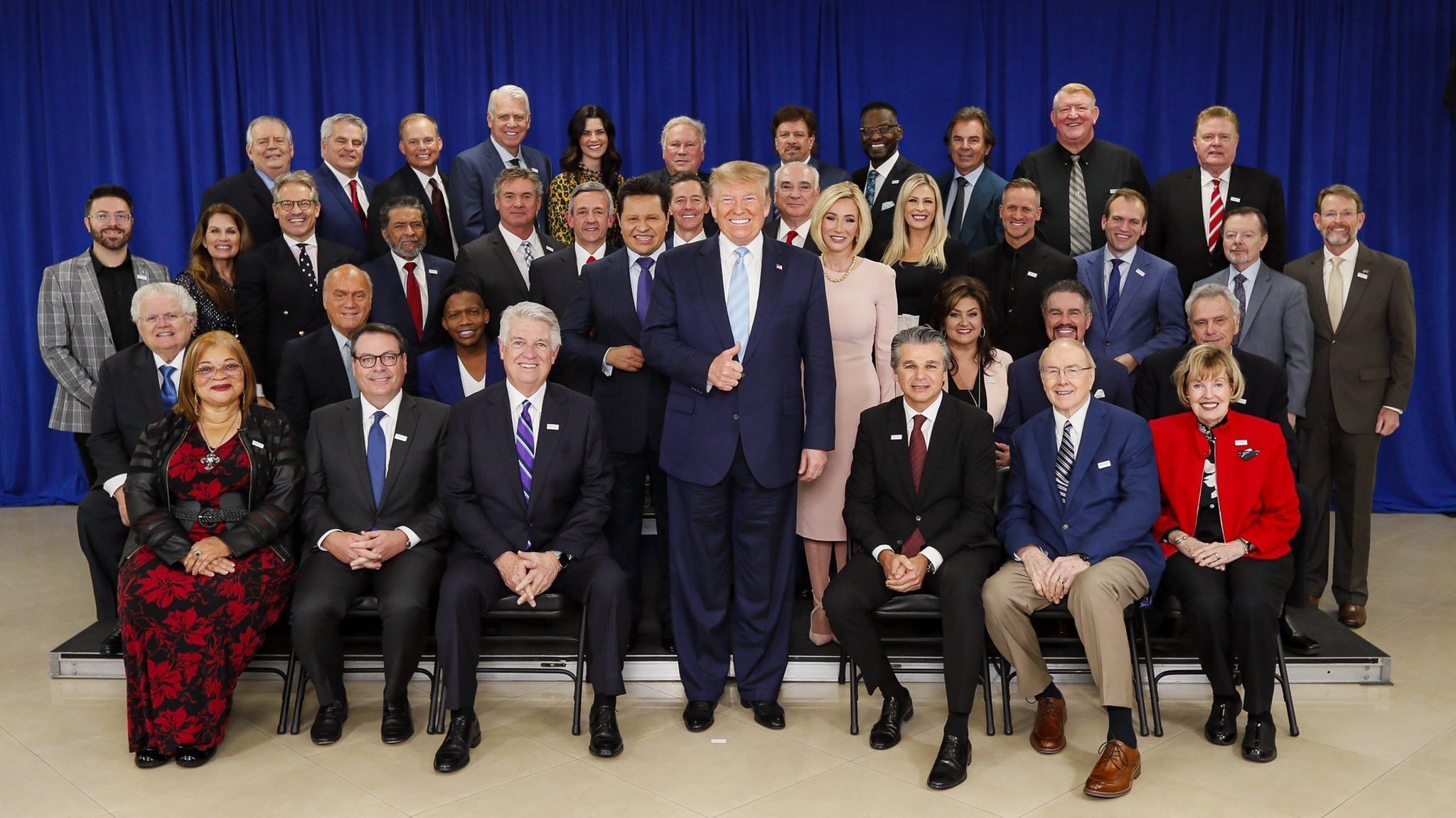 Earlier this month we did a post about Trump allegedly calling evangelical beliefs "bulls–t." Many court evangelicals rejected this story because it came from former Trump fixer Michael Cohen, a convicted criminal.
But now, thanks to the reporting of McKay Coppins at The Atlantic, we know that Cohen is not the only one who claims that Trump mocks evangelicals and their beliefs. Here is a taste of his recent piece:
The conservative Christian elites Trump surrounds himself with have always been more clear-eyed about his lack of religiosity than they've publicly let on. In a September 2016 meeting with about a dozen influential figures on the religious right—including the talk-radio host Eric Metaxas, the Dallas megachurch pastor Robert Jeffress, and the theologian Wayne Grudem—the then-candidate was blunt about his relationship to Christianity. In a recording of the meeting obtained by The Atlantic, the candidate can be heard shrugging off his scriptural ignorance ("I don't know the Bible as well as some of the other people") and joking about his inexperience with prayer ("The first time I met [Mike Pence], he said, 'Will you bow your head and pray?' and I said, 'Excuse me?' I'm not used to it.") At one point in the meeting, Trump interrupted a discussion about religious freedom to complain about Senator Ben Sasse of Nebraska and brag about the taunting nickname he'd devised for him. "I call him Little Ben Sasse," Trump said. "I have to do it, I'm sorry. That's when my religion always deserts me."
And yet, by the end of the meeting—much of which was spent discussing the urgency of preventing trans women from using women's restrooms—the candidate had the group eating out of his hand. "I'm not voting for Trump to be the teacher of my third grader's Sunday-school class. That's not what he's running for," Jeffress said in the meeting, adding, "I believe it is imperative … that we do everything we can to turn people out."
The Faustian nature of the religious right's bargain with Trump has not always been quite so apparent to rank-and-file believers. According to the Pew Research Center, white evangelicals are more than twice as likely as the average American to say that the president is a religious man. Some conservative pastors have described him as a "baby Christian," and insist that he's accepted Jesus Christ as his savior.
To those who have known and worked with Trump closely, the notion that he might have a secret spiritual side is laughable. "I always assumed he was an atheist," Barbara Res, a former executive at the Trump Organization, told me. "He's not a religious guy," A. J. Delgado, who worked on his 2016 campaign, told me. "Whenever I see a picture of him standing in a group of pastors, all of their hands on him, I see a thought bubble [with] the words 'What suckers,'" Mary Trump, the president's niece, told me.
Greg Thornbury, a former president of the evangelical King's College, who was courted by the campaign in 2016, told me that even those who acknowledge Trump's lack of personal piety are convinced that he holds their faith in high esteem. "I don't think for a moment that they would believe he's cynical about them," Thornbury said.
Read the entire piece here.
Evangelicals refuse to learn from history. As I wrote in Believe Me: The Evangelical Road to Donald Trump, this is not the first time evangelicals got played by politicians in this way. Richard Nixon used Billy Graham. Ronald Reagan used Jerry Falwell Sr., Cal Thomas, and Ed Dobson. George W. Bush (or more accurately, Karl Rove) used the late David Kuo.

Today, the court evangelicals are empowering a narcissist, pathological liar, power-hungry wanna-be-tyrant who has probably done more harm to this country than any other American president. Yes, they got their Supreme Court justices and their Jerusalem embassy, but history will hold them accountable for their complicity. By November 3 they may very well be the only ones still clinging to this corrupt leader.