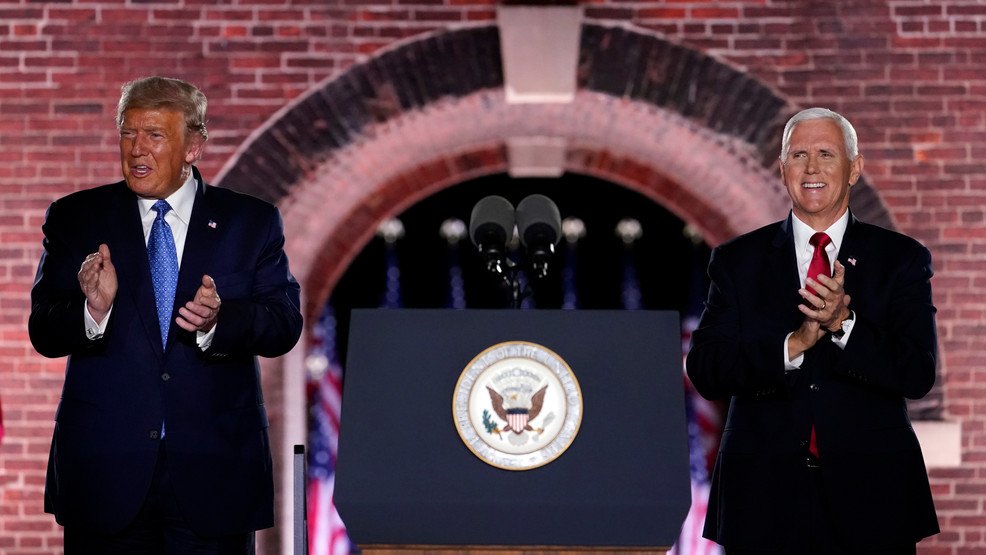 Yesterday was my first day of face-to-face teaching since March. I am not yet in "classroom shape," so I was exhausted by the end of the day. Mentally, I was still reeling from multiple technology failures (mostly due to my ignorance) and the panic (and sweat) that ensues when half of the class is watching you desperately trying to get the other half of the class connected via ZOOM.
This morning my youngest daughter headed-off to Michigan for her sophomore year of college, so we spent most of last night packing the car and spending a few hours together before the empty nest syndrome returns later today.
Needless to say, I did not get much time to watch the third night of the 2020 GOP Convention, but I did manage to see a few speeches and catch-up with the rest via news and videos.
Let's start with American history:
OK, let's move on.
Trump press secretary Kayleigh McEnany repeated the popular mantra about liberals "removing God" from public schools and "erasing God from history." A few quick thoughts on this:
From the perspective of Christian theology, I don't think it is possible to remove God from public schools or anywhere else.
Ironically, McEnany's statement about erasing God comes at a moment when American religious history is one of the hottest fields in the historical profession. We know more about Christianity's role in America's past today than at any other point in the history of the nation.
I want to spend the rest of this post on Mike Pence's speech last night. Watch it:
[youtube https://www.youtube.com/watch?v=RNmJeqEyBzU&w=560&h=315]
I did not recognize much of the America that Pence described in this speech. He began with an attack on Joe Biden: "Democrats spent four days attacking America. Joe Biden said we were living through a 'season of darkness.'"
In January 2017, Donald Trump used the word "carnage" to describe the United States. Is America any better four years later? 180, 000 are dead from COVID-19. Colleges and schools are closed. There is racial unrest in the streets. We are a laughing stock in the global community. Millions are out work. Less than half of Americans have any confidence in the president. And Pence has the audacity to say "we made America great again."
Pence continues to peddle the narrative that the coronavirus derailed the accomplishments of Trump's first term. This is partly true. But when historians write about this presidency, the administration's handling of COVID-19 will be at the center of the story.  COVID-19 is not just an unfortunate parenthesis in an otherwise successful presidency. COVID-19, and Trump's failure to act swiftly, will be this president's defining legacy.
Like Kayleigh McEnany earlier in the night, Pence also made reference to the current conversation about monuments and their relationship to our understanding of the American past. "If you want a president who falls silent when our heritage is demeaned or insulted," Pence said, "then he's [Trump's] not your man."
It is important to remember that "heritage" is not history. Those who sing the praises of "heritage" today are really talking more about the present the past. The purpose of heritage, writes the late historian David Lowenthal, is to "domesticate the past" so that it can be enlisted "for present causes." History explores and explains the past in all its fullness, while heritage calls attention to the past to make a political point. Since the purpose of heritage is to cultivate a sense of collective national identity, it is rarely concerned with nuance, paradox, or complexity. As Lowenthal writes, devotion to heritage is a "spiritual calling"–it answers needs for ritual devotion.
When Trump and Pence talk about defending an American "heritage," they are selectively invoking the past to serve their purposes. Such an approach, in this case, ignores the dark moments of our shared American experience. This administration is not interested in history.  They reject theologian Jurgen Moltmann's call to "waken the dead and piece together what has been broken."
Pence's speech was filled with misleading statements, half-truths, and blatant lies. He claimed that Joe Biden wants to defund the police. He said that Biden "opposed the operation" that killed Osama bin Laden." He said that Donald Trump has "achieved energy independence for the United States." He said Joe Biden wants to "end school choice." He said Joe Biden wants to scrap tariffs on Chinese goods. He said that "no one who required a ventilator was ever denied a ventilator in the United States." He said that Trump suspended "all travel from China" before the coronavirus spread. He said that Biden did not condemn the violence in American cities. He said that Biden supports open borders. All of these statements are either false or misleading.
Trump is a liar. So is Pence. But Pence is an evangelical Christian. How can anyone reconcile the peddling of such deception with Christian faith? It doesn't matter if the Bible-believing vice president lies about his political opponent, as long as his lies are effective in scaring Americans to vote for Trump. Pence claimed that "you won't be safe in Joe Biden's America." Of course this kind of fear-mongering has a long history in American politics. But when people claim the mantle of Christian faith and engage in such political rhetoric, we must always call it out.
Finally, Pence has proven to be a master at fusing the Bible with American ideals. Again, this is not new. The patriotic ministers of the American Revolution did this all the time. It was heretical then. It is heretical now. Such a rhetorical strategy manipulates the Bible for political gain.
For example, Pence said, "Where the spirit of the Lord is, there is freedom, and that means freedom always wins." Pence is referencing 2 Corinthians 3:17: "now the Lord is the Spirit, and where the Spirit of the Lord is, there is freedom." This passage has NOTHING to do with the political or "American" freedom Pence was touting in his speech. St. Paul spoke these words to encourage the Corinthian church to live Spirit-filled lives that would free them from the bondage sin, death, and guilt. Pence has taken a deeply spiritual message and bastardized it to serve partisan politics and this corrupt president.
In the same paragraph, Pence says, "So let's run the race marked out for us. Let's fix our eyes on Old Glory and all she represents, fix our eyes on this land of heroes and let their courage inspire. Let's fix our eyes on the author and perfecter of our faith and freedom."
Here Pence is referencing Hebrews 12: 1-2. That passage says: "Therefore, since we are surrounded by such a great cloud of witnesses, let us throw off everything that hinders and the sin that so easily entangles. And let us run with perseverance the race marked out for us, fixing our eyes on Jesus, the pioneer and perfecter of faith."
Again, see what Pence is doing here. Instead of fixing our eyes on Jesus, we should fix our eyes on "Old Glory," a symbol of American nationalism. The "heroes" he speaks of are not the men and women of faith discussed in the previous chapter of Hebrews (Abel, Enoch, Noah, Abraham, Sarah, Issac, Jacob, Joseph, Moses, Rahab, Gideon, Barak, Samson, Jepthah, David, Samuel, and the prophets), they are the "heroes" (as he interprets them) of American history. Jesus is the "author and perfecter" of our faith and [American] freedom."
[youtube https://www.youtube.com/watch?v=E3ikh6k962M&w=560&h=315]
The use of the Bible in this way is a form of idolatry. My friend and history teacher Matt Lakemacher gets it right:
Hebrews 12, which Pence is "quoting" here, says to fix our eyes on Jesus, the author and perfecter of our faith. While Pence gets around to him (although not by name) it only comes after asking us to fix our eyes on "Old Glory" & "this land of heroes". #RNC2020 #courtevangelical pic.twitter.com/RoULj79TGd

— Matt Lakemacher (@matlake27) August 27, 2020
Pence's mixing of Hebrews 12 and American nationalism is idolatry. It is blasphemy. The American flag is not the author and perfecter of our faith. #RNC2020 #CourtEvangelicals #ChristianNationalism

— Matt Lakemacher (@matlake27) August 27, 2020
On to day 4!