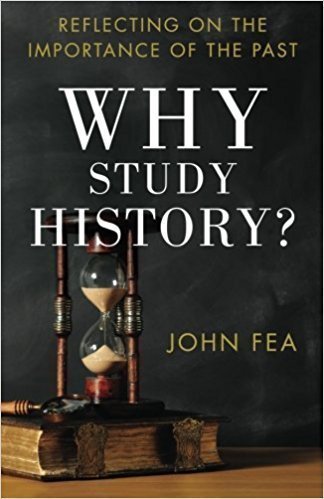 Parts of this post are based on my book Why Study History: Reflecting on the Importance of the Past.
In a recent piece at The Atlantic, Yale historian Joanne Freeman writes about Hamilton: The Musical:
It has also gained new relevance over time, promoting an idea that historians hold near and dear: contingency—the importance of remembering that people in the past were living in their present, unaware of future outcomes. As I've taught time and again in college classrooms, the founding generation didn't know if it would win the Revolution or if the new nation would survive; Hamilton makes this abundantly clear. People were living in the moment, much like us today.
The lesson to be learned from this is vitally important. As much as we might like to, we can't assume that all will be fine in the end. America's long-standing faith in its exceptionalism is blinding people to the fact that our constitutional order is fragile, that democracy requires hard work, and that success isn't a given.
But failure isn't a given either. The future is always in flux. This may well be the most valuable lesson historians can offer in the current crisis: For better or worse, history doesn't stop. And for that very reason, our actions and decisions now—today—matter in ways that we can't begin to fathom. Even passivity, the willingness to let things fall where they may, might have dire implications.
In short, there's no escape from the urgency of now. We owe it to ourselves and to the future to recognize the meaning of this moment, and to choose our actions wisely and well.
As Freeman points out, historians are always concerned with contingency–the free will of humans to shape their own destinies. People's choices matter. It is the historian's task to explain the way people are driven by a personal desire to break free from their circumstances and the social and cultural forces that hold them in place. History is thus told as a narrative of individual choices made by humans through time.
Contingency is thus at odds with other potential ways of explaining human behavior in the past. Fatalism, determinism, and providentialism are philosophical or religious systems that teach that human behavior is controlled by forces–fate, the order of the universe, God–that are outside the control of humans. While few professional historians today would suggest that chance, determinism, or God's providence is a helpful way of interpreting past events, it is undeniable that we are all products of the macrolevel cultural or structural contexts that have shaped the world into which we have been born. Karl Marx suggested that human action is always held in check by "the circumstances directly encountered, given, and transmitted from the past." It is unlikely that any proponent of contingency would deny that human behavior is shaped by larger cultural forces, but in the end historians are in the business of explaining why people–as active human agents–have behaved in the past in the way that they did.
One prominent example of contingency is the way that historians of the American Civil War have interpreted the Battle of Antietam. After suffering several defeats at the hands of the Confederacy, the Army of the Potomac (the main Northern army under the leadership of General George McClellan), desperate for a military victory, was preparing to meet the Army of Northern Virginia (under the command of Robert E. Lee) in a major military campaign, which would eventually take place at Antietam Creek in Maryland.
About one week before the battle, while the Army of the Potomac was passing through Fredericksburg, Maryland, Corporal Barton Mitchell of the 27th Indiana Regiment found a copy of Lee's battle plans. There were seven copies of "Special Orders, No . 191" produced by the Army of Northern Virginia, and one of them was now in enemy hands. Historian James McPherson has suggested that the "odds against the occurrence of such a chain of events must have been a million to one," and "yet they happened."
The Battle of Antietam turned out to be the bloodiest single day in American history. Over 6,300 soldiers were killed or mortally wounded. But the Union victory on September 17, 1862 , prompted President Abraham Lincoln to issue the Emancipation Proclamation, freeing the slaves in the South and setting the war on a course that would eventually result in Northern victory. And it was all because someone stumbled across a piece of paper rolled around three cigars lying in a field.
There are several ways that we can interpret what happened in the week leading up to the Battle of Antietam. Perhaps it was mere chance. The late Wheaton College English professor Roger Lundin was not entirely satisfied with this answer. He prefered to see the theological dimensions of contingency. As a Christian drawing from the ideas of fifth-century theologian Augustine, Lundin questioned whether a coincidence like this is every possible:
The history of a nation and the fate of a race dependent upon a piece of paper wrapped around a few cigars in a field? That sounds as uncannily coincidental and disturbingly unpredictable as the claim that a baby wrapped in swaddling clothes and lying in a manger could be the son of God. It is, apparently, a law of life that so much depends upon contingent events and the free actions of agents, both human and divine.
Lundin wanted to remind us that, for Christians, contingency gets us only so far. Humans have free will, but it is ultimately exercised in the context of a sovereign God who orders the affairs of his creation. In the end, however, God's providence in matters such as the Battle of Antietam is a subject worthy of exploration for Christians, but these kinds of theological matters are not part of the historian's job description. And even for theologians (or Christian English professors), we must always remember that we see through a glass darkly.
Earlier today, Adam Rothman, a history professor at Georgetown University, had a helpful twitter thread on historical contingency:
Historians often invoke contingency to imply that nothing is inevitable. Things could have gone one way or another. The concept goes hand-in-hand with agency, that all things are possible. Except that all things are not possible…

— Adam Rothman (@arothmanhistory) August 18, 2020
As Marx famously wrote in the 18th Brumaire, "Men make their own history, but they do not make it as they please…" The historians' task is to explain why things happened as they did. That isn't our only task, but it is an important one…

— Adam Rothman (@arothmanhistory) August 18, 2020
It's notable, then, that contingency has another, almost opposite meaning. To say that something is contingent is also to say that it depends on something else. For example, one could argue that the success of the American Revolution was contingent on aid from France…

— Adam Rothman (@arothmanhistory) August 18, 2020
I think this latter meaning of contingency – what does the course of history depend on? – is more important for historians than the idea of contingency-as-indeterminacy, and it is where all the juicy arguments about history are to be found. Ok, end of esoteric rant.

— Adam Rothman (@arothmanhistory) August 18, 2020
Not "esoteric" at all professor Rothman! The question of contingency is absolutely essential for teaching the general public how to think historically.