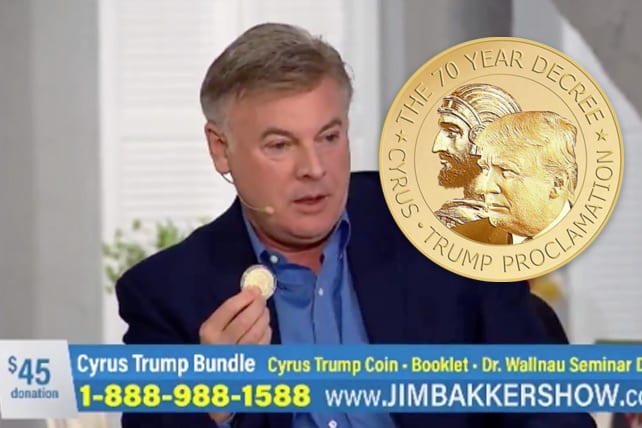 Early in the 2016 presidential campaign, Lance Wallnau, a leading figure in the Independent Network Charismatic (INC) movement, received a word from God: "Donald Trump is a wrecking ball to the spirit of political correctness."
When Wallnau's prophecy caught the attention of Trump's evangelical supporters, he was invited to attend a meeting with the candidate and other evangelical leaders in Trump Tower. As Wallnau listened to Trump talk about his desire to give evangelicals a more prominent voice in government, he sensed that God was giving him an "assignment"–a "calling related to this guy."
One day, while Wallnau was reading his Facebook page, he saw a meme predicting that Trump would be the "45th president of the United States." God told Wallnau to pick up his Bible and turn to Isaiah 45. On reading the passage, Wallnau realized that, not only would Trump be a "wrecking ball" to political correctness, but he would be elected president of the United States in the spirit of the ancient Persian king Cyrus. In the Old Testament, Cyrus was the secular political leader whom God used to send the exiled kingdom of Judah back to the Promised Land so that they could rebuild the city of Jerusalem and its holy Temple. Wallnau was shocked by this discovery. "God was messing with my head," he told Steven Strang, the editor of Charisma, a magazine that covers INC and other Pentecostal and charismatic movement (and claims a circulation of over 275,000).
From this point forward, Wallnau would become an outspoken supporter of Donald Trump.  He has made appearances on Christian Right radio and television programs to tell his story about he prophesied Trump's election. Some of you remember when he  hawked $45.00 King Cyrus prayer coins on the Jim Bakker Show.
Here is he is on the Eric Metaxas Show talking about "a guy from Messiah College."
[youtube https://www.youtube.com/watch?v=ZVL0zD_ls7I&w=560&h=315]
In his most recent Facebook video, Wallnau had some choice things to say about Joe Biden's running mate. Here is Kyle Mantyla at Right Wing Watch:
Wallnau asserted that Harris is "not intelligent" but simply possesses an ability to deceive people, which is why she was chosen to serve as Joe Biden's running mate by the "deep state" and "do what [Barack] Obama wants her to do, which is to undo Trump's legacy." He added that Harris is driven by a "Jezebel spirit," which some evangelicals believe is an evil and cunning demonic female spirit intent on attacking God and those who worship him.

Watch the video:
[youtube https://www.youtube.com/watch?v=gKY1L-d2654&w=560&h=315]
You can watch the entire thing here. If you can't watch it, here is what you missed:
Kamala Harris is a "chameleon."
The "devil" is going to try to use Harris to "take Trump out."
The "Wuhan China" is connected to a vision Wallnau saw of "President Harris."
Satan released the virus to take down Trump.
The spirit of the "false prophet" is working with the media to make Harris look more moderate, but she is really an "Obama's surrogate."
"God never really intended that Donald Trump would not be there for this next term."
Wallnau admits a version of the "fear thesis" when he says the voted "out of anxiety" and elected Trump, but then the church went back to "business as usual" without realizing the "apocalyptic cliff-hanger" it is in.
Evangelical Christian pastors and leaders who say that they will merely hold their noses and vote for Trump in 2020 are weak. They should be openly campaigning for him.
If we pray hard enought, God will intervene on behalf of Trump between now and November.
More than 260,000 people have watched this video. Some have even responded to it with comments like these:
–I just seen you tonight and what a Blessing, telling it like it was and is and is to come! I will be following you cause I like what I'm hearing and your my new brother in the Lord and Family of God! Thanks for sharing.
–Kamala Harris I read about her religious faith it is not Christian it is an ancient Egyptian faith just remember that when the Pharaoh put his dead son on Satan's arm trying to bring him back to life it did not happen God will win the devil will not.
—We must fight with prayer. God have mercy on our land and President Trump. Grant us mercy one more time Lord, heal our land. In Jesus name.
–I think she is a witch
–I can't stand to hear all of this!! We must vote so these things will not happen. The enemy is not on the throne. God still reigns.
–Chameleon Harris….she's slippery, scaly and has horns ? changes colors according to her agenda.
–I have never listened to you before so I find amazing that what you said about Kamala is exactly what I said to my husband last night. Binding together in prayer and praise through Jesus name.
–Thank you. I appreciate your bold truth and not trying to protect a tax exempt status in a time as this.We need voices bold as a lion like you.God bless you in Jesus name.
–"Extraordinary surprises and interventions! Spiritually radioactive Christians around all the people engaged in this political contest!" Show us how to do the work you have called us to do!
–They will want to take your guns
–Mental manipulation to wear mask, take vaccine ….
–Amen!! Pray and vote like Jesus would! Trump 2020
–The dems have stocks in the mask companies. They want there money.
Those ensconced in their cosmopolitan enclaves need to take this stuff seriously. Wallnau and the INC influence, as scholars Brad Christerson and Richard Flory have shown, runs deep in conservative political circles in the United States and around the world.