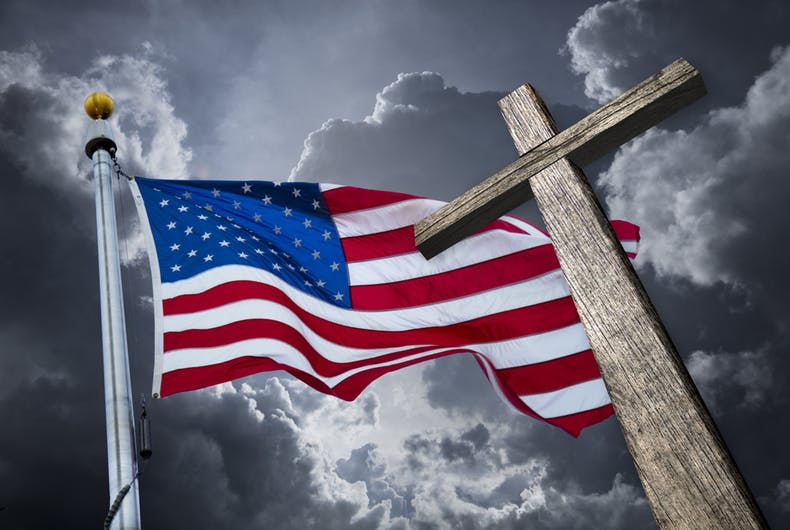 The National Association of Christian Lawmakers looks like another group of Christian Right politicians who want to create laws in the United States based upon a "biblical world view." Here is the mission:
Our nation is on the brink because of leaders who have capitulated on our convictions for far too long.
Meeting regularly to discuss and debate major issues, proposing model statutes, ordinances and resolutions for introduction in jurisdictions to address major policy concerns from a Biblical worldview. NACL offers a unique national forum for local, state and federal elected officials to address the major issues of our day.
America was built on a foundation of faith, and our founding fathers understood our rights are given to us by God, not by government. When faith dies, freedom follows.
I am not opposed to the idea of a "biblical worldview," but when these people use the phrase it essential means the promotion of a narrow Christian Right understanding of the Bible and American history. It has everything to do with
Overturning Roe v. Wade as the primary way of ending abortion in America.
The defense of religious liberty as understood by white evangelicals. We rarely hear these lawmakers articulate how laws based on a "biblical world view" apply to people who do not share their evangelical faith.
Having access to political power.
The passing of laws to prevent gay marriage.
Opposing anyone who says that racism is a structural or institutional problem.
The defense of free-market capitalism.
Building walls to prevent non-white immigrants from entering the country even thought these migrants share their Christian faith.
The belief that the United States was founded as a Christian nation and needs to be restored as such.
This group appears to be holding a face-to-face conference next month in Florida.
[youtube https://www.youtube.com/watch?v=xT9lqJy7AAg&w=560&h=315]
Several members of the Christian Right are part of the Board of Advisers:
Huckabee:
One of the great values of being part of an organization that brings Christian legislators together is the power of the fellowship and relationships formed across the nation to serve not just as an intellectual resource, but a spiritual encouragement in knowing, "YOU ARE NOT ALONE!
Arkansas state senator Jason Rapert:
I know what it is to fight for what is right and I want to ensure that other conservative Christian leaders are properly equipped to withstand the extreme Left's harassment tactics designed to wear Christian leaders down in the public arena. The time is now to take a stand before our Judeo-Christian foundation is forever lost in the nation.
Former Congressman Bob McEwen slips socialism into Exodus 18:21:
Moreover thou shalt provide out of all the people, leaders such as fear God, lovers of truth, hating covetousness (socialism). NACL is a gathering of Exodus 18:21 leaders.
Court evangelical Tony Perkins:
This is an organization whose time has absolutely come. We need an unwavering entity in the political arena where lawmakers encourage one another as they are guided by their biblically centered faith in Jesus Christ. The Bible was key in the successful founding of our Republic, and it remains key to successfully maintaining it today. The National Association of Christian Lawmakers is a tremendous initiative, and as a former elected official, I am honored to be a part of it.
David Barton's son, Tim:
America was built on the foundation of Biblical principles. Throughout our rich history we have wavered and missed the mark on many occasions but, by God's grace, there were always principled leaders who fought to correct the mistakes and promote Godliness. Our nation needs, now more than ever, people of principle who will stand up for Biblical truth and righteousness.