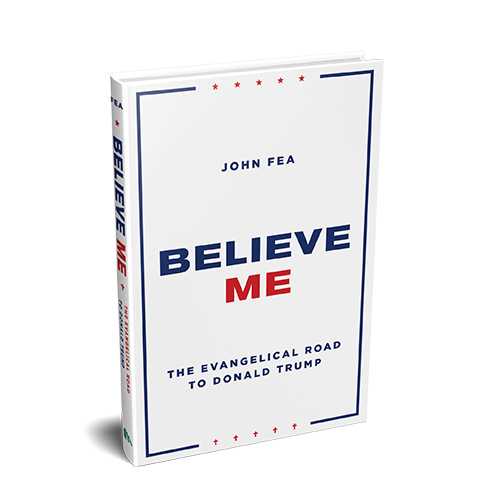 In Believe Me: The Evangelical Road to Donald Trump I wrote:
It is easy for white evangelicals to look back fondly on American history. There is, of course, a lot to celebrate. We are a nation founded on the belief that human beings are "endowed by Creator with certain inalienable rights, namely, life, liberty, and the pursuit of happiness." We have established some of the greatest colleges and universities in the world. Our standard of living exceeds those in other countries. When we have failed to live up to our idea we have made efforts to correct our moral indiscretions. Those who fought tirelessly to end slavery, curb the negative effects of alcohol, defend human life, and deliver rights to women and the less fortunate come to mind. Americans have proven that they can act with a sense of common purpose and unity. We have seen the American character on display, for example, during two World Wars and in the wake of the September 11, 2001 terrorist attacks. And the United States has always been a place where immigrants can come and start new lives.
At the same time, America is a nation that has been steeped in racism, xenophobia, imperialism, violence, materialism, and a host of other practices that do not conform very well to the ethical demands that Christianity places upon our lives. Christians should be very careful when they long for the days when America was apparently "great." Too many conservative evangelicals view the past through the lens of nostalgia. Scholar Svetlana Boym describes nostalgia as a "sentiment of loss and displacement" that "inevitably reappears as a defense mechanism in a time of accelerated rhythms of life and historical upheavals." In this sense, nostalgia is closely related to fear. In times of great social and cultural change, the nostalgic person will turn to a real or an imagined past as an island of safety amid the raging storms of progress. In other words, to quote Boym again, "progress didn't cure nostalgia but exacerbated it." Sometimes evangelicals will seek refuge from change in a Christian past that never existed in the first place. At other times they will try to travel back to a Christian past that did exist–but, like the present, was compromised by sin.
Is it possible to long for a past that never existed? According to Felipe De Brigard, a Duke University scholar who works at the intersection of philosophy, psychology, and neuroscience, it is indeed possible. Here is a taste of his piece at Aeon titled, "Nostalgia reimagined":
I will conclude with a brief speculation on a topic of contemporary importance. In the past few years, we've seen a resurgence of nationalistic political movements that have gained traction by way of promoting a return to the 'good old days': 'Make America Great Again' in the US, or 'We Want Our Country Back' in the UK. These politics of nostalgia promote the implementation of policies that, supposedly, would return nations to times in which people were better off. Unsurprisingly, such politics are usually heralded by conservative groups who, in the past, tended to be better off than they currently are – independently of the particular politics of the time. In a 2016 study conducted by the Polish social psychologists Monika Prusik and Maria Lewicka, a large sample of Poles were asked nostalgia-related questions about how things were prior to the fall of communism 25 years earlier. The results revealed that people felt much more nostalgic and had more positive feelings about the communist government if they were better off then than now, if they were older, and if they were currently unhappy. Doubtlessly, older and conservative-leaning folk who perceive their past – whether accurately or not – as better than their present account for a significant portion of the electorate supporting nationalistic movements. But we'd be misled to think of them as the primary engine, let alone the majority. For the Polish results show something very different: a large number of younger individuals avidly supporting nostalgic policies that would return their nations to a past they never experienced.
The psychological underpinnings of this phenomenon would be hard to explain under the traditional view of nostalgia. If people have not experienced a past, how can they feel nostalgic about it? However, under the view proposed here, an explanation is readily available. For the politics of nostalgia doesn't capitalise on people's memories of particular past events they might have experienced. Instead, it makes use of propaganda about the way things were, in order to provide people with the right episodic materials to conjure up imaginations of possible scenarios that most likely never happened. These very same propagandistic strategies help to convince people that their current situation is worse than it actually is, so that when the simulated content – which, when attended, brings about positive emotions – is juxtaposed to negatively valenced thoughts about their present status, a motivation to eliminate this emotional mismatch ensues, and with it an inclination to political action. The politics of nostalgia has less to do with memories about a rosy past, and more with propaganda and misinformation. This suggests, paradoxically, that the best way to counteract it might be to improve our knowledge of the past. Nostalgia can be a powerful political motivator, for better or for worse. Improving the accuracy of our memory for the past could indeed be the best strategy to curb the uncharitable deceptions of the politics of nostalgia.
Read the entire piece here.