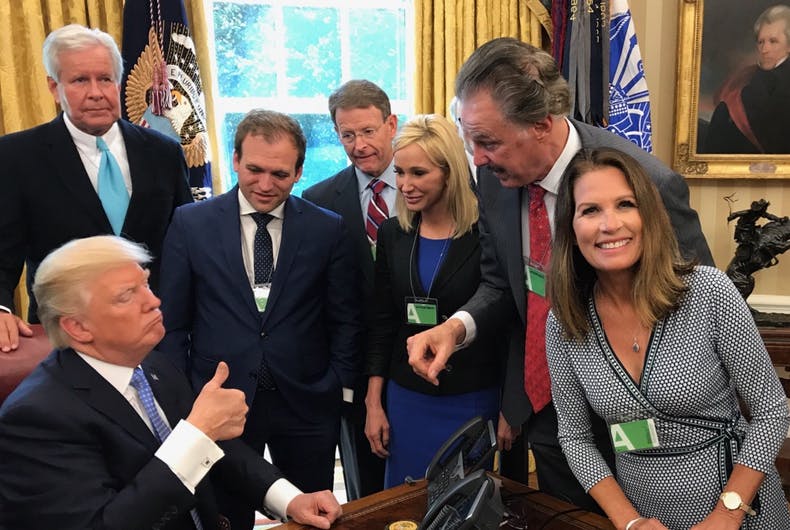 What have Trump's evangelicals been saying since our last update?
Jack Hibbs of Calvary Chapel-Chino Hills doesn't like masks:
THEY DONT WORK.
Anyone who's been tested knows about how insane it is that they have to stick the Covid-19 Wuhan Chinese swab so far back in your nasal cavity that it's terrible. If C-19 is spread so easily then why couldn't we've just coughed on a napkin and not probed. pic.twitter.com/ORGWmOzYH5

— Jack Hibbs (@RealJackHibbs) July 10, 2020
On his FB page, Jim Garlow is pushing Hydroxychloroquine and his love for Brazilian president Boldonaro:
Brazilian President Bolsonaro is healing from Covid-19 with Hydroxychloroquine. We spent time with him in Brazil in Dec 2018. He is an exceptional leader. (IMPORTANT: Dr. Vladimir Zelenko has treated 2,400 Covid-positive patients in New York City, and has only lost one – with a protocol of Hydroxychloroquine with over-the-counter Zinc, and Azithromycin if…if…if begun in the first five days. After that, it does not help.)
At least Tony Perkins admits it is an "angry fringe." From FB:
If we want our leaders to stop giving in to the angry fringe that wants to erase our history and destroy our freedom, we need to stop being complacent. The church has to pray, as the disciples did, for the courage and boldness to face the cancel culture of our day and proclaim the gospel truth. The future of our country depends on it.
Robert Jeffress is still mad at CNN's Don Lemon. (I wrote about this yesterday). The court evangelicals are getting a lot of mileage out of this one:
[youtube https://www.youtube.com/watch?v=gs4Fm9gf5gQ&w=560&h=315]
Richard Land, the leader of an evangelical theological seminary, tweets about "civil religion" as if it is a good thing for the church:
1/6 Whether President Trump is your "flavor of the month" or not, President Trump's speech at Mount Rushmore on the Friday of July 4th weekend itself was a powerful narrative both of America's uniqueness and its ongoing promise. As Rich Lowry of National Review Online

— Richard Land (@rdland) July 10, 2020
2/6 described the president's speech, "It would be difficult to get a more textbook expression of the American civic religion than the speech at Rushmore . . . or a more affirming account of the greatness of America and its meaning to the world." The President's speech at

— Richard Land (@rdland) July 10, 2020
Jerry Falwell Jr. supports an effort to rename the town of Lynchburg, Virginia. No word yet whether or not he wants to rename it "Liberty." 🙂
He claims that the reason his father changed the name of "Lynchburg Baptist College" to "Liberty Baptist College" in 1976 was because the name of the town was an "embarrassment" because the word "lynch" was in the name.
This all sounds like Falwell Jr.'s effort to do damage control after Black faculty and student athletes left Liberty University after his blackface tweet.
By the way, according to Jerry Falwell Jr.'s mother Macel Falwell in her book Jerry Falwell: His Life and Legacy, the name was changed because Jerry Falwell was concerned that a large monetary gift for his college was inadvertently sent to Lynchburg College, the liberal arts college down the road. Althought I am also pretty sure the Bicentennial (1976) had something to do with the name change. When the name was changed before the 1975-76 school year, Liberty changed its school colors from green and gold to red, white and blue.
Until next time.