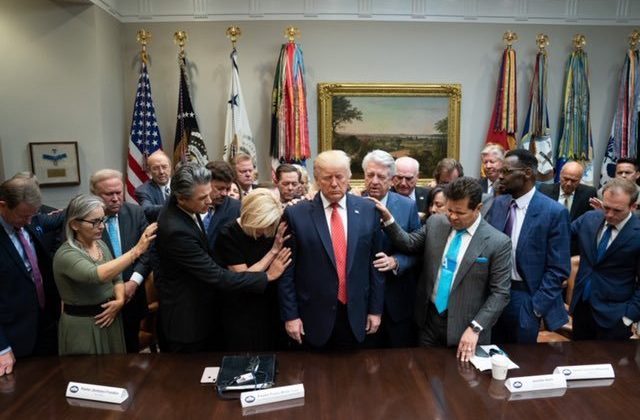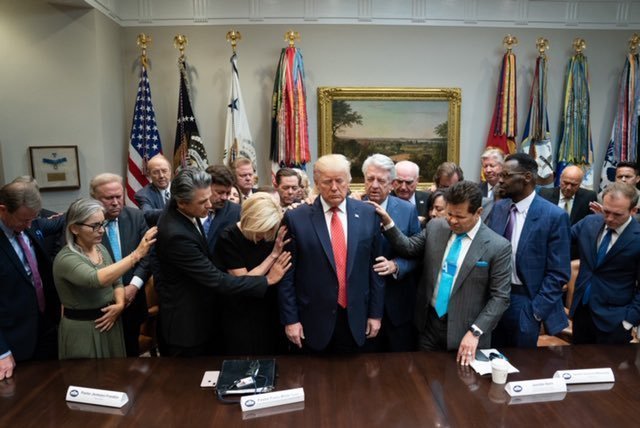 What have Trump's evangelicals been saying since our last update?
John Hagee invited Fox News commentator, conspiracy theorist, disgraced Christian college president, and convicted felon Dinesh D'Souza to speak at the Sunday evening service at his Cornerstone Church in San Antonio. Watch:
[youtube https://www.youtube.com/watch?v=BXnd5fMkIaA&w=560&h=315]
D'Souza tells the audience that American exceptionalism is ordained by God and it is under attack. He then moves into his usual critique of socialism. This then devolves into a rejection of systemic racism. If the camera shots of the audience members nodding their heads and cheering is any indication, D'Souza seems to be getting through to them. This is what pro-Trump megachurches have become. It's pure fearmongering.
The Supreme Court made an important religious liberty decision today, but some court evangelicals and other Trump evangelicals are still fighting. They continue to stoke fear about threats to religious liberty.
Why it's paramount to never allow a Democrat activist in the White House. American liberty and our rights depend on it. Elections have consequences. https://t.co/Opm7oqWnYA

— Jenna Ellis (@JennaEllisEsq) July 8, 2020
"Christian" politico Ralph Reed turns a SCOTUS victory into a chance to get revenge against his enemy.
Tremendous victory for religious freedom in #SCOTUS decision in favor of Little Sisters of the Poor. It was Joe Biden & Obama who persecuted these nuns and threatened to fine them millions. Trump stood with them.

— Ralph Reed (@ralphreed) July 8, 2020
Johnnie Moore, the self-professed "modern day Dietrich Bonhoeffer," responds to the SCOTUS decision in a way Bonhoeffer would not have recognized as Christian. Perhaps Johnnie needs to read The Cost of Discipleship.
The lines are so clear…@JoeBiden supported the government REQUIRING NUNS! to provide contraception against their conscience.@realDonaldTrump's @WhiteHouse refused to enforce it, & sued to protect #ReligiousFreedom.

Today, the admin & the Nuns, won.https://t.co/LKm8oq5LrT

— Rev. Johnnie Moore ن (@JohnnieM) July 8, 2020
This is what blind court evangelicalism looks like:
President Trump: Always knows more about every issue than anyone else in the room.

Joe Biden: Doesn't even know he's in a room.

— Jenna Ellis (@JennaEllisEsq) July 8, 2020
And this (notice "ALL" in all caps):
President @realDonaldTrump is the bold leader for FREEDOM and JUSTICE for ALL that AMERICA needs. ??????

— Jenna Ellis (@JennaEllisEsq) July 8, 2020
When you think David French is an "irrational woke liberal" and mock someone's military service it speaks volumes about you and the institution you work for. In Jenna Ellis's case it is Liberty University. Remember, not all Christian colleges are the same.
David French's transformation into an irrational woke liberal is complete.

Military service doesn't mean that every idea one offers is inherently correct simply because of their service. Duckworth's facts are wrong and political ideas anti-American. https://t.co/Uej2mSAQLZ

— Jenna Ellis (@JennaEllisEsq) July 7, 2020
Jenna Ellis was on the Eric Metaxas Show today talking about Trump's Mount Rushmore speech. Metaxas, who is also a spokesperson at the Falkirk Center, says anyone who criticized the speech is "loony." He mocks the Sioux leaders who pointed out that Mount Rushmore was on Lakota land: "They have benefited from this country." Ellis thinks that Trump gave the nation an "honest history lesson" during the speech. Again, this should be offensive to any serious classroom teacher who is working to give American young people honest history lessons. In one of the more comical moments of the interview, Ellis praises Trump for his love of the nuclear family and commitment to the institution of marriage.
Wait a minute, I thought Biden was working with Black Lives Matter to undermine America?:
Young Black voters say they're not excited about Joe Biden https://t.co/kfqTNV2Hzu

— David Brody (@DavidBrodyCBN) July 8, 2020
Richard Land is spewing Christian nationalism:
1/4 At Mount Rushmore, President Trump eloquently articulated American exceptionalism, noting that "our Founders" launched not only "a revolution in government, but a revolution in the pursuit of justice, equality, liberty, and prosperity… It was all made possible by… the

— Richard Land (@rdland) July 8, 2020
2/4 Declaration of Independence," which "enshrined a divine truth… 'all men are created equal'." As President Trump observed, these "immortal words set in motion the unstoppable march of freedom." President Trump also noted that our rights were given to us "by our Creator in

— Richard Land (@rdland) July 8, 2020
3/4 heaven." This is the fundamental difference between the enduring success of the American Revolution as opposed to the collapse and savage bloodshed of the French Revolution, which came along only thirteen years later. The French Revolution asserted "liberty, equality, & fra-

— Richard Land (@rdland) July 8, 2020
4/4 -ternity" based on the mere human assertion of these rights, which proved to be a woefully inadequate foundation, compared to their being divinely conferred. When our forefathers declared their independence from Great Britain they did not declare their independence from God. pic.twitter.com/iGSmbgimyN

— Richard Land (@rdland) July 8, 2020
There is a lot that is wrong with this thread. I don't have time to respond directly right now, but if you want to dig deeper:
Read this blog. It has subject tags, category tags, and a search engine. I've been addressing this stuff for years.
Read my post on Os Guinness's similar claims about the American and the French Revolution.
Read two books on American exceptionalism: John Wilsey's American Exceptionalism and Civil Religion: Reassessing the History of an Idea and Abram Van Engen's City on a Hill: A History of American Exceptionalism.
Jack Graham issues a warning:
Make no mistake about it, the same anarchism that wants to erase American history and heritage will be coming after Biblical history next. Next up after the founding fathers will be Jesus and the apostles.

— Jack Graham (@jackngraham) July 8, 2020
Graham's words remind me what I wrote in Believe Me: The Evangelical Road to Donald Trump about the Election of 1800 and the evangelical response to the threat of the Deep State Illuminati in the early republic.
Until next time.