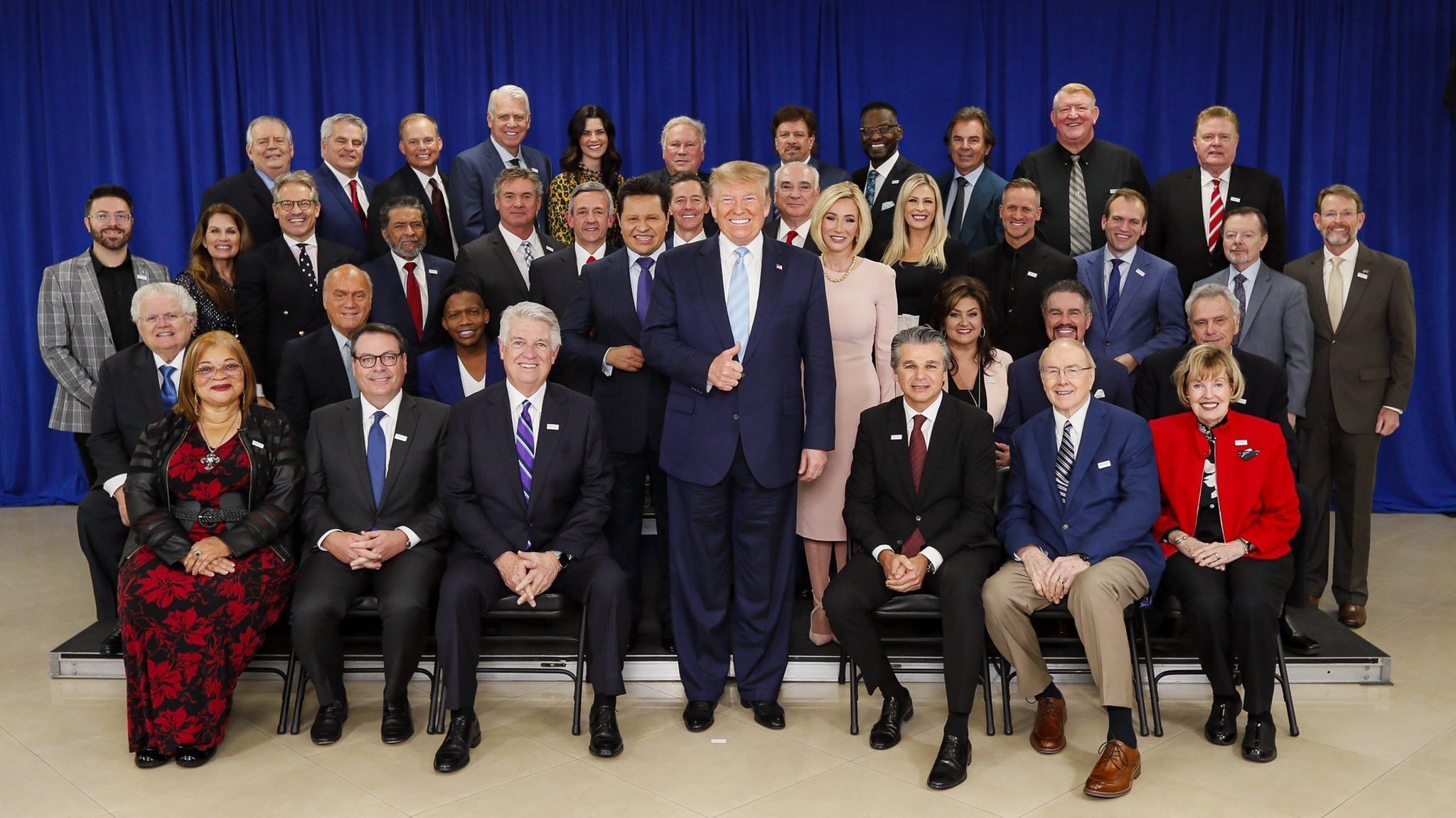 What have Trump's evangelicals been saying since our last update?
Court evangelicals are getting massive checks from the federal government. The money comes from the Payback Protection Program, a program to help small business during the pandemic.  Peter Montgomery reports. Elana Schor is also on the case.
Robert Jeffress is on the Jim Bakker Show today. He is talking about how God "orchestrated every detail" related to the pandemic and the country's racial unrest so that his book on prayer could come out precisely at this moment.
Each chapter of Jeffress's book offers an "inspiring story demonstrating the power of faith in the life of our nation, a prayer, and a relevant passage of Scripture to inspire and encourage" people to pray for the United States. This all sounds well and good until Jeffress starts his "America is a Christian nation" rant. In other words, this book is just an extended version of his "America Was Founded as a Christian Nation" sermon–a devotion in Christian nationalism. The interview with Bakker's wife includes some of Jeffress's greatest hits, including the one about George Washington kneeling in the snow for a photo-op.
Johnnie Moore, who describes himself as a "modern-day Dietrich Bonhoeffer," wants to stand for truth.
Doing what's right isn't always popular. Do it anyhow.

Standing for what's true isn't always popular. Stand anyhow.

— Rev. Johnnie Moore ن (@JohnnieM) July 7, 2020
I am still waiting for Moore to explain how he supports this.
Franklin Graham is retweeting the recently-deceased country singer Charlie Daniels:
Lord, the devil is hard at work sowing seeds of dissension & deception. Help us remember that he is a defeated foe & cannot stand against the name of Jesus Christ. Every knee shall bow & every tongue confess that Jesus Christ is Lord to the glory of God.-Charlie Daniels pic.twitter.com/SStEj5PDgf

— Charlie Daniels (@CharlieDaniels) June 28, 2020
Eric Metaxas is still hawking his book If You Can Keep It. He writes on Facebook: "It's my mission to get this book and its message to every American. I felt that way when I wrote it and I feel that way much more urgently right now. Losing the republic cannot be an option. It is too precious. Future generations depend on what we do…" Before you buy a copy of this book, I encourage you to read some reviews. It is a deeply flawed book. Start here.
If you want to know how I differ with Metaxas on a lot of things related to Christianity, history, and American culture, check-out Emily McFarland Miller's piece about our visits to Chicago in September 2018.
And now for some Liberty University Falkirk Center news:
Morality is not subjective. It has been determined from the foundations of the Earth by God- the moral law giver. This was widely evidenced in the 20th century's horrific experiment with communism. When we reduce morality to subjectivity, we reduce human worth to pure material. pic.twitter.com/ari1aChtmJ

— Falkirk Center (@falkirk_center) July 7, 2020
In other words, slavery is wrong and it was always wrong regardless of whether people who indulged in it were just products of their age.
And here is Trump wonder-boy Charlie Kirk:
I won't buy into Nike's virtue signaling campaign to change the Redskins name until they stop operating in slave labor camps in China.

— Charlie Kirk (@charliekirk11) July 7, 2020
So if Nike is operating in slave labor camps in China, and they stopped, would you, Charlie Kirk, then support their efforts to change the name of Washington's NFL team? Just checking.
Until next time.