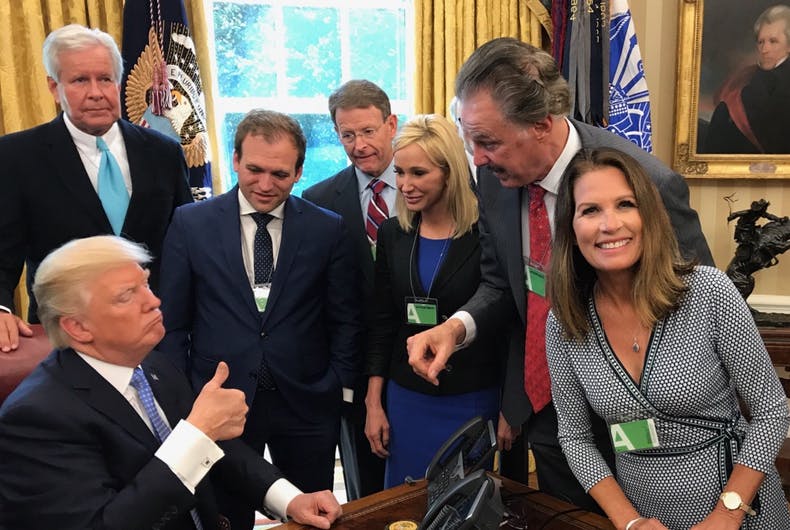 What have Trump's evangelicals been saying since our last update?
Mike Pence's nephew hosted a court evangelical conversation with Paula White, Johnnie Moore and Samuel Rodriguez. This is an event sponsored by the Trump campaign. Watch:
[youtube https://www.youtube.com/watch?v=znrLg80dxjQ&w=560&h=315]
At the 5:30 mark, Moore starts out with a lie. Joe Biden does not want to prosecute people for going to church. Moore is outraged that St. John's Church in Washington D.C. was burned during the protests earlier this month. Please spare us the sermon, Johnnie. If this was any other moment, Moore, who likes to fashion himself a "modern day Dietrich Bonhoeffer," would be attacking the rector of the church and its congregation for its liberal Protestant theology and commitment to social justice. (By the way, Bonhoeffer adhered to both liberal Protestantism and social justice. Moore's Bonhoeffer comes directly out of the pages of Eric Metaxas's popular, but debunked biography).
If you watch this video, you will see nothing but fear-mongering.
At one point in the conversation, Paula White says that Trump is fighting for the First Amendment and the Second Amendment. Since when was the right to bear arms a Christian concern? White claims that the Democratic Party platform says that it is a "party of the Godless." Just to be clear, there is no such language in the platform. She also goes into what I call the "they are coming for our Bibles" mode. Here's White: "We can basically kiss our churches goodbye, our houses of worship…we very well could be home churches at that." As I wrote in Believe Me, this kind of fear-mongering reminds me of the Federalists during the election season of 1800 who thought Thomas Jefferson, if elected, would send his henchman into New York and New England to close churches and confiscate Bibles. (It didn't happen. In fact, Jefferson was a champion of religious liberty). White believes that we are in a spiritual war for the soul of America. She mentions a conversation with Ben Carson in which the HUD Secretary told her that the forces of Satan are working to undermine Trump.
Moore defends Trump's record on global religious freedom. Indeed, Trump seems to have made religious persecution abroad a priority. Only time will tell how successful this campaign has been or will be. But notice that Moore says nothing about the president's approval of Muslim concentration camps in China. Why? Because Moore is not here to tell the whole truth about Trump as it relates to religious freedom. He is here to help Trump get re-elected. Or maybe talking about the religious persecution of Muslims in China won't help Trump with white evangelical voters, many of whom still believe Obama was a Muslim. Most of Trump's evangelical followers only talk about religious liberty when it relates to their own causes. Moore knows this.
Moore then attacks Democratic governors for trying to close churches during COVID-19. He has a lot of nerve. It was Democratic governors like Andrew Cuomo (and GOP Ohio governor Mike DeWine, among others) who showed leadership during the coronavirus while Trump was tweeting "liberate Michigan."
Samuel Rodriguez basically says that if you vote for Trump, you are voting against the legacy of Martin Luther King Jr.
OK, that was hard to stomach. Let's move on.
Moore is also tweeting. He is upset about today's Supreme Court decision on abortion, especially Chief Justice John Roberts's decision to join the liberal justices in blocking a Louisiana abortion law restricting abortion rights:
This pro-choice SCOTUS decision (where Chief Justice Roberts sided w/the liberal judges) is the "Scalia-moment" of the 2020 election

Conservatives know they are on the one-yard-line

Enthusiasm is already unprecedented, evangelical turnout will be too. #EvangelicalsForTrump

— Rev. Johnnie Moore ن (@JohnnieM) June 29, 2020
What does Moore mean when he says that this is the "Scalia-moment" of the 2020 campaign? Here is a passage from Believe Me: The Evangelical Road to Donald Trump:
Already hitting his stride with his base, [GOP presidential candidate Ted] Cruz gained a new talking point in mid-February, with Super Tuesday only a couple of weeks away. When conservative Supreme Court justice Antonin Scalia died suddenly on a quail hunting trip in Texas, and it became clear that the Republican-controlled Senate would not provide a hearing for Merrick Garland, Barack Obama's appointee to replace Scalia, the presidential election of 2016 became a referendum on the future of the high court. Scalia was a champion of the social values that conservative evangelicals hold dear, and it was now clear that the newly elected president of the United States would appoint his successor.
Cruz seized the day. Two days after Scalia died and five days before the 2016 South Carolina primary, Cruz released a political ad in the hopes of capitalizing on evangelical fears about the justice's replacement. With a picture of the Supreme Court building as a backdrop, the narrator said, "Life, marriage, religious liberty, the Second Amendment. We're just one Supreme Court justice away from losing them all." In an interview with NBC's Meet the Press, Cruz said that a vote for Hillary Clinton, Bernie Sanders, or Donald Trump could lead American citizens to lose some of their rights. "We are one justice away from the Second Amendment being written out of the constitution altogether," he said. "And if you vote for Donald Trump in this next election, you are voting for undermining our Second Amendment right to keep and bear arms." Cruz pushed this appeal to evangelical fear even harder at a Republican Women's Club meeting in Greenville, South Carolina. He told these Republican voters that the United States was "one justice away" from the "the Supreme Court mandating  unlimited abortion on demand," and for good measure he added that it was only a matter of time before the federal government started using chisels to "remove the crosses and the Stars of David from the tombstones of our fallen soldiers."
I wonder if the modern-day Dietrich Bonhoeffer has learned the right lesson from 2016? Some might say that the recent Bostock decision, and today's Louisiana abortion decision, should teach evangelicals to stop relying on the Supreme Court to "reclaim" America, especially when such an approach to "Christian" politics requires them to get into bed with a president like Trump. But, alas, Moore would never even consider such a lesson because it does not conform to the Christian Right's political playbook.
Meanwhile, Paula White is supernaturally praying for her Twitter followers:
I pray supernatural provision for you, your family and all that pertains to your purpose! God has you and will always take care of you!

— Paula White-Cain (@Paula_White) June 29, 2020
I'm just curious. Is there  a way to "pray" for a non-"supernatural provision?" Sorry, I had to ask.
Jentezen is also upset about the SCOTUS decision:
SCOTUS has ruled against a practical requirement for doctors, and has repeatedly failed to protect EVERY life as equally valuable. This is why common-sense protections for unborn children remain a top priority for evangelicals in every election!

— Jentezen Franklin (@Jentezen) June 29, 2020
Tony Perkins too:
With this decision, the Supreme Court has prevented Louisiana from enforcing the law to stop abortionists who regularly deride and violate health standards for women seeking abortion. https://t.co/11o2sJdTKk

— Tony Perkins (@tperkins) June 29, 2020
I agree with the idea that every life is valuable, including unborn babies. But putting faith in SCOTUS and POTUS is not the answer.
Robert Jeffress is still basking in the idolatrous glow of yesterday's Lord's Day political rally at his church. Here is his retweet of Mike Pence:
President @realDonaldTrump and our Administration celebrate freedom every day by upholding the ideals on which this Nation was founded and we will continue protecting, defending, and celebrating the freedom of every American of every race and creed and color. pic.twitter.com/pDeJZF3TQx

— Mike Pence (@Mike_Pence) June 28, 2020
A spokesperson for Liberty University's Falkirk Center retweets Princeton University scholar Robert George. As you read this retweet, please remember that The Falkirk Center supports Donald Trump and Trump is a pathological liar:
.@McCormickProf with wise words. pic.twitter.com/dl8cs04DMb

— Jenna Ellis (@JennaEllisEsq) June 29, 2020
She is also upset with John Roberts:
RT if you're sick of Chief Justice Roberts being an activist and undermining our Constitution.

— Jenna Ellis (@JennaEllisEsq) June 29, 2020
And this:
Some idiot activist is actually asking if President Trump is glad the confederacy lost? Seriously?? ?

These "questions" are geared to imbed a narrative into circulation that is ridiculous and as @PressSec said, absurd.

— Jenna Ellis (@JennaEllisEsq) June 29, 2020
Sadly,  in light of what we have seen thus far from the Trump presidency as it relates to race and Confederate monuments, this "idiot activist" seems to be asking a reasonable question.
Charlie Kirk is also mad at John Roberts:
John Roberts, a Bush appointee, is a disgrace. He sides with leftist socialists who hate America over the unborn. People like John Roberts are why we are losing our country.

— Charlie Kirk (@charliekirk11) June 29, 2020
It looks like the court evangelicals are very upset about an abortion case in the Supreme Court, but they have said nothing about Trump's racist tweet over the weekend. I guess this falls under the "I don't like some of his tweets, but…" category.
John Zmirak, who is an editor at court evangelical James Robison's website The Stream, is back on the Eric Metaxas Show. He is comparing Black Lives Matter to Jim Jones and Jonestown. The entire conversation, ironically, is about people blindly putting their trust in a strongman. Metaxas wastes no time in connecting Jonestown to today's Democratic Party. A Christian Right bromance may be forming between these two guys.  Metaxas tells Zmirak: "we are so glad you are on the program today, thank the Lord."
They also condemn Black Lives Matter. Zmirak calls BLM a "slogan, a "trademark," and a "brilliant piece of marketing" that is "raising money off of white guilt." Sounds a lot like another slogan, trademark and brilliant piece of marketing. This one is raising money off of white supremacy.
In another part of their conversation, Metaxas and Zmirak say that Black Lives Matter is wrong from a Christian point of view because all men and women are created in the image of God. In other words, anyone who wants to say that only Black lives matter is actually racist (reverse racism, as they say) because in God's eyes "all lives matter." I've heard this argument before. Here is a quick response:
Indeed, Christians believe that we are all created in the image of God. As the civil rights movement taught us, Christian faith offers plenty of theological resources to combat racism. Moreover, the Black Lives Matter movement is very diverse. Author Jemar Tisby makes some important points in this regard in Episode 48 of The Way of Improvement Leads Home Podast.
I am sure Metaxas and Zmirak are correct about some of the abuses of the Black Lives Matter movement. But notice what is going on here. Metaxas and Zmirak are really only interested in attacking the Black Lives Matter movement. Since the killing of George Floyd, Metaxas has not offered any sustained empathy or acknowledgement of the pain and suffering faced by African-Americans, either now or in our nation's history. Yes, he had some black guests on the program, but they were invited on the show for the purpose of undermining Black Lives Matter and rejecting systemic racism. At this moment, when white evangelicals have a wonderful opportunity to think more deeply about the problems of race in America, Metaxas has chosen to divert attention away from these issues by going after the extreme fringes of a generally anti-racist movement.
In his second hour, Metaxas hosts a writer named Nick Adams, the author of a book titled Trump and Churchill: Defenders of Western Civilization. He runs an organization called The Foundation for Liberty and American Greatness. Adams makes it sound like Trump has some kind of agenda to save Western Civilization. This strikes me as very far-fetched since I don't think Trump even knows what Western Civilization is. Metaxas, of course, loves his guest's ideas, going as far to say, in reference to World War II (Churchill) and COVID-19 (Trump) that both men carried their respective nations through their "darkest hours."
Until next time.