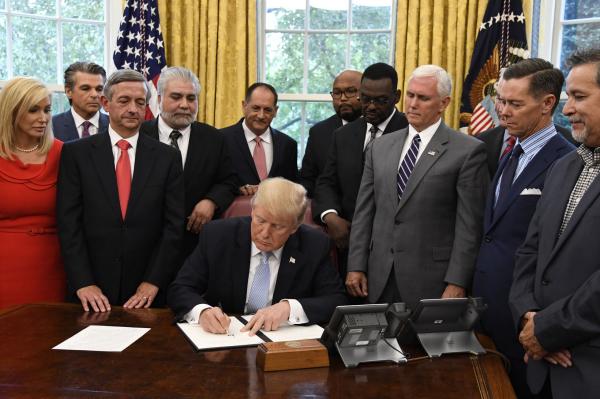 What have Trump's evangelicals been saying since yesterday's update?
Eric Metaxas and his guest entertain the idea that there is a relationship between a COVID-19 vaccine and the "mark of the beast" in the book of Revelation. His guest is this guy.
Today Donald Trump tried to protect Confederate monuments. Gary Bauer loves it:
Thank you President Trump for protecting the memorials to America's heroes and veterans against the leftist mobs! #AntifaTerrorists #monuments #AllLivesMatters #KAGA #GodBlessAmerica https://t.co/mAkZ5sKVdE

— Gary L Bauer (@GaryLBauer) June 26, 2020
Johnnie Moore, the guy who calls himself a "modern-day Dietrich Bonhoeffer," is doing his part for the Trump campaign. Ivanka will be pleased:
"Detroit, Atlanta, Minneapolis, LA, Philly…these cities could have taken all these actions, themselves. They have been run by Democrats for DECADES w/billions of dollars to do whatever they want, & look at their results." @SenatorTimScott @JoeBiden has lots of ?'s to answer https://t.co/iCgWax7PN6

— Rev. Johnnie Moore ن (@JohnnieM) June 26, 2020
Robert Jeffress is on Lou Dobbs denying the fact that Trump's numbers among evangelicals are dipping and Biden's numbers are rising. He continues to repeat the false claim that Virginia governor Ralph Northam wants to kill babies after they are born.
But Jeffress can't argue with the facts. He says that the dip in evangelical support for Trump is only temporary. Eventually white evangelicals will embrace the playbook and come back to their political savior. You can always tell when Jeffress is worried–he raises his voice, yells, and points at the camera. For Jeffress, the November election is between "anarchy" and "law and order." Yes, Joe Biden, the "anarchy" candidate. 🙂
Watch:
[youtube https://www.youtube.com/watch?v=d4mQfs_wzNI&w=560&h=315]
It's a big weekend at Jeffress's church. This is the Sunday his congregation waves American flags and shoots off indoor fireworks as they sing praises to Baal the American god.
Join First Dallas THIS Sunday at 10:45am CT for our annual Celebrate Freedom Sunday with special guest Vice President Mike Pence! This service will feature a salute to the Armed Forces, patriotic music, and more! https://t.co/d9RcNosyhZ pic.twitter.com/gjwrCOVZ3k

— Dr. Robert Jeffress (@robertjeffress) June 26, 2020
Liberty University's Falkirk Center is worried about Black liberation theology. Today on its Facebook page:
Intersectionality, liberation theology, white fragility, white privilege. We hear these terms a lot, but where do they come from? A lot of the Christians supporting movements like Black Lives Matter, the idea of white privilege, and identity politics, whether they know it or not, are paying homage to a heretical teaching known as Black Liberation Theology. Virgil Walker and Darrell Harrison offer some insight into this fundamentally corrupt theology and how it's influencing and corroding the Christian analysis and response on the leftist lies being perpetuated today.
This is a classic white evangelical move. Instead of coming to grips with problems of race and the plight of African Americans, past and present, evangelicals try divert attention by warning their constituencies about false doctrine. This reminds me of my years at an evangelical college in the 1980s when my white classmates said that we should not take Martin Luther King Jr. seriously because he was theologically "liberal." (I write this as an evangelical Christian who does not subscribe to liberation theology).
Charlie Kirk is defending his Liberty University colleague Jerry Falwell by sharing a pro-Falwell article published in the alt-Right Breitbart News:
The media & Democrats would rather cancel @JerryFalwellJr for calling out Ralph Northam's racism than cancel Ralph Northam himself

If they didn't have double standards, they wouldn't have any standards at allhttps://t.co/MIjZwW1Ysg

— Charlie Kirk (@charliekirk11) June 26, 2020
Trump's court evangelical journalist:
President Trump has actually OVER DELIVERED for evangelicals during his time as president. Listen to my analysis and his full interview with me on my podcast called, "The Pod's Honest Truth." https://t.co/XWmxnVyhgn @realDonaldTrump @POTUS @WhiteHouse @PressSec @JustTheNews pic.twitter.com/Xe3CbW6Ljx

— David Brody (@DavidBrodyCBN) June 26, 2020
Until now.