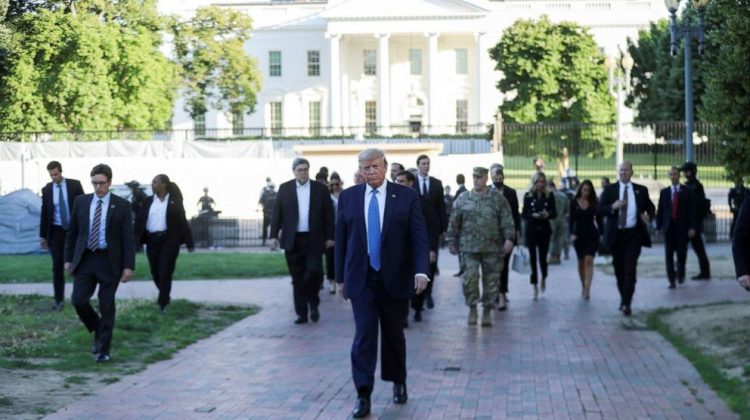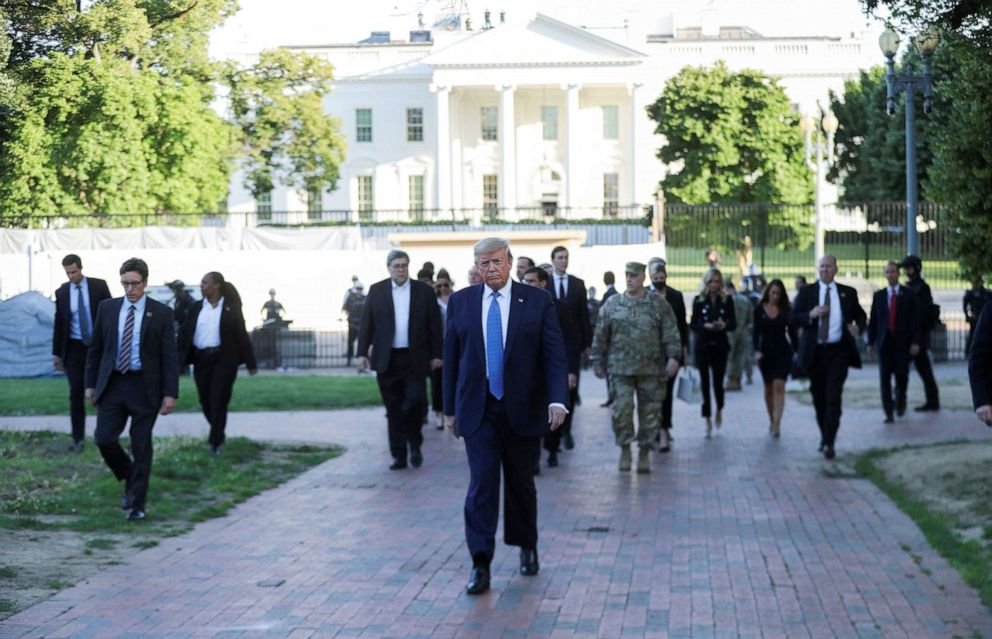 Matthew Teague, a writer at The Guardian, digs deep into the white evangelical support for Trump's visit to St. John's Church on Monday.
Here is a taste of his piece "He wears the armor of God":
Not every Christian answered the call. The Rev Gini Gerbasi, an Episcopal priest, said police used teargas to drive her and others from St John's before Trump's appearance. "They turned holy ground into a battleground," she told Religion News Service.
But many of Trump's evangelical supporters, far from Washingtons political stage, saw the move as a victory in a world rife with evil.
"My whole family was flabbergasted," said Benjamin Horbowy, 37.
The Horbowys had gathered in Tallahassee, Florida, to watch live as Trump walked from the White House to St John's. "My mother just shouted out, 'God give him strength! He's doing a Jericho walk!'"
A Jericho walk, in some evangelical circles, refers to the biblical book of Joshua, where God commanded the Israelites to walk seven times around the opposing city of Jericho, whose walls then came crashing down.
Horbowy already supported Trump politically – he heads the local chapter of a pro- Trump motorcycle club and is campaigning for a seat in Florida's state senate – but when Trump lifted the Bible, Horbowy and his family felt overcome spiritually.
"My mother started crying. She comes from Pentecostal background, and she started speaking in tongues. I haven't heard her speak in tongues in years," he said. "I thought, look at my president! He's establishing the Lord's kingdom in the world."
Did he feel that conflicted with the Gospel of John, where Jesus said "my kingdom is not of this world"?
"Well," Horbowy said, "that's a philosophical question."
Read the entire piece here.
A "Jericho Walk" comes from chapter 6 of the Old Testament Book of Joshua. In this story, the walls of the Cannanite city of Jericho collapsed after Joshua led the people of Israel on seven marches, one per day, around the city. On the seventh day, the Israelites blew their trumpets and the walls crumbled.
Here is Elvis:
[youtube https://www.youtube.com/watch?v=IsEmF9urYDk&w=560&h=315]
Pentecostal Christians do Jericho walks as part of their lively worship services.
[youtube https://www.youtube.com/watch?v=4wZNrvWmW8U&w=560&h=315]
But the idea of a "Jericho Walk" is not something unique to Pentecostal Christians. For example, "The Jericho Walk" is the name of a movement to support immigrants fleeing to sanctuary cities.
[youtube https://www.youtube.com/watch?v=BFKadjT72ZE&w=560&h=315]
Evangelicals usually do Jericho walks, or prayer walks, to prepare for large revival meetings. Other evangelicals use them to pray for their schools or government institutions. Some perform these walks to dedicate churches.
I am not sure what the woman in Teague's story meant when she said that Trump was doing a Jericho Walk, but it probably had something to do with Trump, as a divinely appointed figure, leading his followers on a march for the purpose of invoking God's protection over Washington D.C. in the midst of the protests and demonstrations. In the eyes of this woman, Trump lifting the Bible only confirmed this interpretation.