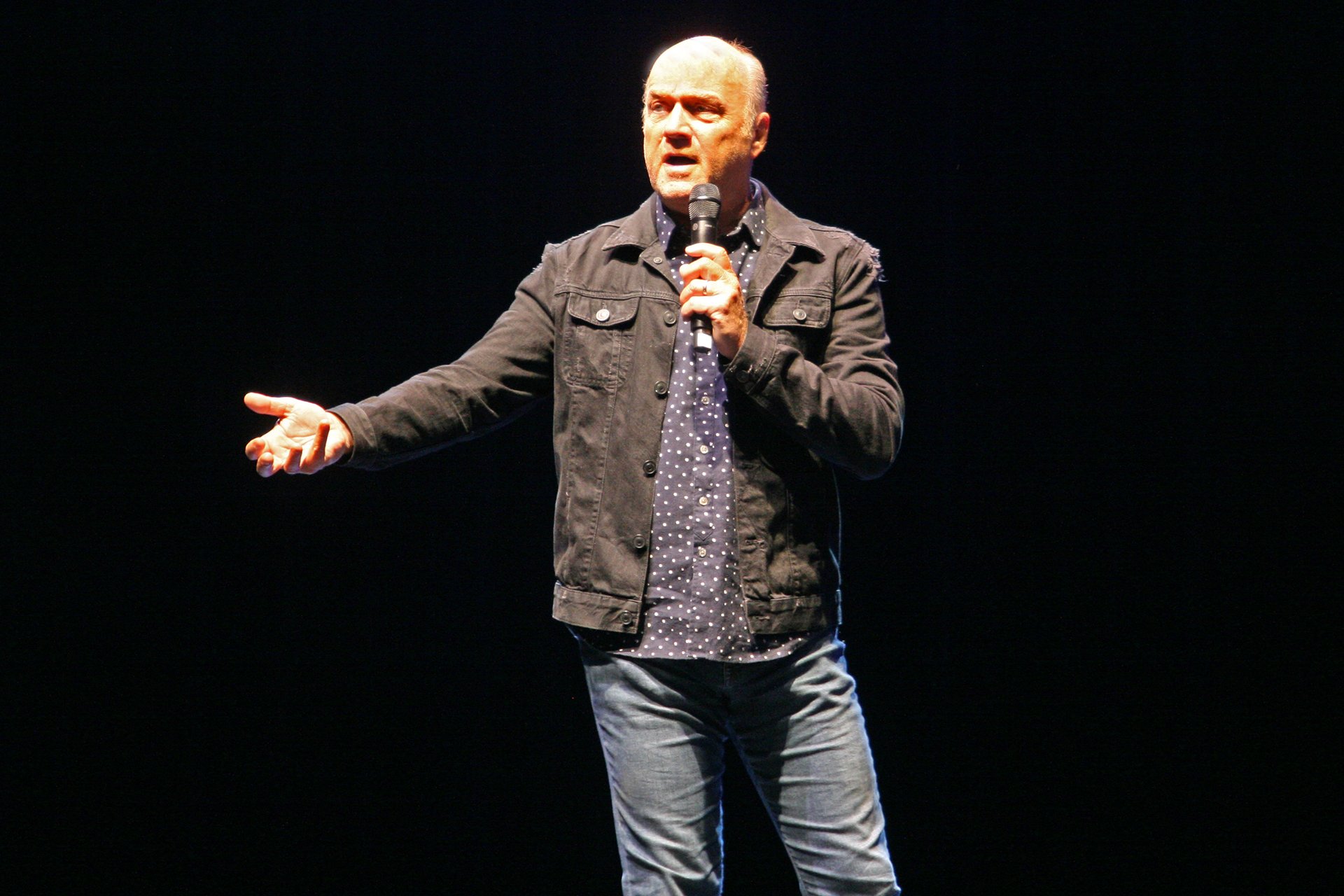 If you had thirty minutes to say something to the most powerful man in the world, what would you say?
This is how I started our short series titled "Three Sundays in April."
On April 5, 2020, Donald Trump announced that he would be watching the Palm Sunday service at Greg Laurie's Harvest Christian Fellowship in Riverside, California. What did he hear?
Laurie is 67-years old, but he still exudes California cool. He is always tan and he usually makes appearances in blue jeans, denim or leather jackets, sun glasses, and sneakers. (Imagine a member of Beach Boys getting "saved" and forming a megachurch!) In my early days as an evangelical Christian, I used to listen to Laurie on the radio. If I remember correctly, my local Christian station scheduled his program between John MacArthur's "Grace to You" and James Dobson's "Focus on the Family." I liked Laurie because he seasoned his sermons with jokes and popular culture references. (He has written inspirational books about Johnny Cash and Steve McQueen). Over the years, Laurie has successfully cultivated his brand. According to one website, he has a net worth of $20 million. Preaching the Gospel has been good to him.
Laurie's biography and spiritual journey is also a part of his appeal. He was born in Long Beach, California. As he wrote in his memoir, Lost Boy, he came from a very dysfunctional home. He was raised by a single mother who was married seven times. Laurie has described her as a "raging alcoholic" who looked like Marilyn Monroe. In high school, Laurie tried to satisfy his search for meaning with drugs until, at the age of 17, he found God through the controversial ministry of charismatic "hippie" preacher Lonnie Frisbee. This led Laurie into the Jesus People Movement and he quickly came under the influence of Calvary Chapel's Chuck Smith, the balding middle-aged pastor often considered the leader of the movement in Southern California. Laurie led a Bible study at a local Episcopalian church that eventually grew into Harvest Christian Fellowship. Today the church reaches more than 15,000 people at four different campuses, including one in Maui, Hawaii.
Laurie speaks often of the religious revival he witnessed during the early years of Southern California's Jesus People Movement. He wrote about it in his 2008 co-authored book Jesus Revolution: How God Transformed an Unlikely Generation and How He Can Do It Again Today. Led by Smith and Frisbee, California hippies were turning away from acid and sex and becoming followers of Jesus Christ. People were getting "saved" and Smith, Frisbee and others were holding massive baptisms in the Pacific Ocean. Influenced deeply by what he saw and experienced, Laurie would pursue a dual, but closely related, calling as a pastor and an evangelist.
With Smith's guidance, Laurie began leading mass evangelistic events–Billy Graham-style crusades– in Anaheim Stadium. He called them "Harvest Crusades." In 2016, The Los Angeles Times reported that over 500,000 people had made professions of faith during these events. These crusades also reveal the close connection between evangelical culture, spectacle, and consumerism. Laurie is a master marketer. In their book, Finding Faith: The Spiritual Quest of the Post-Boomer Generation, scholars Richard Flory and Donald Miller visited a Harvest crusade and noted the sale of Harvest-themed clothing, books, CDs, stickers, and pins, including a T-shirt modeled after the movie Napoleon Dynamite that said "Jesus Died for Pedro." In 2018, the event included a freestyle motocross show.
Like most evangelical megachurches, Harvest Christian Fellowship is holding online services during the coronavirus pandemic. Laurie calls these services "Harvest at Home."
On Palm Sunday, Laurie and his team appear on a carefully constructed set that includes a fake-brick facade covered with Laurie family photos and the revolutionary-era Pine Tree Flag inscribed with the words "An Appeal to Heaven." (More on this below). Laurie sits front and center behind a fancy music stand. His worship band sits around him on couches and comfortable chairs. Everyone is social distancing in an appropriate fashion. On the couch to Laurie's immediate right sits his wife Cathee and his son Jonathan. Those who designed Laurie's set seem to be going for a look somewhere in-between a comfortable white suburban, middle-class living room and a hip urban coffeehouse. At one point Laurie refers to the set as the "front room."
This is what Donald Trump saw when he live-streamed Laurie's Palm Sunday service on April 5, 2020. Before the service began, Laurie welcomed Trump:
I want to welcome a very special guest to our service today and he happens to be the President of the United States. Mr. President, thank you for joining us. And thank you for talking about the importance of the church in your press conferences. I know had mentioned earlier [that] it was your hope that maybe we would be meeting in person on Easter and unfortunately that has not worked out. But the amazing thing is that we are able to reach a lot of people now online. Since we started this online experience we've seen our numbers explode and in the last few weeks we've had over a million people watch us. And I think that's because Americans are looking for hope, they're looking for answers, and their looking for truth. And I am so glad that you know how important that the church is. President Trump I want you to know that we are praying for you and for the Vice President as he heads up this COVID-19 Task Force. We're praying that this coronavirus comes to an end and we're able to get out again to our churches, and to our businesses, and into the wonderful life we all enjoy as Americans.
Laurie is right. People are looking for hope, answers, and truth during this pandemic. Indeed, the Gospel can provide hope, answers, and truth. But why did Laurie talk about how God can meet these needs in the context of a welcome message to a president who offers little hope, few answers, and endless lies? Why compromise the Gospel message on Palm Sunday in this way? I wonder how many people immediately checked-out at this point.
[youtube https://www.youtube.com/watch?v=hQksior3XZw&w=560&h=315]
The service begins with Christian artist Phil Wickham leading an acoustic performance of the praise song "Hosanna." This song, of course, points the audience to Jesus's triumphal entry into Jerusalem on Palm Sunday. The Gospel of John describes Jesus riding into the city on a donkey in fulfillment of Zechariah 9:9. The "great crowd" that gathered in Jerusalem for the Passover festival waved palms and sang, "Blessed is he who comes in the name of the Lord."
After a prayer and several more songs, Laurie delivers his sermon. He begins by complaining about those who are not properly social distancing and others who are hoarding toilet paper. He encourages his online flock to be "selfless, not selfish." We are off to a good start.
For Laurie, and for nearly all Christians, the story of Palm Sunday points us to Jesus's death on the cross on Good Friday. This understanding of Christ's sacrifice, according to the dominant evangelical view of the atonement, teaches that Jesus's death satisfied the wrath of God. Someone needed to be punished for the sins of the world and God chose his own son to die in our place. It is now up to individual men and women to repent of their sin and accept God's gift of salvation accomplished through Jesus's death. When people accept Christ as Savior, and truly believe it, they will receive eternal life in heaven. It is this gospel message that drives Laurie's entire ministry–both as a pastor and an evangelist.
It also drives Laurie's eschatology, or his view of the "end times." Like his mentor Chuck Smith, and like most of the Jesus Movement that surrounded Calvary Chapel in the late 1960s and early 1970s, Laurie believes that true Christians–those who have accepted Jesus as Savior–will one day be removed from the earth through an event known as the rapture. In this view, Palm Sunday points us to Good Friday and Easter Sunday. Those who believe in the atoning death of Jesus Christ and his bodily resurrection from the dead will one day be raptured and join God in heaven. Those left on earth still have an opportunity to accept Jesus as Savior, but they will need to endure seven years of "tribulation." This will be a time when Satan will rule the earth through the Antichrist until Jesus comes back again (the so-called "Second Coming) with all those who were raptured earlier. Jesus will defeat the forces of evil and will reign on the earth for 1000 years before all true believers finally go to heaven where they will spend eternity with God. Theologians call this eschatological scheme dispensational premillennialism. According to American historian Larry Eskridge, our best interpreter of the Jesus People Movement,  Laurie's generation was exposed to this teaching by reading Hal Lindsey's best-selling book The Late Great Planet Earth.
Laurie's view of the cross and eschatology explains the rhetorical move he makes six minutes into his Palm Sunday online sermon. He stops and invites those listening at home to accept Jesus as Savior:
Now I'm going to do something I don't normally do. Usually, if you listen to me you know that at the end of my message I will extend an invitation for people to believe in Jesus. And I am going to do that at the end of the message, but I am gonna do it right now, and I'll tell you why: cause I'm talking to somebody right now that is scared, somebody that is afraid of the afterlife, somebody who is not sure that their life is right with God. And I'm gonna tell you right now, if you want God to forgive you of your sin, if you want to know that you'll go to heaven when you die, if you want to be sure Jesus is living inside of you, right now I'm gonna lead you in a prayer, and I'll do it again at the end of the message because sometimes people tune out early and they tune in late….
Laurie knows Trump is watching. He knows that Trump has a short attention span. He also realizes that Trump's announcement that he would be "attending" Laurie's service on this day has put him and his message in front of more viewers than usual. Laurie wants to make sure those viewers, including Trump, are right with God. This, he believes, is the best message he could ever deliver to a President of the United States.
It is at this point in the sermon that Laurie merges his passion for evangelism and spiritual revival (forged during his "Jesus Revolution" days) with his Christian nationalism. He makes a few references to the "Kingdom of God." For Laurie, the Kingdom of God is spiritual in nature. One day, sometime after the Great Tribulation, God will establish an earthly kingdom, but for now the Kingdom of God rests in the "hearts of men and women" who believe Jesus has died for them on the cross. This view of the Kingdom allows Laurie to move freely into a version of Christian nationalism. If the Kingdom of God is solely spiritual, then it is not the kind of kingdom that earthly powers should worry about. Its citizens, in other words, are tasked with preaching the Gospel and getting people into heaven. Christians, as members of God's Kingdom, are not tasked with speaking truth to power. In this sense, Laurie's Kingdom is not really a kingdom at all. It is not a rival or an alternative to the other kingdoms of the world, in this case, the United States of America.
Laurie says, "when God wants to send a spiritual awakening to a nation it starts first with his people." He quotes 2 Chronicles 7:14: "If my people which are called by name will humble themselves and pray and seek my face and turn from their wicked ways, then I will hear from heaven and forgive their sins, and heal their land." There is nothing inherently wrong with preaching this verse, but for the past couple of decades the Christian Right has been applying it to the United States of America. Mike Pence has been making subtle references to this verse during the White House coronavirus press briefings when he ends his prepared remarks with the phrase "heal our land." In 2016, Southern Baptist theologian Russell Moore addressed the Christian nationalist's misuse of this verse. (It is worth noting here that Laurie's church recently became a member of the Southern Baptist Convention).
Laurie connects his use of 2 Chronicles 7:14 with his desire for another Great Awakening. Evangelicals, of course, should all be praying for spiritual revival in the life of the churches. But when one tries to connect prayers for revival to American exceptionalism, or the idea that one day God will restore or reclaim America's Christian roots and "heal" the country through such a revival, he is on shaky historical and theological ground. Laurie is already on record, in a talk at The White House, trying to connect the First Great Awakening of the 18th century to American nationalism, a lesson he seems to have learned straight from the Eric Metaxas playbook. (He also does it here). And now, in his Palm Sunday sermon, he links spiritual revival and American nationalism to the "Appeal to Heaven" flag hanging on the wall behind him. He says that George Washington, who commissioned the flag, understood that our only hope to become a nation was by the intervention of God." Historically, as I have written about before, the relationship between Christianity and the American founding was a very complicated one. For Laurie, "heal our land" connects spiritual revival with a movement to return to some kind of Christian golden age in American history. But I am not sure such an age ever existed. Laurie's use of "heal our land" is the evangelical version of "Make America Great Again."
Should Laurie call for a spiritual revival in this time of anxiety? Yes. Should he use American history to do it? No.
Here is a thought: what if a spiritual awakening led Christians to take-up their Kingdom of God duties as related to justice and sacrificial love? What if such a revival called immoral political leaders to task? What if such a revival resulted in mass baptisms in the Pacific Ocean and a call to fight for the least of these (yes, this would include the unborn as well as the poor, the immigrant, and the suffering)? What if such an awakening resulted in persecution?
Laurie continues to move through the story of Holy Week by referencing Jesus overturning the tables of the money-changers in the Jewish temple. During this scene, we learn about God's "righteous indignation" against the religious leaders who are using the temple for immoral and materialistic purposes. Laurie also takes this opportunity to teach us that Jesus was a "man's man" who was strong enough to overturn tables. If the Kingdom of God is merely in our hearts, then the lesson we learn from Jesus clearing the temple has something to do with righteous anger and masculinity. But if Jesus was really inaugurating his Kingdom on Palm Sunday, then he must, in a now-but-not-yet sense, already be King. And we, as members of the kingdom by faith through the power of the Holy Spirit–followers of Jesus–should be carrying-out that kingdom through lives defined by love, mercy, and justice. Again, a kingdom is a political community.  Though Jesus' Kingdom will not reach its fullness until His return, Christians, as citizens of this Kingdom, still have responsibilities to contribute to its advancement by living in accordance with Christian ethics (the Sermon on the Mount comes to mind) and speaking truth to the existing kingdoms of this world.
When Jesus entered the Temple during what today we call Holy Week he was challenging both the religious and political authorities of Israel. When he stood before Pilate in John 18-19 he told this imperial official that the Roman Empire is no longer in control. It has been defeated. Yes, God in his sovereignty will allow this empire to run its course (just like he will allow future empires to run their courses), but all man-made empires will one day be replaced by the Messiah's Kingdom of justice, peace, and love. (This is the essence of Christian hope). Until then, it is the responsibility of citizens of this Kingdom to remind the leaders of the world that God is in control, not them. When the leaders of the world fail to advance policies that care for sick, help the poor, and alleviate suffering, citizens of the Kingdom must speak.
What if Laurie added this interpretation of Holy Week to his Palm Sunday message? What kind of message would such a sermon send to the most powerful man in the world and the millions listening online?
As a historian, when I listen to Laurie I am reminded of just how much the Jesus People Movement broke with the larger youth counterculture of the 1960s. Yes, the kids who flocked to Chuck Smith dressed like hippies and had long hair, but that seems to be where the comparison ends. None of the social commitments of the secular counterculture–the rejection of materialism, the opposition to war, the concern for justice–seem to have translated to this wing of the Jesus People Movement. Laurie's "Jesus Revolution" was only revolutionary in a spiritual sense. Yes, the Gospel's capacity to change and transform lives can be revolutionary, as it was for Laurie himself as a "lost" Southern California kid and as it was for me in the 1980s. Jesus died for our sins and we wait in expectant hope for what Revelation 20 and 21 describes as a "new heaven" and a "new earth." But when we embrace Jesus's saving work on the cross we are also signing-up as citizens of His Kingdom–a Kingdom that requires a sense of social and political responsibility that extends well beyond the fight for religious liberty and the overturning of Roe v. Wade. It requires us to speak truth to power in all its forms.
Lurie only got it half right on Palm Sunday. And because he only got it half right, our corrupt president, assuming he watched the entire service, never gained a full understanding of what Jesus was proclaiming during Holy Week and why such a message might cause him to tremble.