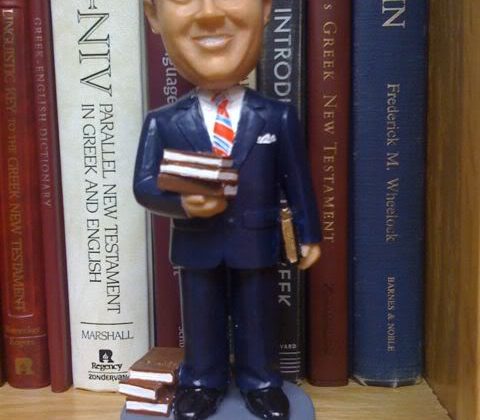 Baptist writer Marv Knox reflects on Al Mohler's decision to vote for Donald Trump in 2020.  There seems to be a pretty consistent story unfolding. People who know Mohler suggest that over the years he has been very good at discerning the way the Southern Baptist Convention's political winds are blowing.  Here is a taste of Knox's piece, "The Moral Hypocrisy of Albert Mohler (and evangelicals of his ilk)":
Mohler and I were classmates at Southern Baptist Theological Seminary in the early 1980s. If I ever thought of him back then, it was "Oh, yeah, the kind-of-nerdy guy who wears a suit every day so he can work in Dr. Honeycutt's office." (Roy Honeycutt was the seminary's president back then.)
About a decade later, Mohler returned to Southern Seminary. As president. Turns out, he used his job as a student worker in Honeycutt's office to network with the fundamentalists who were taking over the Southern Baptist Convention, which owned the seminary. He built the platform for his future by currying favor with the people who were preparing to undermine the denomination's institutions and throw out their leaders.
So, Mohler rode a political juggernaut painted in theological colors back into the president's office at our alma mater. He jerked the school hard to the right, specifically by firing or running off faithful, Jesus-loving faculty members and replacing them with a mix of fundamentalists and uber-Calvinists.
And this:
But now, this. As reported in the Washington Post, Mohler has announced he will support Trump in this year's presidential election. Apparently, Trump no longer is "a horrifying embarrassment" to evangelicals. After one term of the Trump presidency, endorsement for political gain is no longer "too high a price to pay." After so much moral relativism the past few years, the "much higher standard" evangelical leaders must uphold isn't all that high.
Why Mohler's reversal? Only he knows for certain. But perhaps a couple of factors are at play.
This winter, a group calling itself the Conservative Baptist Network announced its formation in order to reboot the "conservative resurgence," which Mohler rode to prominence a generation ago.
"There are some very concerning things happening in Southern Baptist life," a network spokesman said. One of the "concerning things" members of the latest ever-rightward SBC movement don't like is the leadership of Russell Moore, a former Mohler protégé who heads the convention's Ethics and Religious Liberty Commission. A Never Trumper, Moore has advocated separating religion from political parties and spoken passionately on significant issues, particularly lambasting racism. For his efforts, he had drawn the ire of the right wing of the SBC.
So, even though Mohler doesn't have to worry about getting beat for SBC president (the convention canceled the annual meeting because of the coronavirus pandemic), perhaps he realized the SBC's political winds are blowing to his right. He still has a seminary to keep running, with money to raise. So, staying in good graces with evangelicals who still back Trump by almost 80 percent (and the SBC is a complete subset of evangelicals) is good for business.
Read the entire piece here.