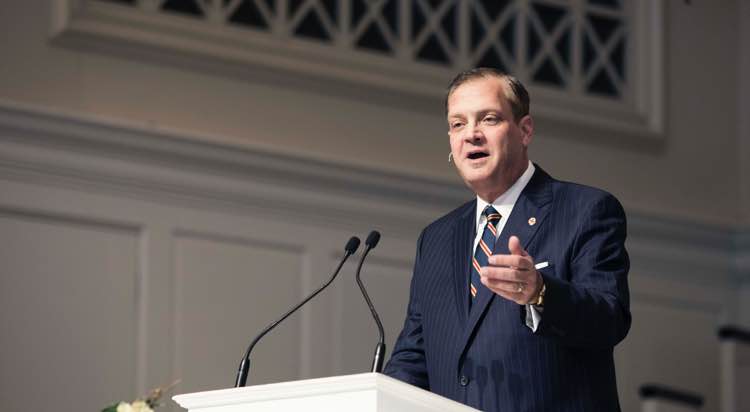 Check out Jonathan Merritt's Religion News Service  piece on Albert Mohler's recent "flip-flop" to Donald Trump. (We broke this story early. See our posts here and here and here.). Some of the scholars and SBC-insiders he quotes are quite revealing.
Here is Merritt on Mohler's church history professor and Southern Baptist historian Bill Leonard:
As a fresh-faced student at the Southern Baptist Theological Seminary, in Louisville, Kentucky, in the early 1980s, Mohler hardly cut the figure as a paragon among far-right conservatives. As Dr. Bill Leonard, Mohler's church history professor at SBTS reflects, "In my experience and the experience of others, he was mostly an academic and not a part of the conservative contingent at the school. There was no sign that he was going toward the hard right."
But Leonard, founding dean and professor of divinity emeritus of Wake Forest University School of Divinity, says that Mohler's theology quickly evolved in the '80s when theological conservatives moved to take over the Southern Baptist Convention. Mohler pivoted to the right just as it became clear that conservative factions were going to win.
"I think you can make the case that there was an expediency to Al's hard-right turn in those days," says Leonard, author of "Baptist Ways: A History." "He saw where things were headed in the denomination and turned toward it."
Wow!
And here is Merritt on Mohler's early support of women's ordination in the Southern Baptist Convention:
One of Mohler's most stunning theological flip-flops came at the denomination's gathering in Kansas City in 1984, when SBC conservatives introduced a resolution declaring that only men were qualified to serve as church pastors and that women should instead concern themselves with the "building of godly homes."
His opposition was so strong that he helped purchase an ad in the Louisville Courier-Journal declaring that God is "an equal opportunity employer."
The resolution passed despite Mohler's fierce opposition (though he later preferred to say he merely "took umbrage"). Rather than fight on, Mohler simply changed his position on women in ministry.
Ouch!
Here is baptist historian Barry Hankins:
Barry Hankins, chair of Baylor University's history department, who interviewed Mohler extensively for his book, "Uneasy in Babylon: Southern Baptist Conservatives and American Culture," said, "I've always believed (Mohler) wanted to be president of Southern Seminary and the SBC's most influential theologian. The problem is he's spent way more time on culture wars over the past 20 years than on theology."
Here is historian Randall Balmer:
Randall Balmer, a Dartmouth University historian of American religion, quoted a Southern Baptist friend who put it more succinctly: "Al Mohler is a soundbite in search of a theology."

Read the entire piece here.
I am reminded of this:
[youtube https://www.youtube.com/watch?v=b5vS3dgyams&w=560&h=315]