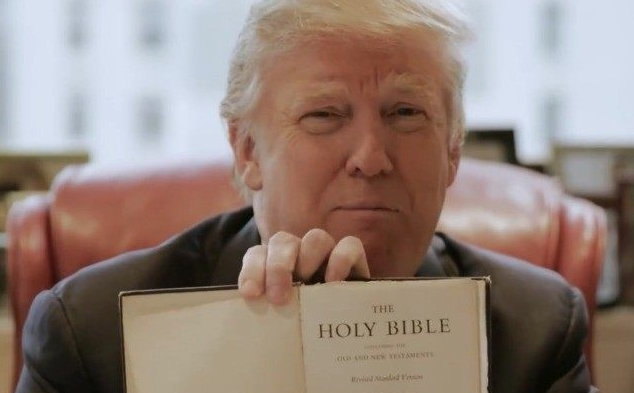 Sarah Pulliam Bailey's recent story at The Washington Post adds to what I posted about  earlier this week (here and here).  Here are some new things we learn from her piece:
Some quick thoughts for my fellow evangelicals who will be changing their vote to Trump in November:
1. On abortion: I am still convinced (as I argued in Believe Me) that overturning Roe v. Wade and winning the federal courts will not end abortion in America. In a broken world, abortions will continue. We must work, as citizens of the Kingdom of God, to reduce them. As someone who cares about the dignity of human beings and the protection of the vulnerable unborn, I think expanded health care and poverty relief, both staples of the Democratic Party platform, will keep the number of abortions in America on a downward trajectory. As a Christian, I thank God for this downward trajectory and I want to do everything I can to keep lowering the number of abortions in America.
2. As someone who has watched and studied Trump every day of his presidency, I think his presidency has been a moral disaster–for the country and the church. Nothing has changed in four years. If anything, it has gotten worse. Trump has succeeded in weakening (even further) the moral clarity of American evangelicals. And not just the court evangelicals.
3. Religious liberty issues are real. I will continue to push for a more pluralist society in which Christian institutions are permitted to exercise their faith–even on sexual issues–with freedom. On the other hand, we can't be afraid of persecution if and when it comes. We can't turn to an immoral strongman to protect us. Perhaps persecution may be exactly what the church needs right now. I hope not. It doesn't sound fun. But if this happens, Jesus promises that we will be "blessed." It will reveal our citizenship in the Kingdom of God. And if history is a guide, it just might draw more people to consider the Christian faith.
4. Mohler says in his video that his decision to vote for Trump in 2020 is based on his "Christian (or Biblical) worldview."
What is this thing called "Christian worldview?" Here is the twitter feed of The Project on Lived Theology at the University of Virginia:
"And Christian Worldview replied, 'You of little faith, why are you so afraid?'

"Then Christian Worldview got up and rebuked the winds and the waves, and it was completely calm."

— Lived Theology (@LivedTheology) April 15, 2020
Here is a friend on Facebook:
I love how targeting tax breaks towards the .01% and eliminating basic rights of worker protection, championing measures to exacerbate gross inequalities of income and generational wealth, eradicating by executive agency fiat already precarious regulations about not dumping chemicals in water, engaging in a non-stop campaign to demonize even the slightest efforts to increase access to health care, and engaging in deliberately targeted efforts at voter suppression (targeted against black voters "with an almost surgical precision," as the North Carolina Supreme Court put it) is now defined as the "Christian worldview" in politics, while the other side is "anti-Christian."
I agree with the idea of viewing the world from the perspective of Christian faith–all of Christian faith. But I object when "Christian worldview" is invoked in a narrow and limited way that focuses on one or two issues. The idea that a Christian approach to politics should center around abortion and Supreme Court nominations is a very new phenomenon in the history of American evangelicalism and, more broadly, in the history of the global church. It is only about forty years old. This does not mean that evangelical political witness was perfect before the rise of the Christian Right (for example, the evangelical movement's commitment to the Civil Rights Movement was weak at best),  but it does suggest that Al Mohler's understanding of political engagement was shaped, and continues to be shaped, by the concerns of a group of conservative evangelicals and fundamentalists who developed a successful political movement in the late 1970s. Mohler even admits this in the video when he talks about his unswerving support of Ronald Reagan.
As I have argued, this approach to politics is rooted in fear, power, nostalgia. It is deeply rooted in the false idea that the United States was founded as, and continues to be, a Christian nation. It is deeply rooted in the idea that big government was a threat to local  practices such as segregation. It is deeply rooted in the belief that new immigrants posed a threat, and continue to pose a threat, to white America in the wake of the 1965 Immigration Act. It is deeply rooted in the idea that public schools should be teaching Christians about God and, when prayer and Bible reading was removed from public schools, somehow God was removed as well. (This, it seems, is a pretty small view of God and a pretty weak view of the church as a site of spiritual formation for young people).
If one believes that a Christian worldview means we should always vote for a candidate who wants to overturn Roe v. Wade and defend the "rights" of evangelical Christians, then it makes perfect sense to vote for Trump.  What I am suggesting is that this entire playbook is too narrow and relies too much on fear, power politics, and nostalgia. It ignores the vast majority of Christian teaching, especially as it relates to the poor, social justice, and the care of God's creation. This is ironic for someone like Mohler who no doubt believes that his Christian worldview is built upon a belief in an inerrant Bible.  All of those mentioned in Pulliam-Bailey's article are operating under this mostly unbiblical playbook.