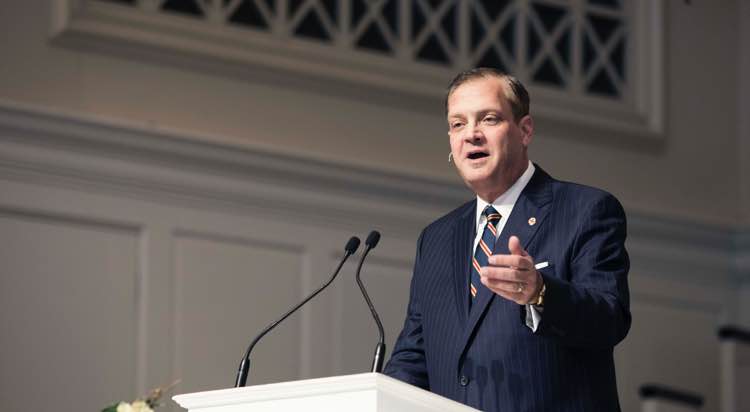 You can watch Mohler explain his decision here.
Mohler says that his "Christian worldview" has led him to vote for the GOP ticket despite his misgivings about Trump's behavior. Mohler believes that a Christian worldview should lead evangelicals to vote for Trump and against Joe Biden in November.
For Mohler, voting according to a "Christian worldview" means that an evangelical must vote for a candidate who is 1). pro-life on abortion; 2). is willing to use the Supreme Court to overturn Roe v. Wade; 3). upholds an originalist view of the Constitution; and 4). defends religious liberty as he defines it. Are these the only Christian issues that should inform an evangelical's decision in the ballot box? (For the sake of time and space, let's leave the debate over whether the Bible teaches an originalist view of the U.S. Constitution or the proper method to defend the life of the unborn for another day). Mohler is not a court evangelical, but his argument is identical to these Trump sycophants.
In 1998, Mohler went on national television multiple times to call for the impeachment of Bill Clinton on the basis of his failures in character and personal morality. He did not vote for Trump in 2016 because he wanted to stay consistent with his 1998 statements. But this election is different, he claims. But is it? Granted, Trump is no longer (as far as we know) talking to entertainment reporters about grabbing women's body parts, but can we honestly say that his character has improved over the last four years?
Mohler says that the two major political parties in the United States are so different on moral issues that it is impossible for Christians to vote for a Democratic candidate. This, he says, is not bound to change anytime soon. As a result, Mohler claims he will vote for the GOP candidate, and will campaign against the Democratic candidate, for the rest of his life.
As many of you know, I offer an alternative way of thinking about Christian politics in Believe Me: The Evangelical Road to Donald Trump.