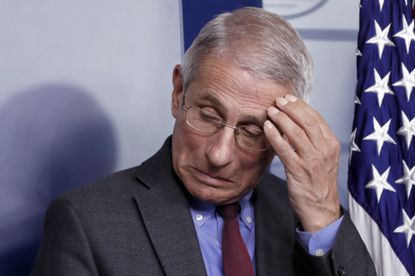 As many of you have seen by this point, Trump retweeted a #FireFauci post from his new favorite network–OANN. Here it is:
Sorry Fake News, it's all on tape. I banned China long before people spoke up. Thank you @OANN https://t.co/d40JQkUZg5

— Donald J. Trump (@realDonaldTrump) April 12, 2020
CNN is now reporting that a Trump aide warned about making too much of this tweet because the president often retweets things before reading the entire tweet.  Well, that's comforting. And think about these aides. They have to defend or spin this tweet by admitting that our president does not really read things thoroughly before he reacts to them. No teacher would let a student get away with this. No American should let their president get away with this kind of incompetence.
But what if Trump did read the entire tweet? What he knew that he was retweeting a #FireFauci tweet? What if this is all related to Trump's narcissism? I imagine that people will want to watch today's coronavirus press conference to see how this all plays out. Will Fauci be there? How will Trump respond to questions about the retweet? Will Fauci get the final rose? Will he be voted off the island? Let's remember this retweet from last week:
The Wall Street Journal always "forgets" to mention that the ratings for the White House Press Briefings are "through the roof" (Monday Night Football, Bachelor Finale, according to @nytimes) & is only way for me to escape the Fake News & get my views across. WSJ is Fake News!

— Donald J. Trump (@realDonaldTrump) April 9, 2020
For Trump, this is a reality television show. "Stay tuned today, at 6:30pm, to see if I will fire Tony Fauci. It's gonna be HUUUUUGE!"