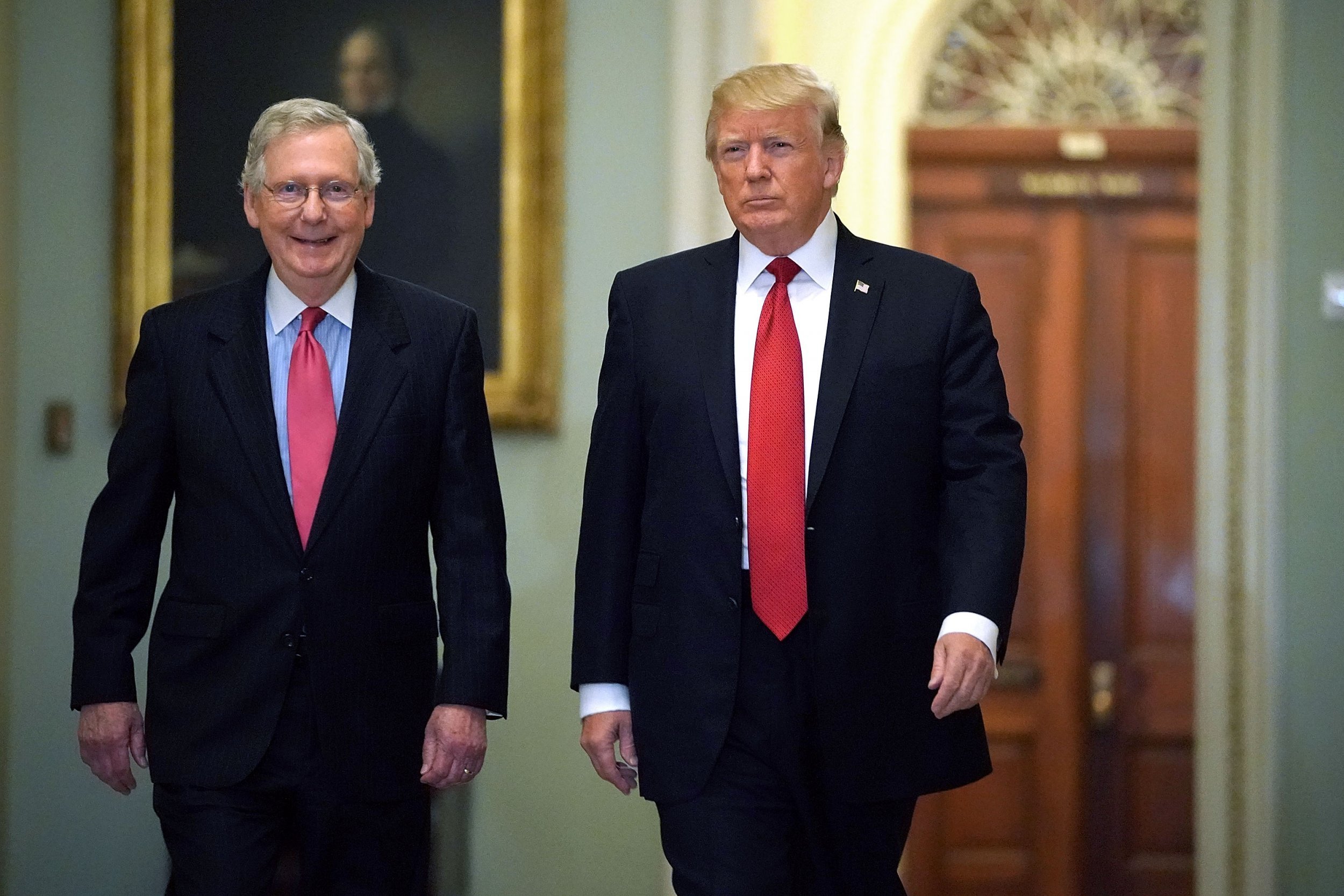 Check out  Here is a taste of Jane Mayer's profile of Kentucky Senator and Senate Majority Leader Mitch McConnell. It is titled "How Mitch McConnell Became Trump's Enabler-In-Chief":
On McConnell's family:
McConnell also appears to have lost the political support of his three daughters. The youngest, Porter, is a progressive activist who is the campaign director for Take On Wall Street, a coalition of labor unions and nonprofit groups which advocates against the "predatory economic power" of "banks and billionaires." One of its targets has been Stephen Schwarzman, the chairman and C.E.O. of the Blackstone Group, who, according to the Center for Responsive Politics, has, since 2016, donated nearly thirty million dollars to campaigns and super pacs aligned with McConnell. Last year, Take On Wall Street condemned Blackstone's "detrimental behavior" and argued that the company's campaign donations "cast a pall on candidates' ethics."
Porter McConnell has also publicly criticized the Senate's confirmation of Justice Kavanaugh, which her father considers one of his greatest achievements. On Twitter, she accused Kavanaugh's supporters of misogyny, and retweeted a post from StandWithBlaseyFord, a Web site supporting Christine Blasey Ford, one of Kavanaugh's accusers. The husband of McConnell's middle daughter, Claire, has also criticized Kavanaugh online, and McConnell's eldest daughter, Eleanor, is a registered Democrat.
On Obama:
McConnell's opposition to Obama was relentless. In 2010, the Senate Majority Leader famously said, when asked about his goals, "The single most important thing we want to achieve is for President Obama to be a one-term President." Carroll, the Courier-Journal reporter, was dumbstruck by McConnell's attitude when the Senator allowed him to listen in one day as he took a phone call from Obama, on the condition that Carroll not write about it. "McConnell said a couple of words, like 'Yup,' 'O.K.,' and 'Bye,' but he never said, 'Mr. President,' " Carroll recalls. "There was just a total lack of respect even for the office." McConnell preferred to deal with Obama's Vice-President, Joe Biden. (In his autobiography, McConnell mocks Biden's "incessant chatter" but also says, "We could talk to each other.")
On Russian interference in the 2016 election:
In the closing weeks of the campaign, McConnell gave more assistance to Trump than many knew. In the summer of 2016, while the Senate was in recess, Obama's C.I.A. director, John Brennan, tried to contact McConnell about an urgent threat to national security. The agency had strong evidence that President Vladimir Putin of Russia was trying to interfere in the U.S. election, possibly to hinder Hillary Clinton and help Trump. But, for "four or five weeks," a former White House national-security official told me, McConnell deflected Brennan's requests to brief him. Susan Rice, Obama's former national-security adviser, said, "It's just crazy." McConnell had told Brennan that "he wouldn't be available until Labor Day."
When the men finally spoke, McConnell expressed skepticism about the intelligence. He later warned officials "not to get involved" in elections, telling them that "they were touching something very dangerous," the former national-security official recounted. If Obama spoke out publicly about Russia, McConnell threatened, he would label it a partisan political move, knowing that Obama was determined to avoid that.
Read the entire piece here.