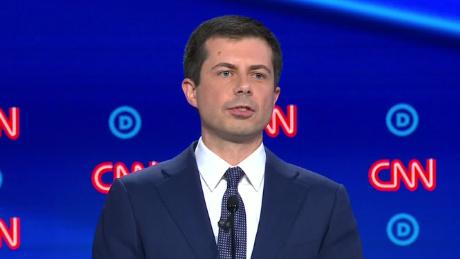 Mayor Pete won Iowa. He finished second in New Hampshire. He finished third in Nevada. But he is not doing very well in South Carolina largely because he does not appeal to African-American voters in the state.  Over at Religion & Politics, Myriam Renaud wonders why.  Here is a taste of her piece:
The majority of black Americans—almost eight in ten, according to a 2018 Pew Research Center report—identify as Christian and three out of four say religion is "very important in their lives." In one sense, Buttigieg, an Episcopalian, should appeal to these voters. Of all the Democratic candidates, he is perhaps the most fluent in the language of faith. He calls climate change a sin, telling Stephen Colbert that, because it harms today's and tomorrow's generations, "I don't imagine that God is going to let us off the hook." He also told Colbert that Christianity says "that we are obliged to serve the poor and heal the sick and clothe the naked and welcome the stranger." During a Democratic debate question on immigration and the border, he accused Republicans of hypocrisy because they associate their party with Christianity and yet "suggest that God would smile on the division of families at the hands of federal agents."
Multiple factors affect how Buttigieg is seen by black voters, including religious ones; these include his tense relationship with parts of South Bend's black community, especially after a black man was killed by a white police officer last June. The now 38-year-old candidate has also stirred controversy with comments he made in 2011 about the lack of role models who value education for low-income minority students, and by comparing his struggles as a gay man with those of African Americans. Also, his campaign's Douglass Plan for Black America received negative publicity when an accompanying image turned out to be a stock photo of a woman from Kenya and when several African Americans described as endorsing the plan said their views were misrepresented.
The conventional campaign wisdom is also that his identity as a gay, married man is at least partly responsible for his low levels of support among black South Carolinians—a belief that has some merit but that also reinforces racist stereotypes. Most black churches embrace progressive views on a range of issues but many hold conservative attitudes toward same-sex relationships. A 2019 Pew Research Center study shows that only 44 percent of black Protestants are in favor of same-sex marriage. Sociologist Samuel Perry's research reports that, over the past decade, the majority of twelve sociological studies exploring a possible link between religion and attitudes toward same-sex marriage identified black Protestants, along with white evangelicals, as the least supportive religious group. And yet, Pew also found that the majority (65 percent) of black Protestants support laws "protecting LGBT people from discrimination in housing, public accommodations, and the workplace."
Read the entire piece here.