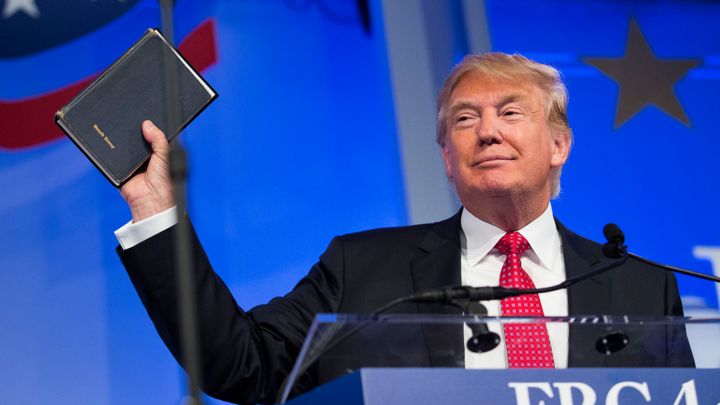 Yesterday several readers sent me Andrew T. Walker's National Review essay, "Understanding Why Religious Conservatives Would Vote for Trump." Walker teaches Christian Ethics at The Southern Baptist Theological Seminary in Louisville.
Walker writes in a very irenic tone as he challenges Christian anti-Trumpers to work harder at understanding why so many evangelicals will once again vote for Donald Trump in 2020.  If I understand him correctly, he seems to suggest that if evangelical anti-Trumpers like me or David French or Peter Wehner or Michael Gerson (he mentions none of us by name) would only empathize more deeply with the motivations of evangelical Trump voters they would be less critical of the their fellow Christians who support this corrupt president. Walker calls attention to the "reluctant" Trump voter.
One of the regrets I have about the hardback edition of Believe Me: The Evangelical Road to Donald Trump was my failure to capture diversity within the 81% of white evangelicals who voted for Donald Trump.  The postscript I wrote for the recently released paperback edition seeks to correct this lack of nuance. Walker does a nice job of explaining why so many evangelicals, many whom despise Trump, felt the need to vote for the reality television star in 2016 and feel the need to vote for him again in 2020.  This complicates the narrative we often hear from journalists and pundits who have little understanding of evangelical political culture.
As I have noted many times before, I spend a lot of time with evangelicals of the pro-Trump variety.  I attend an evangelical church and know many Trump supporters who attend that church.  My entire extended family voted for Trump.  Fox News forms, shapes, and disciples many members of my family and other pro-Trump evangelicals I know.  I live in central Pennsylvania–Trump country.  I can't speak for Gerson, Wehner or French, but I do not accept the premise that all anti-Trump evangelicals are out of touch with average evangelical Trump voters.  In fact, I wrote Believe Me precisely BECAUSE I understand the mind of the evangelical Trump voter.  This is why I can say that Walker does a nice job of describing them in this National Review essay.  As a historian, my job is to empathize and understand. I made every effort to do that in Believe Me.  So when I write harsh things about evangelical Trump supporters, it is because I have done the necessary work to make sense of them. In Why Study History I made the case that understanding must always proceed moral critique. In Believe Me–a work of both history and moral critique–I took my own advice.
As I see it, my effort to grasp the logic of pro-Trump evangelical voters has allowed me to argue strongly that their decision to vote for Trump has proven harmful to the church and the country.  The "if you only understood Trump voters you would be less critical" argument does not jibe with me.
Walker writes: "Those who make this calculation [to vote for Trump] are not sell-outs, nor have they forfeited the credibility of their values carte blanche. For blind allegiance does not explain the voting relationship. That religious conservatives are not progressives does."
I think Walker is correct when he says that most evangelical Christians are religious conservatives who do not agree with the progressive agenda.  (Here Walker seems to be making the common mistake of lumping all Democrats into the "progressive" camp. This rhetorical move is quite common among the Christian Right.  It is in the political interest of the Christian Right to portray all Democrats as socialists, progressives, or members of the so-called "Squad"–people for whom evangelicals should be deeply afraid). But why are evangelical Christians religious conservatives?  Why are they so bound to this particular political ideology?  This is the deeper question I tried to raise and address in Believe Me.
Christianity and conservatism are not the same thing. Christianity and progressivism are not the same thing.  I think Walker would agree with both of these assertions.  As pastor-theologian Tim Keller has reminded us, Christianity cuts across party lines.  In my view, if you take the teachings of Christianity seriously you are going to find some common ground with conservatives, Republicans, the Green Party, democratic socialists, progressives, Democrats, and a host of other political factions, ideologies, and movements.  You are also going to reject certain tenets of these factions, ideologies, and movements.  We need to work harder to get evangelical voters to understand this.
Walker's essay is framed by an evangelical approach to politics that I do not accept. I don't know if Walker would see himself as a member of the Christian Right, but his piece is based on the presupposition that the Christian Right playbook, forged in the late 1970s by the Moral Majority, is the best Christian approach to politics. More on this below.
And what about the "reluctant Trump voter?"  Again, I understand why someone would choose Trump over Hillary in 2016.  I also understand why someone would choose Trump over any of the current Democratic candidates in 2020. The Christian Right playbook teaches evangelicals to vote for the president who will appoint conservative Supreme Court justices.  If you care about abortion or religious liberty, you must hold your nose and vote for Trump. But if you choose this route, and follow this playbook, please do not pretend that you are not responsible in some way for all the additional baggage that comes with such a vote–the coarsening of our moral culture, the demonizing of political opponents, the use of evangelical Christianity as a political weapon, the damage to the witness of the Gospel in the world, the racism, the nativism, the separation of children from parents, etc. etc.   That's on you.  You have empowered Trump to do these things.
Walker writes that "reluctant" Trump voters approach politics with far more complexity and internal tension than journalists claim. He invokes Augustine: "Some religious conservatives may see the world in moral terms–right and wrong; black and white.  But there's a long moral tradition, as far back as Augustine, that sees our world in shades of gray."
There is definitely some truth to Walker's appeal to Augustine here.  As I noted above, the 81% are not all the same.
But I also think Walker is giving these reluctant Trump voters too much credit for their commitment to "complexity."
As I see it, evangelicals who vote for Trump do so because they have embraced the Christian Right playbook I mentioned above. I wrote about this playbook extensively in Believe Me.  It has great power over evangelical voters.  Thoughtful evangelicals like Gerson, James Davison Hunter, James K.A. Smith, Ronald Sider, John Inazu and others have offered Christian approaches to politics that do not rely on a playbook focused on the pursuit of power for the purpose of advancing one or two moral issues.  These alternative evangelical approaches to politics are rooted in sound biblical and theological thinking. They are worthy of consideration. But they often get little traction because the Christian Right has been so successful in shaping the evangelical political mind.
I would argue that the "reluctant Trump voter" is essentially operating under the same political playbook as the enthusiastic Trump voter.  If you drill down, there is not much difference between Robert Jeffress or Franklin Graham and the reluctant Trump voter.  Neither show a lot of complexity or "shades of gray" when they think about political and public engagement.  There is one playbook, they learned it from Jerry Falwell and Pat Robertson, and they continue to execute it.  And where has this playbook led evangelicals?  Straight into the hands of Donald Trump.
Walker also plays the "Beto O'Rourke card":
But an event on October 10, 2019 explains the odd-couple relationship of religious conservatives and Donald Trump. That evening, during a CNN townhall on LGBTQ issues, the now-former Democratic presidential candidate Beto O'Rourke proclaimed that churches failing to toe the line on gay and transgender rights would lose their tax-exempt status in his administration. O'Rourke's comments represented a high-water mark of a culture that has jettisoned anything resembling a Christian moral ecology. Never mind that O'Rourke's candidacy is over. It was an Overton Window–shifting moment.
When O'Rourke made these comments I roundly criticized him  O'Rourke's comments were stupid.  Many of his fellow Democratic candidates also rejected them.
Walker is correct when he claims that O'Rourke's remarks scared many evangelicals. But he fails to address the deeper issues at work here. Trump and the Christian Right are masters at using extreme examples to frighten evangelicals. They have convinced more rank and file evangelicals that O'Rourke's comments, and others like them, are representative of those evil "progressives" who are trying to undermine their supposedly Christian nation.  We can't ignore this kind of fear-mongering.  As I argued in Believe Me, it permeates every dimension of Christian Right politics today.  It is also based on half-truths.  Yes, there are some Democratic politicians who are going after churches, but most of them are not.
Trump's policies and political rhetoric build upon such extreme, and much celebrated, cases.
Here are two examples of this:.
First, from Believe Me:
Donald Trump himself, during his 2016 campaign, [claimed] that crime was rising when it was actually falling.  He attempted to portray refugees and undocumented immigrants as threats to the American public even though the chances that an American will die at the hands of a refugee terrorist is about one in 3.6. million; the chance of being murdered by an undocumented immigrant is one in 10.9 million per year.  One is more likely to die from walking across a railroad track or having one's clothes spontaneously catch on fire.  Yet Trump managed to convince Americans that immigrants are "imminent threats" to their safety."
Second, let's take Trump's recent "guidance" on school prayer.  On January 16, 2020, Trump made a public defense of prayer in public schools.  As I wrote at the time, this proclamation changed nothing.  Students have always had the right to pray in school.  The real reason for Trump's proclamation on prayer was political–he wants evangelical votes in 2020.
Indeed, some evangelical leaders believe that the forces of secularization are trying to remove prayer and other Christian organizations from public schools.  But is this really happening at a significant rate?  While there have been some cases in which a school district has failed to uphold the Supreme Court's protections over prayer in schools, these cases have gained national headlines because the Christian Right and Fox News have made a big deal about them.  I wonder if these cases are representative of what is actually happening in most public schools today.
Yesterday I was talking to a student who works with a well-known evangelical youth organization that has a strong presence at public high schools.  This student told me that the local school district actually supports the work of this organization.  Similarly, my children were involved in prayer-groups and Christian organizations in their public schools that received no resistance from district administrators.
Again, I ask, are school districts really trying to stop students from praying?  And even if the answer to this question is an unqualified "yes," is an embrace of Donald Trump really worth it in the long run?  To answer such a question, it seems one would need to think in a complex and nuanced way about the matter. Any attempt to diagnose this problem would need to recognize shades of gray.  An evangelical concerned about religious liberty might benefit from knowing more about serious legislation like "Fairness for All" or proposals such as "Confident Pluralism," both thoughtful Christian responses to the place of religious liberty in a pluralistic society. But the Christian Right playbook offers no such nuance or complexity.  There is only one way of doing politics and any consideration of a Christian approach to politics that is not driven by fear, power, and nostalgia is off the table.  Why should evangelicals consider complexity and nuance when there are culture war battles to be won? Evangelicals may find Trump's character and policies to be disgusting, but if he is going to help them win these battles, then he deserves their support.
And now let's turn to abortion.  Walker writes about his friend Steve:
Steve is a white evangelical in his forties, a middle-school teacher, the father of two daughters, and a deacon at his Southern Baptist church. These are identities that media narratives depict as culprits for Trump's ascension: White, male, Christian, middle-class, husband, father. He's the token "white evangelical" that the media depicts as red-state reprobates.
But there is more to Steve. Steve serves the homeless, sees diversity as a pillar of God's creation, and helped an Iraqi refugee family resettle in his own hometown. I daresay he cares more about justice in real life than those who preen about it on Twitter.
Steve voted for Trump, and will again. Why? For one, he thinks abortion is America's Holocaust, and will not support any party that supports abortion on demand. Whatever Trump's eccentricities are, Steve won't vote for a progressive, even if the media tells him that to do so would save America and its institutions. For Steve, saving abstractions like "America" and its "institutions" can make America a lot less worthy of survival if abortion on demand continues apace. To the average religious conservative, in fact, saving America means saving it from the scourge of abortion.
Like Steve, I am pro-life.  I think abortion is a serious moral problem.  In Believe Me I call it a "horrific practice." We need to be working hard to reduce the number of abortions that take place in the United States–even working to eliminate the practice entirely.  But when it comes to politics, Steve embraces a Christian Right political playbook that has taught him the only way of dealing with abortion is to overturn Roe v. Wade. Steve cares about social justice and the poor, and probably believes that the church or other non-profit organizations should have some role in helping pregnant mothers carry their babies to term, but when it comes to politics he believes that the election of a candidate who promises to appoint pro-life justices is the best way of ending abortion.
Steve knows that there are other ways of reducing abortions.  He may even know that overturning Roe v. Wade will not end abortion in America. But rather than acting with some degree of realism on this issue, or trying to think of ways of reducing abortions that do not rely heavily on electoral politics, Steve shows very little nuance or complexity in his thinking about the best way to tackle this moral issue.  Instead he follows the Christian Right playbook and it leads him, again, straight into the hands of Donald Trump.
I wish more evangelical Trump voters would see the world in shades of gray, especially in the way they do politics. I wish they were not bound by such a reductionist, "black and white," political vision.