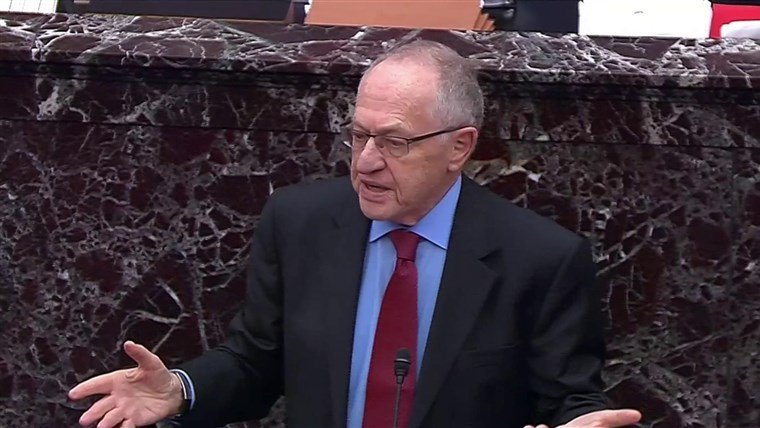 Alan Dershowitz's case against the removal of Donald Trump may have won over many GOP Senators during the president's impeachment trial, but it has failed to convince law professors, legal scholars, and historians.  At one point during the trial, Dershowtiz ripped into his academic colleagues, suggesting that they are all "influenced by their own bias, by their own politics and their views."  As I wrote last week, this plays into the belief, popularized by Fox News and other conservative media, that the opponents of Trump are liberal, ivory-tower elites who are out of touch with real people.  This is the kind of anti-elitism driving conservative activist Matt Schlapp's recent tweet defending Donald Trump after the president thought the Kansas City Chiefs played football in Kansas.
Over at Inside Higher Ed, Colleen Flaherty has an informative piece on how Derhowitz's views on impeachment are well outside the academic mainstream.  Here is a taste:
Does any of this challenge Dershowitz's standing in academe? Is his expert analysis so left of field that he can no longer be deemed an expert, especially one affiliated with Harvard?
Bowman said Dershowitz has never really had such standing, and that he's "never done any serious legal scholarship." Instead, Bowman said he's focused on op-eds and trying his own cases. (Perhaps most famously, Dershowitz defended O. J. Simpson.)
That Senate Republicans hail Dershowitz as an expert "just shows how desperate they are to find somebody, anybody, to tell them what they wanted to hear," Bowman added.
Harvard had no comment on the matter of Dershowitz's status, while Fried said that "even Harvard faculty members sometimes make arguments with absurd entailments."
Dershowitz, of course, disagrees with his detractors. He says that he's been intellectually alone often in his career, including in being against the death penalty in the 1960s and, more recently, for the limited use of what he's called emergency "torture warrants." He also said he wasn't afraid to "impugn" his colleagues in asserting that they would not, in some alternative universe, support the same impeachment case against former Democratic presidential nominee Hillary Clinton.
"The burden of proof here is on those who ignore the plain language" of the Constitution on impeachment, which specifically mentions treason, bribery and high crimes and misdemeanors, he said.
"I think professors often allow, consciously or unconsciously, politics to seep into their constitutional analysis," he added. "I've been proved right more often than not, and I think history will prove me correct here. The next time there's a Democrat president and a Republican-controlled House, the president will be impeached and all the scholars criticizing me now will be making similar arguments." (For the record, Dershowitz said during the trial that he voted for Hillary Clinton.)
Dershowitz is currently writing a book on impeachment.

Read the entire piece here.