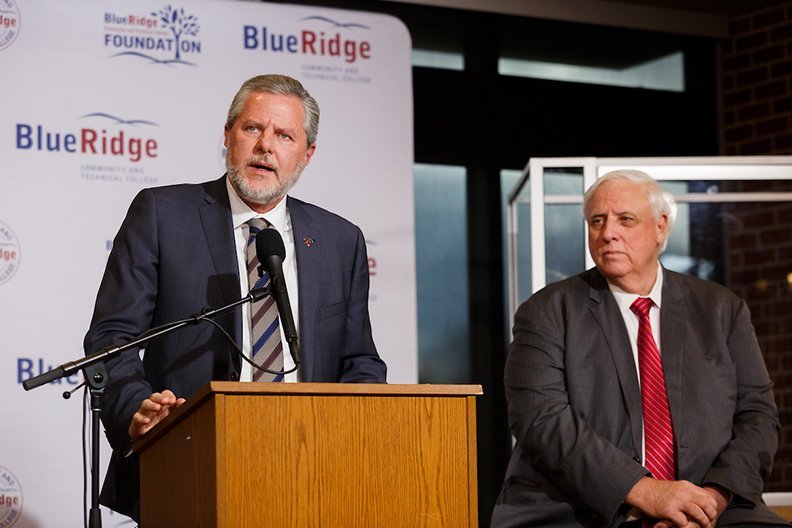 Last week we published a post on Jerry Falwell Jr.'s response to legislation proposed by Virginia Governor Ralph Northam and the state General Assembly that would place restrictions on the purchase and use of firearms in the commonwealth.  In that post I referenced a Falwell Jr. appearance on the Todd Starnes radio show in which the president of Liberty University referenced an upcoming act of "civil disobedience" that he was not yet ready to talk about.  I think Falwell was referring to his press conference today with West Virginia governor Jim Justice.
They are calling it "Vexit."
Here is WSLS News:
Liberty University President Jerry Falwell Jr. said he would support efforts for Virginia counties and localities to leave the Commonwealth and join the state of West Virginia.
"We need a state government that is not elected by federal workers in the suburbs of Washington, D.C., that will protect our God-given rights to life, liberty, and the pursuit of happiness and I believe West Virginia will do just that," Falwell said.
"That's why, while I will be campaigning for my good friends President Donald Trump and Gov. Jim Justice this election year, I'll also be supporting any efforts to let the people decide the question of Virginia counties joining the State of West Virginia."
West Virginia is the only state to be formed by seceding from a Confederate state.
Some Virginia border counties were given the choice to become part of the new state if their residents approved. Berkeley and Jefferson counties gave their nod, siding with the Union.
Justice said West Virginia would welcome any Virginian who joined West Virginia.
West Virginia became a state in 1863 after delegates decided to secede from Virginia and form a new state.
Watch Falwell here.  He is upset that the "liberal elites" employed by the federal government are skewing Virginia state elections.  Then he claims that the founding fathers intended federal contractors and government officials to live in the District of Columbia and not in Virginia or the neighboring states.  He wants the boundaries of the District of Columbia to extend to the entire D.C. metro area so that people living in counties close to the federal capital will not vote in Virginia.