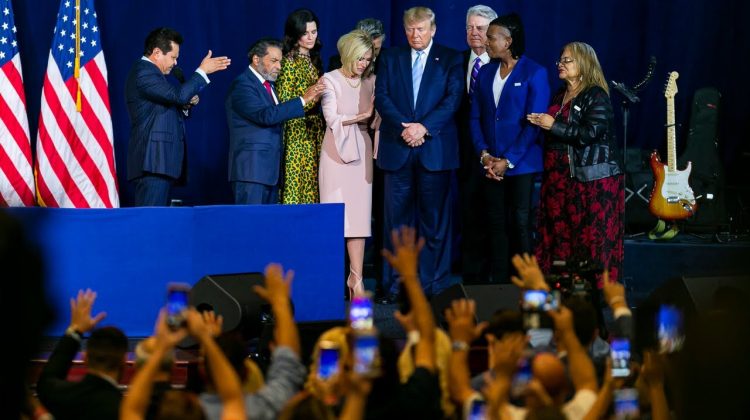 Earlier this evening Donald Trump launched his "Evangelicals for Trump" campaign with a speech at a Miami megachurch.
The King Jesus International Ministry Church, a Hispanic megachurch, was filled with court evangelicals.  Prior to Trump's speech, some of them laid their hands on the president and prayed for him.  This group included Paula White, Jack Graham, Michael Tait (of the Christian rap group DC Talk), Jentezen Franklin, Cissie Graham (Franklin's daughter), and Alveda King.  "Apostle" Guillermo Maldonado, the pastor of King Jesus Church, prayed that Trump would fulfill his role as a new King Cyrus.  Paula White prayed against the demonic forces trying to undermine Trump's presidency.  Later Trump acknowledged James Dobson, Robert Jeffress, Charlie Kirk, and other court "eeeeevangelicals" in attendance.
As Trump took the lectern, the evangelicals in attendance, many wearing pro-Trump clothing and MAGA hats, began chanting "U.S.A., U.S.A., U.S.A."  It was clear from the outset that this event would be no different than any other Trump rally.  The applause lines were the same.  Trump degraded his opponents by name.  Nothing new here.  "You Can't Always Get What You Want," Trump's theme song, blared over the church loudspeaker when he was done with his speech.
Once the crowd stopped their patriotic chanting, Trump started bragging about the crowd size, adding that there were "1000s of people" outside "trying to get in."  He called the "Evangelicals for Trump" movement the "greatest grass roots movement in American history."  He reminded everyone how he killed Qassem Soleimani.
Trump generally stuck to the teleprompter, but he did go off script every now and then.  He painted himself as a president who was protecting American evangelicals from the those on the "Left" who want to "punish" people of faith and "destroy religion in America." During this part of the speech one of the evangelical Christians in the audience screamed "Pocohontas," a reference to Massachusetts Senator and Democratic president candidate Elizabeth Warren.  Trump was visibly pleased.  Indeed, Trump the strongman was on display.  Like autocratic leaders before him, he stirred fear among his people and offered them safety under his regime.  (This, I should add, is why evangelicals prefer Trump to Mike Pence, the Vice President who sees eye-to-eye with conservative evangelicals on every social and moral issue they care about.  Trump is a fighter and protector. Pence is not.)
Trump spent the entire speech reiterating the talking points that have defined his rhetoric when speaking to evangelicals.  He falsely claimed, once again, that he ended the Johnson Amendment.  He continued to claim, falsely, that Virginia Governor Ralph Northam wants to kill babies after they are born.  He said that he was going to return prayer to public schools when, in reality, prayer never left. He bragged about his commitment to global religious freedom, but failed to mention how he threw Syrian Christians under the bus.  He compared the crowd size of his Lincoln Memorial July 4, 2019 speech to Martin Luther King Jr.'s "I Have a Dream" speech.
At one point in his speech, Trump rattled off the names of the Fox News personalities who carry his water on cable television.  The crowd cheered as Trump read this laundry list of conservative media pundits.  It was all very appropriate for such an occasion because Fox News, more than anything else, including the Bible and the spiritual disciplines, has formed and shaped the values of most of the people in the room.  Trump's staff knows this.  Why else would they put such a roll call in the speech? It was like Trump was reading the court evangelical heroes of the faith (Heb. 11), but instead of Abel, Enoch, Noah, Abraham, Isaac, Jacob, Sarah, Joseph, Moses, David, and Samuel, we got Hannity, Ingraham, Carlson, and the hosts of Fox and Friends.  (It is also worth noting that Trump never quoted from or referenced the Bible in his speech).
At one point Trump had to rebuke one of the evangelicals in the crowd.  As the president praised himself for appointing conservative federal court justices, someone apparently yelled something about Ruth Bader Ginsburg's recent health problems. The implication was that Ginsburg would soon die (was this guy praying for it?) and then Trump could appoint another conservative Supreme Court justice. Trump had to tell this person that he did not wish any harm on Ginsburg.  Think about this for a moment.  Trump was in a room full of evangelicals and he, at least in this case, took the moral high road.
In one of the most human moments of the rally, Trump introduced two members of the Fresno State University pro-life club.  These women told a story about a professor who tried to stop them from sharing pro-life messages on campus.  They sued the professor and won in court.  Good for them. What was this professor thinking? He denied these young women free speech, but he also gave the court evangelicals more fodder for their victimization campaign–a campaign that was on full display in Miami tonight.
Trump also focused on non-religious issues.  He took credit for the strong economy.  He said he would make sure the evangelicals in attendance would not lose their Second Amendment rights.  And, despite the fact that there were probably undocumented evangelical immigrants in the room, extolled the virtues of his border wall.
By now I am used to this kind of thing from Trump.  But tonight I witnessed evangelical Christians–those who identify with the "good news" of Jesus Christ–raising their hands in a posture of worship as Trump talked about socialism and gun rights. I watched them rising to their feet and fist-pumping when Trump said he would win in 2020.
I usually get angry about evangelicals worshiping at the feet of Trump.   But tonight I just felt sad.