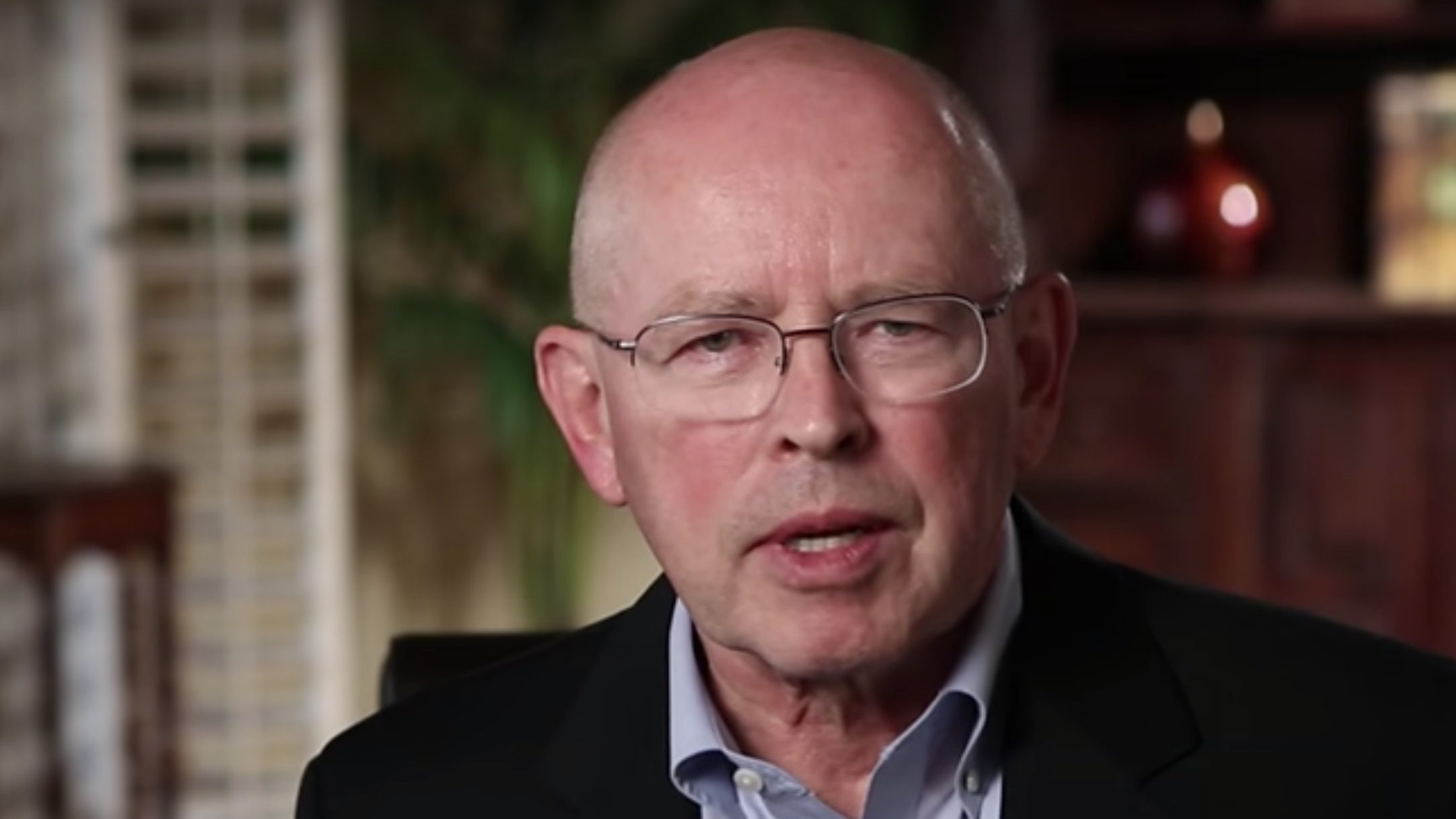 Yesterday I offered some analysis of Wayne Grudem's article defending Donald Trump and criticizing Mark Galli's Christianity Today editorial calling for Trump's removal from office.  You can read my post here.
Today I am running a post I published on August 2, 2016.  It is titled "What Wayne Grudem Thought About Presidential Character in 1998."  Here it is:
I am guessing a lot of my readers have never heard of Wayne Grudem.  He is an evangelical theologian and the author of a very popular one-volume treatment of evangelical systematic theology. He is also well-known within evangelical circles for defending a "complementarian" view of gender roles in the church and society.
Grudem is the quintessential evangelical insider.  He speaks and writes for evangelical churches and rarely ventures out of this subculture to engage a broader American public. This is why most people outside of evangelicalism have never heard of him.
When I was a student at Trinity Evangelical Divinity School (1989-1992) I took a theology course with Grudem.  I don't remember much about it other than the fact that Grudem spent a lot of time talking about his work on the Biblical idea of prophecy. (I also remember having to read all of Calvin's Institutes!). He would eventually argue that today's Christians needed to reclaim the gift of prophecy.  If I remember correctly, he argued that the Holy Spirit could bring divine revelation to a believer's mind.
During my time at Trinity I attended a major conference called "Evangelical Affirmations." The purpose of the conference was to draw clearly defined theological boundaries around the word "evangelical."  Leading evangelical theologians and pastors (mostly conservative evangelicals who upheld the doctrine of biblical inerrancy)  gathered on the Trinity campus in Deerfield, Illinois to try to figure out who was "in" and who was "out."
One of the most heated debates focused on whether one could truly be called an "evangelical" if he or she did not believe that hell was a literal place–a place of fire and brimstone where unbelievers would spend eternity suffering for rejecting the Christian gospel.  I am guessing that most of the delegates to the Evangelical Affirmations conference would have affirmed the existence of such a place of eternal torment, but whether its literal existence should serve as a defining marker of evangelical faith was complicated by the beliefs of one man: John Stott.
Next to Billy Graham, John Stott is probably the most important and well-respected evangelical of the post-war era.  Even New York Times columnist David Brooks has sung his praises as a thoughtful, wise, humble, and respectable voice of modern evangelicalism.
Stott did not believe in a literal hell.
When the majority of delegates said that a true "evangelical" must believe in a literal hell, someone stood up (I can't remember who it was) and begged, quite passionately I might add, that the group not define evangelicalism so narrowly that someone as influential as Stott would be excluded. (Stott was not present at the meeting).  Debate raged
Midway through this heated discussion about hell and John Stott, Wayne Grudem stood up.  I remember it vividly.  Grudem recognized Stott's evangelical faith and his contribution to global evangelicalism, but he also articulated his strong conviction that the evangelical movement must, Stott or no Stott, affirm a belief in a literal hell.
I remember Grudem speaking with a great deal of certainty that day.  Frankly, I could not interpret his words apart from what he was teaching in his class about the so-called gift of prophecy.
I thought about this moment, and Grudem's views on prophecy, when I read his recent article endorsing Donald Trump for President of the United States.  You can read it here.  I am not going to use this post to argue with his political views.  Later this week I will be a guest on a Christianity Today podcast that, from what I understand, will be using Grudem's piece as a framing device for a larger discussion on evangelicals and the 2016 election. I will probably offer some history-informed commentary there.  I also appreciate the responses to Grudem's piece written by Jonathan Merritt, Thomas Kidd, Warren Throckmorton, David French, Beth Allison Barr, Scot McKnight, Randal Rauser, David Moore, and John Mark Reynolds. Check them out.
In his argument in favor of Trump, Grudem wrote:
He is egotistical, bombastic, and brash. He often lacks nuance in his statements. Sometimes he blurts out mistaken ideas (such as bombing the families of terrorists) that he later must abandon. He insults people. He can be vindictive when people attack him. He has been slow to disown and rebuke the wrongful words and actions of some angry fringe supporters. He has been married three times and claims to have been unfaithful in his marriages. These are certainly flaws, but I don't think they are disqualifying flaws in this election.
It seems like Grudem wants to ignore these character issues when it comes to Trump's candidacy.  But back in 1998 he thought that the character of the POTUS was important. Here is a taste of a statement that evangelical leaders signed in response to the moral indiscretions of President Bill Clinton:
We are aware that certain moral qualities are central to the survival of our political system, among which are truthfulness, integrity, respect for the law, respect for the dignity of others, adherence to the constitutional process, and a willingness to avoid the abuse of power. We reject the premise that violations of these ethical standards should be excused so long as a leader remains loyal to a particular political agenda and the nation is blessed by a strong economy. Elected leaders are accountable to the Constitution and to the people who elected them. By his own admission the President has departed from ethical standards by abusing his presidential office, by his ill use of women, and by his knowing manipulation of truth for indefensible ends. We are particularly troubled about the debasing of the language of public discourse with the aim of avoiding responsibility for one's actions.
We are concerned about the impact of this crisis on our children and on our students. Some of them feel betrayed by a President in whom they set their hopes while others are troubled by his misuse of others, by which many in the administration, the political system, and the media were implicated in patterns of deceit and abuse. Neither our students nor we demand perfection. Many of us believe that extreme dangers sometimes require a political leader to engage in morally problematic actions. But we maintain that in general there is a reasonable threshold of behavior beneath which our public leaders should not fall, because the moral character of a people is more important than the tenure of a particular politician or the protection of a particular political agenda. Political and religious history indicate that violations and misunderstandings of such moral issues may have grave consequences. The widespread desire to "get this behind us" does not take seriously enough the nature of transgressions and their social effects.
(Thanks to Katie Manzullo-Thomas and Devin Manzullo-Thomas for digging up this statement when I was writing in June about James Dobson's support of Trump).
I am not sure which Wayne Grudem to believe–the 1998 anti-Clinton version or the 2016 pro-Trump version.  Perhaps Grudem has changed his mind about presidential character.
Whatever one thinks about Grudem's views of prophecy, it is worth noting that he does think that prophets are human and sometimes may be wrong. On page 69 of his book The Gift of Prophecy in the New Testament and Today he writes: "The prophet could err, could misinterpret, and could be questioned or challenged at any point."