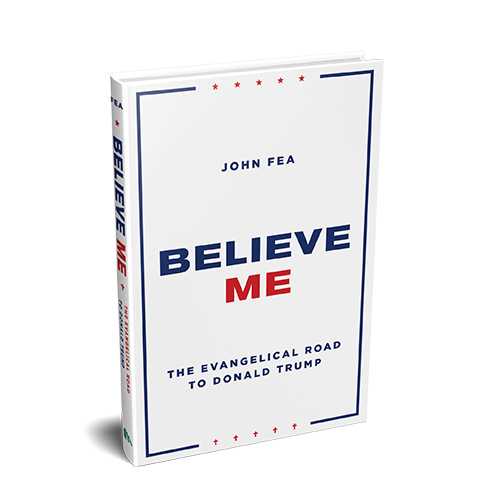 With the January 7, 2020 release of the paperback of Believe Me: The Evangelical Road to Donald Trump and the upcoming primary and general election season, the folks at Eerdmans Publishing have encouraged me to revive the Believe Me book tour.
Because of my teaching schedule, I am unable to take long trips.  But we are currently booking dates at bookstores, colleges and universities, churches, and other venues for the upcoming year at locations under 400 miles from Harrisburg, Pennsylvania.  (I am happy to entertain longer trips, but can't make any promises).
So far the Believe Me book tour has visited The Midtown Scholar Bookstore (Harrisburg, PA), Politics & Prose Bookstore (Washington D.C.), Penguin Bookshop (Sewickley, PA), The Book Loft (Columbus, OH), Carmichael's Bookstore (Louisville, KY), Taylor Books (Charleston, WV), Givens Books (Lynchburg, VA), Quail Ridge Books (Raleigh, NC), Winchester Book Gallery (Winchester, VA), Chop Suey Books (Richmond, VA), St. Paul's Episcopal Church (Richmond, VA), Hearts & Minds Bookstore (Dallastown, PA), Seminary Co-Op Bookstore (Chicago, IL), Valparaiso University (Valparaiso, IN), Cornerstone University (Grand Rapids, MI), Taylor University (Upland, IN), Anabaptist Mennonite Biblical Seminary (Elkhart, IN), Hope College (Holland, MI), Southern Methodist University (Dallas, TX), John Brown University (Siloam Springs, AR), Emmanuel United Methodist Church (Laurel, MD), Princeton University (Princeton, NJ), Eastern Mennonite University (Harrisonburg, VA), University of Colorado-Colorado Springs, University of Southern California, Mechanicsburg Presbyterian Church (Mechanicsburg, PA), Whitworth University (Spokane, WA), Greensboro College (Greensboro, NC), Penn State-New Kensington (New Kensington, PA), Gordon-Conwell Theological Seminary (Hamilton, MA), and Lancaster Interfaith Peace Witness (Lancaster, PA).
If you are interested in setting-up an event please context Christine Walter at cwalter(at)messiah(dot)edu
I hope to see you on the road this year.