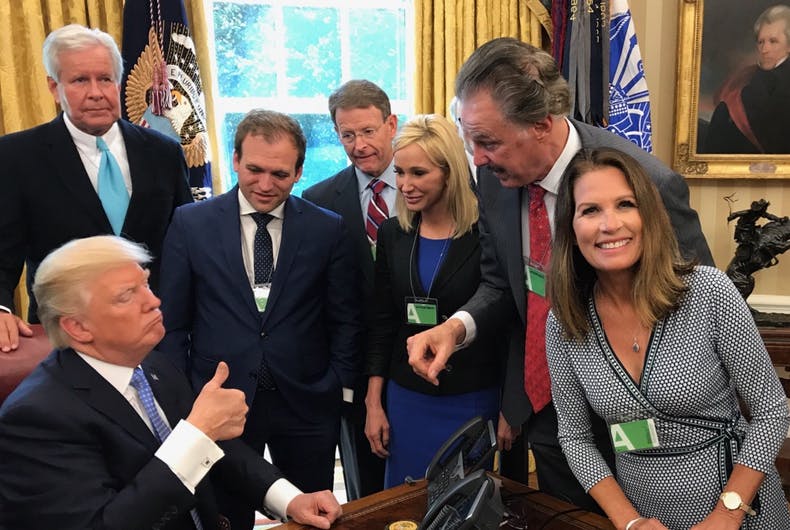 Court evangelical after court evangelical are rising-up to defend Donald Trump in the wake of Mark Galli's Christianity Today editorial calling for his removal.  Franklin, Graham, Robert Jeffress, Tony Perkins, Jenetzen Franklin, James Dobson, Samuel Rodriguez,  Johnnie Moore,and Jim Garlow, to name a few, have all turned to their favorite web pages and news outlets to make sure the evangelical base does not crack in light of this.  I would not be surprised if a White House memo has prompted this surge in commentary.  All of these responses share several things in common:
A fundamental misunderstanding of the impeachment process.  The House of Representatives has a constitutional mandate to impeach a president when its members believe that the president has committed high crimes and misdemeanors.  Such "high crimes and misdemeanors" are defined by the members of the House.  Yes, as Alexander Hamilton said in Federalist 65, this will often be a partisan endeavor.  But let's remember that the people of the United States gave Democrats control of the House in 2018 and these Democrats, after careful consideration, decided to impeach.  That's how it works. It is now up to the Senate to decide if Trump should be removed from office.  I should also add that in at least one case it appears that a court evangelical does not realize that if a president is impeached the vice-president takes over until the next election.
An attempt to paint all Democrats who support impeachment as radical leftists and socialists.  This is fear-mongering.  It is also not true.  (As I argued in Believe Me: The Evangelical Road to Donald Trump, fear-mongering is usually built on the propagation of false information and half-truths).  Impeachment has been led by mainstream Democrats, not the progressive wing of the party. Actually, I have been surprised just how quiet Alexandria Ocasio-Cortez and the rest of the so-called "Squad" have been during this entire process.
A failure to reckon with exactly what Donald Trump did during his phone call with the Ukrainian minister.  It appears that most Trump evangelicals agree with the president when he says the phone call was "perfect.  Instead, court evangelicals echo GOP talking points about the unfair nature of the process.  One court evangelical said that there was nothing–NOTHING– in Mark Galli's editorial that has any merit or truth.
An attempt to paint Christianity Today as a progressive and left-wing magazine with little influence.  Anyone who reads Christianity Today knows that the magazine is not progressive or left wing.  Mark Galli has said that Christianity Today has never imagined itself to be a spokesperson for all evangelicals.  So I'll say it again: if Christianity Today is so irrelevant, why are the court evangelicals taking to the airways and websites?  Why are they so afraid?
An attempt distract ordinary evangelicals from thinking deeply about whether or not what Trump did on the Ukraine call (abuse of power), and his refusal to provide witness and documents (obstruction of Congress), is indeed an impeachable offense.  They do this by appealing to the fact that Trump has appointed conservative Supreme Court justices and is advancing a "biblical world view." One court evangelical even praised Trump as a man of "character," "integrity," and "moral fiber." Another said he is a "man who really wants to do what is right" and praises his "honesty."  Thinking evangelicals need to cut through the distraction and realize that Trump's Supreme Court appointments have nothing to do with whether or not he should be impeached.  Neither does his views on abortion, religious liberty, or Israel.  Let's remember that over 500 legal scholars, 2000 historians, and editors at The National Review and American Conservative, among many others, have said that what Trump did is an impeachable offense.