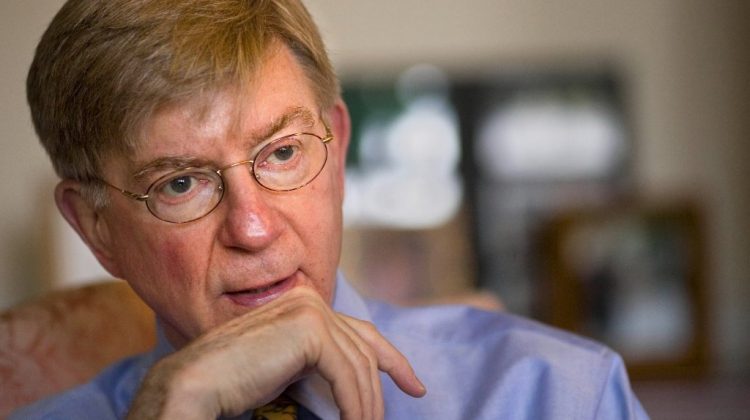 I am glad that conservative columnist George Will is coming to Messiah College on October 31, 2019.  In yesterday's column, Will rips into the Republican Party and its "canine loyalty" to Donald Trump.  Here is a taste:
In Federalist 51, James Madison anticipated a wholesome rivalry and constructive tension between the government's two political branches: "Ambition must be made to counteract ambition. The interest of the man must be connected to the constitutional rights of the place." Equilibrium between the branches depends on "supplying, by opposite and rival interests, the defect of better motives." But equilibrium has vanished as members of Congress think entirely as party operatives and not at all as institutionalists.
Trump is not just aggressively but lawlessly exercising the interests of his place, counting on Congress, after decades of lassitude regarding its interests, being an ineffective combatant. Trump's argument, injected into him by subordinates who understand that absurdity is his vocation, is essentially that the Constitution's impeachment provisions are unconstitutional.
The canine loyalty of Senate Republicans will keep Trump in office. But until he complies with House committee subpoenas, the House must not limply hope federal judges will enforce their oversight powers. Instead, the House should wield its fundamental power, that of the purse, to impose excruciating costs on executive branch noncompliance. This can be done.
In 13 months, all congressional Republicans who have not defended Congress by exercising "the constitutional rights of the place" should be defeated. If congressional Republicans continue their genuflections at Trump's altar, the appropriate 2020 outcome will be a Republican thrashing so severe — losing the House, the Senate and the electoral votes of, say, Georgia, Arizona, North Carolina and even Texas — that even this party of slow-learning careerists might notice the hazards of tethering their careers to a downward-spiraling scofflaw.
Read the entire piece here.