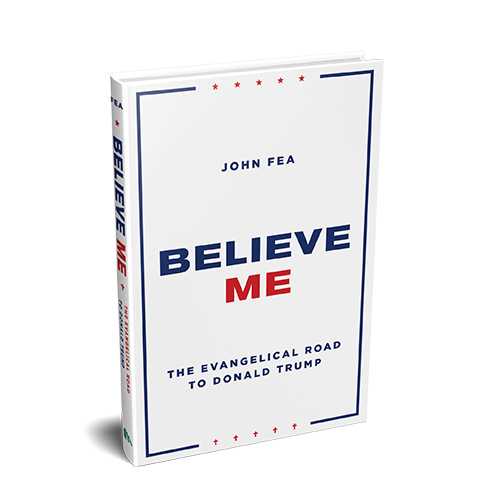 My friend John Wilson, the evangelical bibliophile who once manned the editor's desk of Books & Culture, has never quite embraced my argument about fear in Believe Me: The Evangelical Road to Donald Trump.  I will let him explain why he finds it so distasteful by citing a passage from his review of my book in The Hedgehog Review:
As a mea culpa of sorts, Fea has written three chapters—"The Evangelical Politics of Fear," "The Playbook," and "A Short History of Evangelical Fear"—that together make up more than half of his book (not counting the footnotes) and that precede his extended treatment of the court evangelicals. "Evangelical Fear": That's the answer! Oh, dear. It's not just dismaying to me, it's shocking (to borrow a word from Fea himself) to see such an excellent historian relying on the tired trope of "evangelical fear" to reduce the story of a many-sided movement and its infinitely various membership over several centuries to a simple morality play. "It is possible," Fea says, "to write an entire history of American evangelicalism as the story of Christians who have failed to overcome fear." Possible, yes, just as it's possible to write triumphalist histories of evangelicalism (of which we've had all too many). But are those our only choices?
Read the rest here.
And here is my response to the review.
Earlier this evening I did a post on the Religion News Service's interview with Franklin Graham.  Journalist Yonat Shimron asked Graham all the right questions.  I am quoted in the piece:
Sounding the alarm about a nation in peril is a tried-and-true evangelical strategy, said John Fea, professor of American history at Messiah College in Mechanicsburg, Pennsylvania.
"I've argued this has been a typical part of evangelical political engagement for centuries — fear mongering," said Fea. "You can't make an argument to support what the president did on his phone call with the Ukrainian president. So what do you do? You play the traditional game of instilling fear in the electorate so they will see us falling off the cliff as a nation and this apocalyptic language will convince them they have to vote for Trump again in 2020."
When I tweeted the article, John Wilson posted a sarcastic tweet in response:
Thank God no one else (no one but those awful, fraidy-cat evangelicals!) is guilty of "sounding the alarm about a nation a peril." I mean, look around right now! Who else is doing that???

— John Wilson (@jwilson1812) October 3, 2019
I responded to much of Wilson's argument in this tweet in my aforementioned (and linked) post to his review in The Hedgehog Review, but let me write a few more words here.
Am I afraid of the legacy that Donald Trump and the court evangelicals will leave for the nation and the church?  Yes.  I am very afraid.  But I also realize that I cannot dwell in this fear and, through the spiritual disciplines of my faith, respond to such fears with hope.  In other words, I need to trust God more.  As the writer Marilynne Robinson once said, "fear is not a Christian habit of mind."
But I should also add that any fear I might have about Trump, the court evangelical agenda, and their legacy is based on truth and facts.  This is different from the fear I see among many of Trump's evangelical supporters.
Most evangelical fear is built upon endless lies. These include the false idea that America was founded as a Christian nation and needs to be reclaimed, the straw man that all Democrats are socialists, Marxists, and atheists trying to undermine American liberty, the idea that impeachment will lead to a civil war, the belief that immigrants will kill us if they get too close, or the conviction that abortion will end if we just overturn Roe v. Wade.   The overwhelming majority of conservative evangelical Christians who I know and talk to on a regular basis believe one or more of these false claims.  They get their talking points from Fox News and then read the Bible to make it fit with these talking points.  They believe that there is a deep state–an illuminati working to undermine God's anointed president.  They are so afraid of Hillary Clinton that they think she should be locked-up.  They believe that demonic forces are unraveling America.  And if anyone offers an alternative view to these beliefs they will be castigated as a purveyor of "fake news."  Again, I have spoken at length to evangelical family members, readers of this blog, and members of my church who believe one or more of these things.  I get their nasty e-mails, social media messages, and multi-part voice messages.
John Wilson–you need to get out more. The fearful people I am writing about here do not read back issues of Books & Culture or attend the Calvin College Festival of Faith and Writing.  They do not talk theology in the coffee shops of Wheaton, Illinois.  There is an entire world of evangelical Christians out there who you have not yet met. They are very afraid.  They seek comfort in strongmen of both the political and religious variety.  Donald Trump and the court evangelicals are exploiting their fears for political gain.