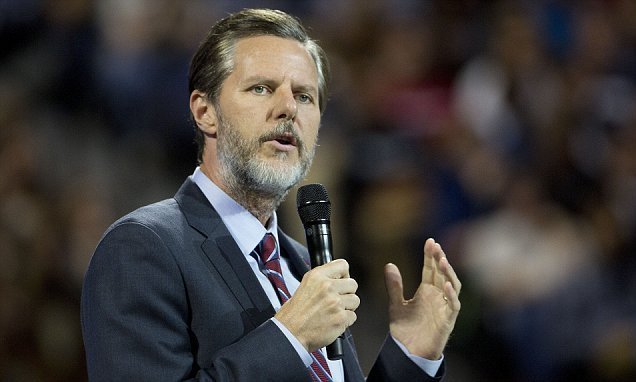 Yesterday I posted about Brandon Ambrosino's Politico piece exposing Jerry Falwell's lies, shady business deals, sex life, and the tyrannical power he holds over his employees at Liberty University.  One of Falwell's employees called the president a dictator who propagates a culture of fear at the Lynchburg, Virginia school that claims to be the largest Christian university in the world.
Two things are worth noting about this story.
First, anyone who has studied the history of American fundamentalism will be familiar with the kind of power Falwell Jr. wields.  Falwell Jr. inherited Liberty from his father, Jerry Falwell Sr., the founder of the school.  Falwell Sr. was the product of the separatist fundamentalist movement, an approach to conservative Protestantism that continued to cling to the label "fundamentalism" long after other mid-twentieth-century conservative Protestants had abandoned it in favor of the term "evangelical."  Liberty University (originally Lynchburg Baptist College) was born out of this movement.
Falwell Sr.'s brand of fundamentalism not only opposed secular humanism and liberal Protestantism, but it also refused to fellowship or cooperate with conservative Christians willing to participate in religious services and events with liberal Protestants.  This was known as "second-degree separation" and, as I argued in several essays in the 1990s, it was a defining characteristic of the fundamentalist movement in the years following the fundamentalist-modernist controversies of the 1920s.
When so-called "neo-evangelicals" such as Billy Graham, Carl F.H. Henry, John Harold Ockenga, and others sought to forge a more irenic brand of conservative Protestantism after World War II known as "neo-evangelicalism," other alumni of the fundamentalist-modernist controversies such as John R. Rice, Carl McIntire, Robert T. Ketcham, and Bob Jones Jr. continued to cling to the label "fundamentalism." (Falwell Sr. was a disciple of Rice, a Wheaton, Illinois and later Murfreesboro, Tennessee -based evangelist who parted ways with Graham over the latter's willingness to allow liberal clergy to pray at his crusades).
These separatist fundamentalists were known for empire building.  Rice built his empire around his newspaper The Sword of the Lord, a weekly publication that had over 100,000 subscribers in the 1950s.  McIntire's built an empire around his popular radio broadcast, his Collingswood, New Jersey-based weekly newspaper The Christian Beacon, his conference-center properties in Cape May, New Jersey, and Shelton College (first in Ringwood, NJ and later Cape May) and Faith Theological Seminary (Elkins Park, PA).  Ketcham was a leader of the General Association of Regular Baptists, a denomination formed in the wake of the modernist takeover of the Northern Baptist Church.  Bob Jones Jr. presided over Bob Jones University in Greenville, South Carolina.  All of these men were autocratic leaders who wielded immense power among their followers.  They spent much of their time railing against their many enemies–modernism, mainline Protestantism, communism, the civil rights movement, feminists, and the counter-culture.  And they became experts at sniffing-out those in their ranks who they believed to be compromising their faith by working with Graham or other neo-evangelicals.
When Jerry Falwell Sr. formed the Moral Majority in 1979, many self-identified fundamentalists rejected him.  Falwell Sr.'s willingness to work with like-minded Catholics and Mormons  on moral issues was just too much for separatists such as Bob Jones Jr.   Yet Falwell Sr. never really joined the neo-evangelical fold.  Since the 1980s, Falwell Sr and the empire he created in Lynchburg has remained in a kind of no-man's land–situated somewhere between the culturally-engaged evangelicals and the old separatists.
Though Falwell Sr. eventually parted ways with his separatist fundamentalist roots, he never abandoned the empire-building mentality of the religious culture in which he came of age as a minister.  Falwell Sr. ran Liberty University like a dictator.  So does his son.  In this sense, there is more continuity between father and son than Ambrosino allows.
Second, I am afraid that Ambrosino's Politico article will do little to damage Jerry Falwell Jr.'s reputation among his followers.  Falwell Jr. will just claim that Ambrosino is a disgruntled former student and Politico is part of the mainstream media out to get him because of his support of Donald Trump.  Yes, there may be some evangelical parents and high school students who will take Liberty University off their short list because of this article and others like it, but I imagine that many students and alumni at Liberty will see Falwell Jr. and Liberty as victims of the liberal media and other forces trying to undermine evangelical Christianity, religious freedom, and Christian nationalism in America.  Liberty will remain a safe place for these parents and students.
Falwell Jr. is no dummy.  He knows that his administrative staff and faculty are expendable. In his mind, they are interchangeable parts.  He once said that he has "tamed" them.  Someone, after all, has to teach the classes.  In the end, Falwell Jr. is betting that as long as he takes his cultural war vision for Liberty University directly to the people through social media, conservative political outlets like Fox News (where Liberty advertises), and court evangelical appearances with Trump, and as long he suppressed dissent among his staff and the student body, he will continue to fill seats in the Liberty University classrooms and online venues. Many evangelicals will overlook his indiscretions in the same way they have overlooked Trump's indiscretions.