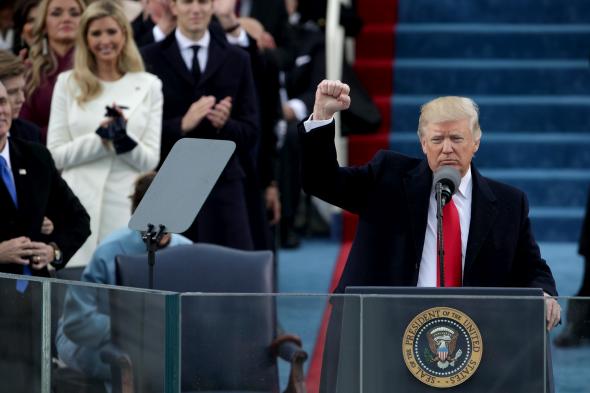 My daughter was quick to tell me that "Antichrist" was trending on Twitter today.  Then I got a call from Emily McFarland  Miller, a reporter for Religion News Service, to talk about the meaning of words like "Antichrist" and "Chosen One."  Here is a taste of Miller's piece (co-authored with Jack Jenkins and Yonat Shimron):
Somebody had to take on China on trade, Trump told reporters Wednesday.
"I am the chosen one," he said, glancing heavenward with outstretched hands.
Supporters have excused that comment as a joke.
Others used words like "blasphemy" and "idolatry."
Bass tweeted that the phrase refers to Isaiah 42:1: "Behold, My Servant, whom I uphold; My chosen one in whom My soul delights I have put My Spirit upon Him; He will bring forth justice to the nations." Christians understand the Bible verse as a prophecy referring to Jesus.
"The chosen one" isn't necessarily a biblical concept, said John Fea, professor of American history at Messiah College. It also has been used to refer to everyone from basketball star Lebron James to fictional wizard Harry Potter.
But in the context it's difficult to ignore, Fea said.
"The phrase 'chosen one' is probably part Christianity, part science fiction, part myth, part fantasy, part Harry Potter," Fea said. "But at the same time, there is embedded within that phrase this idea that God chooses certain people — and evangelicals will believe this — that God chooses certain people for particular moments in time to serve his purposes."
Read the entire piece here.