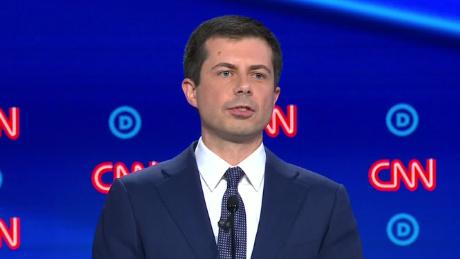 Some of you may recall that Pete Buttigieg quoted scripture on Monday night during the Democratic debate.  He said: "So-called conservative senators right now in the Senate are blocking a bill to raise the minimum wage when Scripture says that whoever oppresses the poor taunts their maker." Buttigieg was quoting from Proverbs 14:31, which says "Whoever oppresses the poor shows contempt for their Maker, but whoever is kind to the needy honors God."
Over at Christianity Today, Kate Shellnutt asked some evangelical leaders about whether or not Buttigieg used this verse correctly.  Most believed that he did use it correctly, but also could not resist mentioning (or implying) that he is pro-choice and gay.
Here, for example, is Shellnutt on Andrew T. Walker's response to Buttigieg:
Andrew T. Walker, senior fellow in Christian ethics at the Southern Baptist Ethics and Religious Liberty Commission (ERLC), tweeted his opposition to Buttigieg's line: "It never fails to baffle how progressives can appeal to the Bible to arrive at an exact minimum wage ($15, according to Buttigieg), yet ignore, reject, or plead ambiguity on the Bible's teaching on marriage and abortion."
This is a strange response.  I don't think Buttigieg was using the Bible to "arrive at an exact minimum wage" of $15.  He was simply articulating a biblical principle.
Read Shellnutt's piece here.