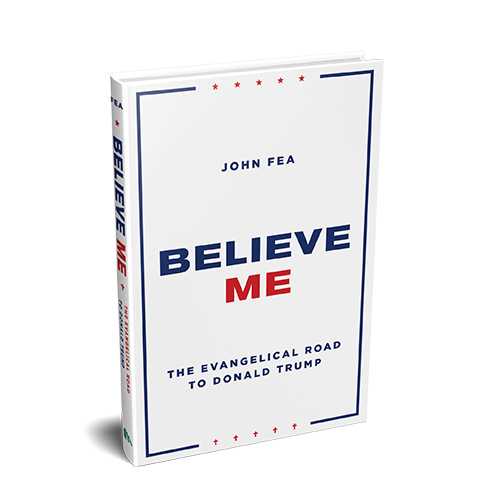 First Things assigned Peter Leithart, the president of an organization called Theopolis Institute, to review my Believe Me: The Evangelical Road to Donald Trump.  The title of his review is  "Trump Among the Evangelicals."
Here is the relevant part of the review:
All in all, Fea tells a familiar story, and his main contribution is to update some threads of the history of the Christian Right. Fea is right on some key points. He's right to be alarmed by the near-messianic enthusiasm of some evangelicals for Trump. He's right to chide the hypocrisy of excusing Trump for sins that were impeachable offenses when committed by Bill Clinton. He's right about the seductions of power, and he can quote former Christian Right leaders like Cal Thomas in support. He's right about the nostalgia, and his answer to the question, "Was America founded as a Christian nation?" is sensibly ambivalent: It's "difficult to answer with a definitive 'yes' or 'no.'" Fea's advocacy of a politics of hope, humility, and history can hardly be gainsaid.
But Believe Me is a political intervention under the cover of history. As such, it suffers from two debilitating defects.
Fea is a professor at Messiah College—an evangelical institution. He is talking about his own tribe, but he shows little sympathy for his subjects. He observes, for instance, that evangelicals see the years between the end of World War II and the beginning of the Reagan presidency as "a perfect storm capable of wiping out the Christian ideals that built their great nation." I imagine he'd say that it's outside his bailiwick as a historian to judge whether evangelical fears are well-grounded, but his framework speaks for itself. Fea places these trends under the rubric of "evangelical fear," which shades over into "evangelical paranoia." But it's worth asking, might evangelical qualms be justified?
Fea also displays a stunning lack of curiosity, which narrows his tale to a few evangelical stars. Millions of evangelicals who will never be court evangelicals voted for Trump. Who are they? What motivated them? Are they also driven by fear, lust for power, and nostalgia? Or are they perhaps motivated by more mundane worries—like how they're going to make rent or pay for groceries or rebuild their crumbling neighborhoods? Fea never asks.
It wouldn't have been hard to find some answers. Timothy Carney, author of Alienated America, compiles widely-reported evidence that Trump's strongest evangelical support came from those who don't attend church regularly. They hold evangelical beliefs without evangelical belonging. Americans, Carney argues, suffer from a deficit of social capital, which in America is typically mediated through local churches. In healthy communities, like the Dutch Reformed towns of Iowa and Michigan or the tightly networked Mormonism in Utah, Americans are often conservative but anti-Trump. Fea doesn't consider the possibility that a vote for Trump was a cry of desperation from the unchurched, unemployed, alienated American heartland. As a result, Believe Me misses some of the most significant lessons of the ongoing saga of Trump among the evangelicals.
A few comments:
My book has been out for a year, but I am grateful to see that high-caliber magazines like First Things still find it worthy of a review.  I am a former subscriber to First Things and I have also written a few things for the website.
I am not very familiar with Leithart's work, but I do know that he is a big name among the circle of conservative Christians who read First Things.  I am happy to see that he finds much to commend in the book.
Leithart says that my "main contribution" in Believe Me is "to update some threads of the history of the Christian Right."  Not really.  Most of my story of the Christian Right draws from other scholars.  There is actually very little new here beyond my synthesis of  some outstanding scholarship by folks like Randall Balmer, Kevin Kruse, Daniel K. Williams, and Mark Noll.  And my long look into the history of fear is rooted in the best academic history available.
Leithart calls my book "a political intervention under the cover of history."   He writes this as if it is a bad thing.   I actually prefer to call Believe Me a historically-inflected piece of political commentary.  Whatever the case, I never claimed that this was a traditional history book.
Leithart writes: "I imagine he'd say that it's outside his bailiwick as a historian to judge whether evangelical fears are well-grounded, but his framework speaks for itself."  Actually, I make the case in multiple places in the book that evangelical fears ARE NOT well-grounded.  My direct and unambiguous moral intervention into the narrative is why I do not consider Believe Me a work of traditional history.  I make a case for this approach in the book.
Leithart suggests that I display a "stunning lack of curiosity" because I don't embrace the popular theory that the evangelical voters who pulled the level for Trump do not attend church.  He says that I should have consulted Timothy Carney's book Alienated America on this front.  Actually, I don't think my unwillingness to buy into this theory comes from a lack of curiosity.   I was quite curious about it, but in the end I rejected it (and I make this point in the book).  Since then, a Pew study has shown that Trump's support actually comes from evangelical who DO attend church.  (And even if I did agree with Carney's findings, his book did not appear until February 2019, eight months after Believe Me was published.  Leithart is apparently not aware of this fact).
I usually don't comment on reviews of my books, but I am left wondering if Leithart even read it.  I do not expect this kind of sloppiness from First Things.