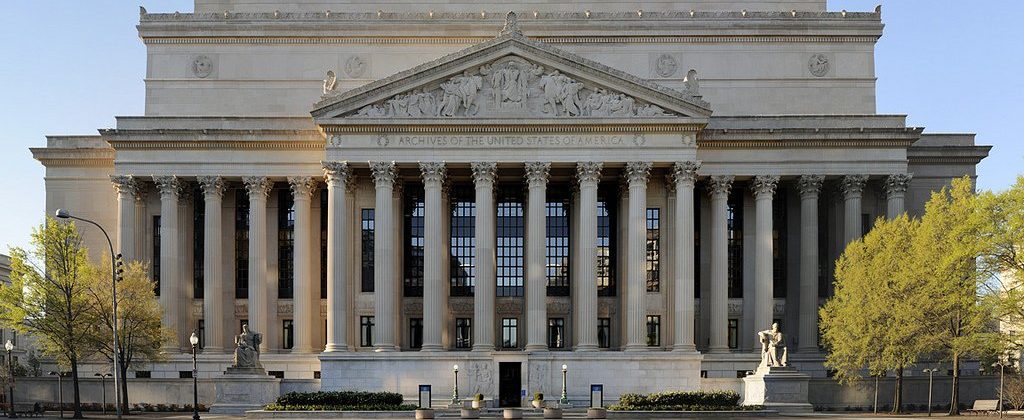 Two-time Pulitzer Prize-winning historian T.J. Stiles has a great piece at The Washington Post on reduced funding for the National Archives and Records Administration (NARA).  This is a must read.
A taste:
Every American can go to the National Archives and get direct access to our past and present. And everyone suffers from the failure to pay what it costs to maintain it. In fiscal 2010, Congress granted NARA $475 million , for example. The next year, it cut the appropriation to $420 million. The appropriation for 2018 was $403.2 million. For 2020, the Trump administration is asking for $358 million. Such repeated, harsh reductions are even worse when adjusted for inflation.
Even as appropriations decline, the workload increases. Already NARA facilities are near full capacity for record storage, holding some 4.5 million cubic feet. Yet more files arrive annually, with as much as 2.5 million cubic feet of "permanently valuable, historical records" expected over the next 14 years.
Selecting and preserving these records demand countless hours of expert labor. Some records need special care; all must be identified and catalogued; security and privacy concerns require diligent attention. On top of that, NARA has been asked to digitize those existing paper records. In 2018, it lagged nearly 12 million pages behind its goal of making 65 million available online — in itself a small fraction of its total holdings.
The fiscal constriction shows at the scores of facilities where the public accesses federal records. NARA maintains more than a dozen presidential libraries, 13 federal records centers, 11 regional facilities and two personnel records centers, not to mention two central locations in College Park and Washington. Recent years have seen visitor hours restricted, new fees levied and a shrinking workforce.
That staff consists of dedicated professionals. I've worked with many of them personally, from rank-and-file archivists to the agency's nonpartisan leadership, and I have great confidence in them. (I spoke to no one at NARA about this essay.) But only so much can be accomplished with a shrinking budget. In 2017, an employee survey found 73 percent agreed that "my agency is successful at accomplishing its mission." In 2018, that figure declined to 66 percent, an alarming level for such a critical body.
We owe it to ourselves to substantially increase funding for the keepers of our national memory. No financial interest or large popular pressure group lobbies on NARA's behalf. Its constituency is all of us — and every American to come. If we lose touch with who we have been, what we have endured and how we have argued, the United States will stand for nothing at all.
Read the entire piece here.