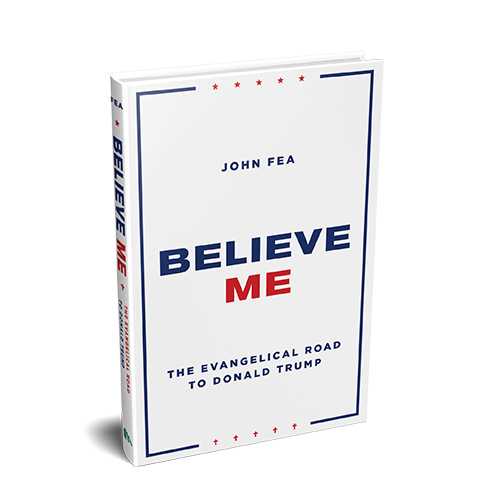 My book Believe Me: The Evangelical Road to Donald Trump is scheduled to appear in paperback in January 2020, just in time for the primary season.  I imagine the speaking invitations might pick up between now and the 2020 election, but yesterday marked the last scheduled event on the tour.  I have been on the road with this book (off and on, of course) since June 2018.  If am counting correctly, I have appeared before forty-two flesh and blood audiences to talk about the book and multiple podcasts and radio shows and two appearances on both C-SPAN and CNN.
I remain passionate about explaining the historical forces at work that led 81% of white evangelicals (my tribe) to vote for Donald Trump in 2016.  I remain equally passionate about trying to convince my fellow evangelicals that this was a bad idea.  Some have accused me of having Trump derangement syndrome.  Perhaps this is true, but I refuse to stand by and let the immoral Trump presidency become the new normal.  The country and the church can do much better.  So feel free to reach out if you are still interested in a talk at your church, campus, or bookstore.
Yesterday I spent the afternoon speaking to the members of the Lancaster Interchurch Peace Witness.  It was a friendly audience who had a lot of very good questions.  I fielded questions about Christian Zionism and Trump, the possibilities of a progressive Christian political witness, the racial divide in the evangelical community, and whether or not the answer to political partisanship in America is another Jonathan Edwards-like revival.
Thanks to Barry Stoner for the invitation and for Byron Borger of Hearts & Minds Bookstore for providing the books for signing.