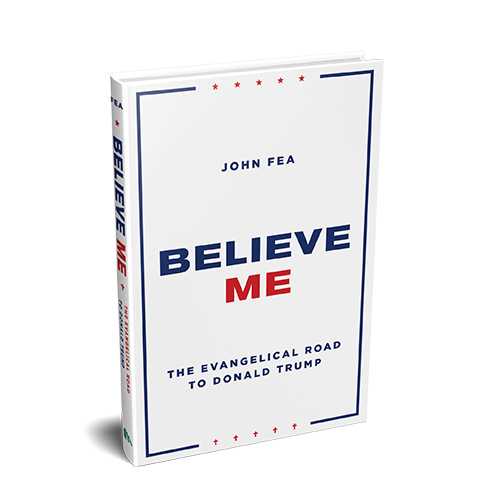 Here is a recent Amazon review of Believe Me: The Evangelical Road to Donald Trump:
Well it would have been much simpler to take into account what would have happened had the other candidate won.
First of all, I was not electing a clergy-in-chief but a commander-in-chief.
Secondly I felt pretty confident that the two biggest issues were court appointments and abortion which Trump would come through on. Trump has delivered in spades on those issues and they will be affecting our political landscape for decades to come.
Finally I just need to mention two words; Hillary Clinton. In that vien, your book seems like a waste of time and while you toot your own horn, we just thank God that SHE didn't win.
Besides, Trump might be a baby Christian and just finding his way through his newfound faith. Can you imagine any other person on the face of this earth that could withstand what he has gone through?
That is why he needs our prayers; yes he is a flawed human being, but then again all of us are.
I don't normally respond to Amazon reviews, but I have received a comment like this from a Trump supporter at almost every stop on the Believe Me book tour.  Here is a very quick response:
I was not electing a clergy-in-chief either.  But I do expect my president to have some kind of moral center.  I don't care if such a center is informed by Christianity, religion generally, an innate moral sense, civic humanism, virtue, conscience, a respect for American values and institutions, or some kind of commitment to the common good.  Moreover, I am not only electing a commander-in-chief.  The president's role as the leader of the military is only one part of his constitutional responsibilities.
Trump has affected the political landscape for "decades to come."  But what will the Christian church look like in "decades to come?"  Who on the Trump side of the ledger is asking this question?  Moreover, as I argue in the book, I do not believe that overturning Roe v. Wade is the best way to reduce abortions in America.
Christians are not supposed to hate.  But they hate Hillary Clinton.  Jesus followers need to take a look at this.
If Trump is a "baby Christian," he has not manifested much spiritual growth in the last three years.
Yes, Trump needs our prayers.  So does everyone who has suffered and is suffering under his presidency.