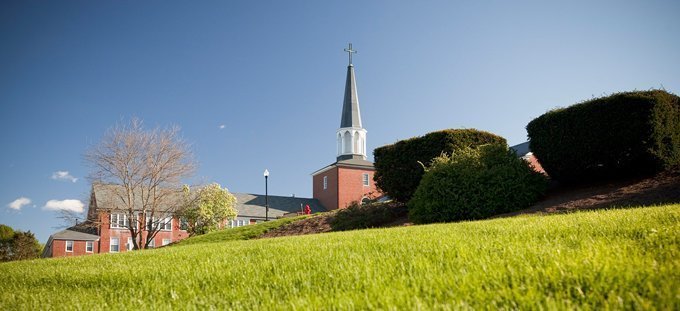 I spent Monday night at Gordon-Conwell Theological Seminary in Hamilton, Massachusetts (Boston-area).  Thanks to Gordon-Conwell president Dennis Hollinger for the invitation and Mary Ann Hollinger for her hospitality.
The Boisi Center for Religion and American Public Life sponsored conversation on evangelicals and politics that included Boisi director (and Jesuit theologian) Mark Massa, Dartmouth historian of American evangelicalism Randall Balmer, and yours truly.
A few takeaways:
Gordon-Conwell is a seminary founded by mid-century evangelical stalwarts Billy Graham, J. Howard Pew and J. Harold Ockenga.  Over the last fifty years it has been an institutional fixture on the evangelical landscape.  During the course of the evening I did not meet a single Trump supporter.  This is the first time that I have been at a self-identified evangelical institution where I did not meet someone who wanted to make the case for Trump.
I talked with several pastors-in-training (MDiv students) who wanted advice about how to deal with Trump supporters in their future congregations.  My advice:  preach the Gospel in season and out of season.   I hope they will avoid bringing politics into the pulpit, but rather preach in a positive way about what the Bible teaches regarding truth and lying, welcoming the stranger, caring for the "least of these," loving neighbors," the dignity of human life, and the pursuit of holiness.  I encouraged them, to borrow a term from Virginia sociologist James Davison Hunter, to be "faithfully present" in the congregations and communities where God calls them to serve.
 All of the evangelical millennials I chatted with were fed-up with Trump and the Christian Right.  It seems like a sea-change is coming.
 During the formal conversation, Gordon-Conwell theology and missions professor Peter Kuzmic talked about how his fellow evangelicals in Eastern Europe were appalled that American evangelicals supported Trump.  I asked him publicly if the evangelical support of Donald Trump was hindering the work of the Gospel in Eastern Europe.  He did not miss a beat in saying "yes."  This is tragic.  It is the case I have been making during the Believe Me book tour.  I told Kuzmic that I would like to take him with me on the road.  His testimony was a powerful one.  While court evangelicals continue to take victory laps over securing an originalist judiciary that might overturn Roe v. Wade, the witness of the Gospel is becoming more difficult, especially for missionaries.
We talked a lot of about "fracture" within the evangelical community.  The days of a unified neo-evangelicalism (if there ever was such a thing) are over.  George Marsden once said that an evangelical is someone who likes Billy Graham.  Well, Billy Graham is now dead and there will be no one to replace him.  This is not a statement about whether or not there are any potential heirs to Graham.  It is rather a statement about the current state of American culture, a state that Princeton historian Daniel T. Rodgers has called the "Age of Fracture." I want to write more about this.
It was an honor to share the stage and the evening with Randall Balmer, a scholar who has taught me so much about evangelicalism.