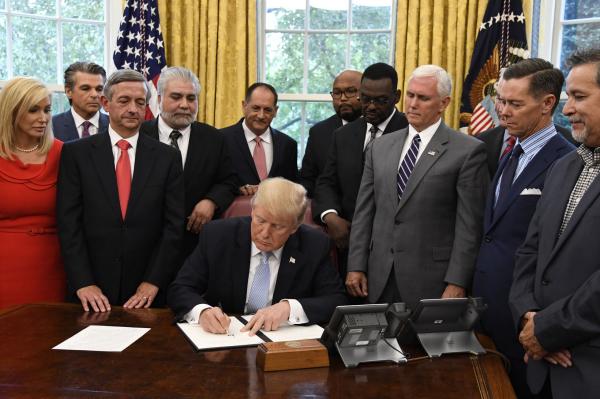 If Pew Research is correct, Donald Trump is more popular among white evangelicals who regularly attend church and less popular among those who do not.  I tried to explain this in a piece at today's Washington Post "Made by History" column.  Here is a taste:
Many white evangelical churchgoers now see the fight to overturn Roe v. Wade as equivalent to their call to share the Gospel with unbelievers. They subscribe to the message that the only way to live out evangelical faith in public is to vote for the candidates who will most effectively execute the 40-year-old Christian right playbook.
The movement's message is so strong that even when pastors oppose the politicization of their religion, the message is not likely to persuade congregants. Indeed, many white evangelical pastors do not preach politics from their pulpit. Some speak boldly against the idolatrous propensity of their congregations to seek political saviors.
But these pastors cannot control the messaging their flocks imbibe after they leave church on Sunday. And a massive Christian right messaging machine targets these Americans with precision. Ministries and nonprofit organizations, driven by conservative political agendas, bombard the mailboxes, inboxes and social media feeds of ordinary evangelicals. Many of these organizations appeal to long-standing evangelical fears about cultural decline or provide selective historical evidence that the United States was founded as, and continues to be, a "Christian nation," even though this never was true.
Evangelicals filter what they hear during weekly sermons through Fox News and conservative talk radio, producing an approach to political engagement that looks more like the Republican Party than the Kingdom of God.
None of this is new. People in the pews (or in the case of evangelical megachurches, the chairs), have always been selective in how they apply their pastor's sermons in everyday life. Evangelical Christians, from the Puritans to the present, have always mixed traditional Christian teachings with more non-Christian sources as they cultivate their religious lives. Today, however, cable television and social media expose white evangelicals to ideas that come from outside the church but that claim to be driven by Christianity at an unprecedented rate.
Read the entire piece here.