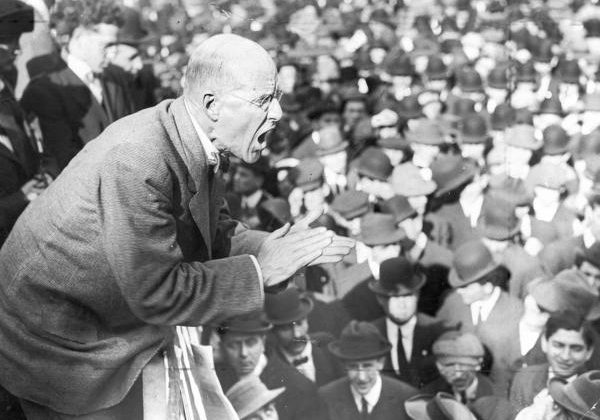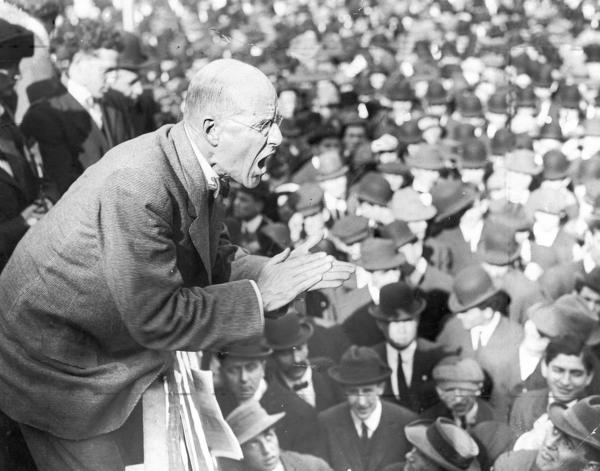 Jill Lepore, in a piece at The New Yorker, argues that Eugene Debs's socialism was deeply rooted in values that were both American and Christian.  God and country!
Here is a taste:
But Debs's socialism, which was so starry-eyed that his critics called it "impossibilism," was decidedly American, and had less to do with Karl Marx and Communism than with Walt Whitman and Protestantism. "What is Socialism?" he asked. "Merely Christianity in action. It recognizes the equality in men."
The myth of Debs's Christlike suffering and socialist conversion in the county jail dates to 1900; it was a campaign strategy. At the Social Democratic Party convention that March, a Massachusetts delegate nominated Debs as the Party's Presidential candidate and, in his nominating speech, likened Debs's time in Woodstock to the Resurrection: "When he came forth from that tomb it was to a resurrection of life and the first message that he gave to his class as he came from his darkened cell was a message of liberty." Debs earned nearly ninety thousand votes in that year's election, and more than four times as many when he ran again in 1904. In 1908, he campaigned in thirty-three states, travelling on a custom train called the Red Special. As one story has it, a woman waiting for Debs at a station in Illinois asked, "Is that Debs?" to which another woman replied, "Oh, no, that ain't Debs—when Debs comes out you'll think it's Jesus Christ."
Read the entire piece here.
My favorite biography of Debs remains Nick Salvatore's Eugene Debs: Citizen and Socialist.  It is worth your time.