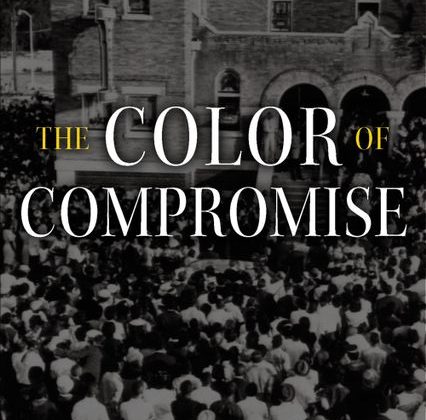 Jemar Tisby's much-awaited book The Color of Compromise: The Truth About the American Church's Complicity in Racism is now available.  Jemar is a graduate student in American history at the University of Mississippi and an African-American evangelical in the Reformed tradition who over the last several years has become an important voice in the evangelical community.
I am looking forward to reading Jemar's book and perhaps reviewing it here, but in the meantime I recommend historian Daniel Williams's review at The Gospel Coalition.  Here is a taste:
Tisby claims that the black exodus from white churches in the last two years is principally a reaction to white evangelicals' support for Donald Trump, so any attempt at racial reconciliation in the church must address white evangelicals' political choices. Citing religious sociologist Michael Emerson's view that Trump's election was "the single most harmful event to the whole movement of reconciliation [in evangelical churches] in at least the past 30 years," Tisby argues that white evangelicals bear responsibility for the racial polarization that ensued when they cast their ballots for Trump—regardless of their reasons for doing so. Furthermore, he says that white evangelical repentance from racial sins should include specific steps to remove the political symbols of white supremacy, starting with Confederate monuments.
How should white evangelicals react to this indictment? If Tisby and other Christians point out ways in which the president's actions or rhetoric have hurt racial minorities, white Christians shouldn't hesitate to join their brothers and sisters in condemning these sins and advocating for justice—even if they voted for President Trump. To pretend that any politician or political party is above criticism is theologically dangerous.
Finally, Tisby claims that Christians who insist they can simply preach the gospel without talking about systemic racism are complicit in racial injustice. Is this correct? This may sound, on the surface, as though Tisby is doubting the gospel's power to change lives, but it actually accords with historic Reformed theology. Reformed Christians who believe in the "third use of the law" have insisted for five centuries that Christians need to hear the law of God to grow in sanctification. A simple proclamation of a narrowly defined version of the gospel, without application of God's moral law, is unlikely to correct spiritual blindness and sins. Biblical teaching on God's call for justice in social relationships and on specific ways in which whites can love their neighbors of another race is required. And when white Christians see ways in which their own church traditions' records on race are laced with sin, they should admit the wrong and seek justice and racial reconciliation.
Read the entire review here.
Not everyone, however, seems happy that The Gospel Coalition chose to feature a review of Tisby's book.  Check out some of these tweets:
I did read the article. Arguing for "social justice" is not helpful. That concept is used to target whomever doesn't agree with the SJW. The message is confusing and Christians are guilted into feeling bad and guilty. Also it's a sleight of hand for socialism-that won't help.

— Shawna Zlab (@shawnazlog) January 24, 2019
The standpoint of the congregation itself, but to tell me that I must atone for the sins of R.L. Dabney is going to receive the Heisman. Again, I'm open to evidence to the contrary, but I don't see where Christ is going to hold me accountable for things I did not do.

— Cooper Day (@cooperday) January 24, 2019
I'm all filled up on white guilt and inescapable condemnation. Tried it for a bit and decided it wasn't for me.

— Adam Kane (@KaneTruth) January 24, 2019
My biggest difference is theological, though. I'm open to evidence showing otherwise, but as I read the Gospels and the two dozen-ish times Christ talks about Hell, and Revelation, I don't see evidence where we are held accountable by God the sins of others.

— Cooper Day (@cooperday) January 24, 2019
Which leads to division in the body of Christ that Paul specifically says Jesus died to erase. Please stop dividing the church over race and enabling Christians to harbor bitterness against their brothers.

— Joel Walker (@solagratiaJW) January 24, 2019
I also think this whole "we don't like who you voted for" is not a hill worth dying on. Unless specific evidence can be provided that DJT is manifestly harmful to minorities (yes, I understand that he's often offensive) then I think the theological component is iffy here.

— Cooper Day (@cooperday) January 24, 2019
I call on TGC and Jemar Tisby to repent for the false narrative of "white evangelical Christians who have ignored their participation in racial injustice."

— HakimRamalla (@HacimMb) January 24, 2019
Yeah, I'll get right on that

— Dudley Walden (@KYWrangler) January 24, 2019
TGC promoting known segregationist Jemar Tisby.

— ConformingPuritan (@Low_Church_GANG) January 24, 2019
Jamar Tisby issues an unbiblical and racist call to "white" evangelical Christians repent for a false narrative that is causing more division in the body of Christ. Shame on @TGC for kowtowing to the real racists. And yes, "blacks" can be racists, too! https://t.co/GqCYptmQEc

— Ron Haygood (@RonaldHaygood) January 24, 2019
The Gospel Coalition – promoters of racism, corrupters of the Gospel and dividers of the Church. AKA heretics.

— His Place Bookstore (@PlaceHis) January 24, 2019
Will you guys please shut up already!!! Social Justice is Marxist garbage. Truth is not "relative to the victim group" it is, and always will be, relative to God. CROSScultural over multiCULTural. pic.twitter.com/BvXnOMbVRr

— Peter P. Lackey, Jr. (@PeterPLackeyJr) January 24, 2019
Calls for repentance should be reserved for biblical categories, not political social agendas. We must not lose focus on atonement and justification being main themes of scripture that positively effect society. We cannot make it political and remain true to the gospel.

— Trail Thinker (@jeff_claiborne) January 23, 2019
Just another advocate for the social gospel that Jesus never advocated or embraced if churches would preach the true Gospel it would alleviate a lot of these issues

— Moises (@Moises65445164) January 23, 2019
Sadly you have lost your salt and become a worldly organization, may God grant your organizations leaders repentance

— Rick Soli Deo Gloria (@one4veritas) January 23, 2019
I know that The Gospel Coalition can't control what happens on Twitter, but those of us who are not connected to TGC would like to know if these tweets are representative of this organization.  At the very least, these tweets reveal there are still many, many conservative evangelicals who have not come to grips with systemic racism.
ADDENDUM (10:15AM–January 24, 2018):  And the hits keep coming!
…and I would invite everyone to go read all the articles published on Tisby's website for free to see that my critique is justified. He's a bigot enslaved to his ethnic pride, partiality, and malice as well as the Leftist agenda of the Party that gave us segregation.

— William F. Leonhart III (@WmLeonhartIII) January 24, 2019
I'll also be praying for him. Pray for his health, his growth, his family, and that he would cease from leading people into slavery to worldly philosophies in his (I assume genuine) desire to combat sin (Colossians 2).

— William F. Leonhart III (@WmLeonhartIII) January 24, 2019
What a hot steaming mess @TGC has become. À Dieu…

— P E T E O P P E L (@PeteO76) January 23, 2019
They don't have Gospel in their name while promoting many things that are not Gospel (in fact some go against the Gospel).

— Robert Sakovich (@robsak72) January 24, 2019
@JemarTisby This provocative call is nothing more than provocative and does not reflect on the Gospel.

— David J Rios (@DavidJRios) January 24, 2019
Thanks, but I think I'll rely on God to convict me of my sin.

— Terry Terrell (@TMTerry) January 24, 2019
We're not following sinful ways for not apologizing for something we didn't do. Unemployment for minorities is at its lowest. That helps those in need. But you didn't mention that act of love bc you don't like our president. This article is divisive. @TGC you're trying to fit in.

— Robin (@with_love_robin) January 24, 2019
tChurch is not a social justice network. Its sole purpose is to reconcile the lost to Christ via tGospel & I apologize for nothing. Col3:11 Where there is neither Greek nor Jew, circumcision nor uncircumcision, Barbarian, Scythian, bond nor free: but Christ is all, and in all.

— But_Now_Salt (@BWSchank) January 23, 2019
These tweets explain a great deal about conservative white evangelical support for Donald Trump.  I wish I had them when I was writing Believe Me.