The Johnson Amendment is the news again.  As you may recall, the Christian Right has been trying to remove Lyndon Johnson's 1954 addition to the tax code for a long time.  The amendment bars churches (and other non-profit entities) from endorsing political candidates.
Here is Jacob Lupfer's recent piece at Religion News Service:
But since we now have this debate every time Congress has to pass a tax bill, let's at least be honest about what is really at stake here.
If, hypothetically, Congress ever does repeal the Johnson Amendment, a lot could go wrong, and probably would. Democrat-aligned groups would demand that bureaucrats censor sermons. Republican advocates would have to answer for why they cheered as churches devolved into Super PACs.
As Maggie Garrett, vice president for public policy at Americans United for the Separation of Church and State, recently told me, "Changing the law would allow endorsement activity to permeate throughout tax-exempt organizations, transforming them from charitable organizations to tax-exempt partisan campaign organizations."
The question is, in short: How much more damaging and obnoxious do we want politicized religion to become in this country?
We already live in a world in which Trump's most eager evangelical lap dog, Southern Baptist megachurch pastor Robert Jeffress, hosts the Fox News All-America Christmas Special from his church. This event gives us the obscene spectacle of Trump disciple and hack journalist Todd Starnes standing in the pulpit where Baptist legends like George W. Truett and W.A. Criswell once preached.
The Johnson Amendment works great, protecting us from our worst instincts in religion and politics, and saving us from ourselves. Well, most of us.
Read the entire piece here.
Here is what I wrote about The Johnson Amendment in Believe Me: The Evangelical Road to Donald Trump: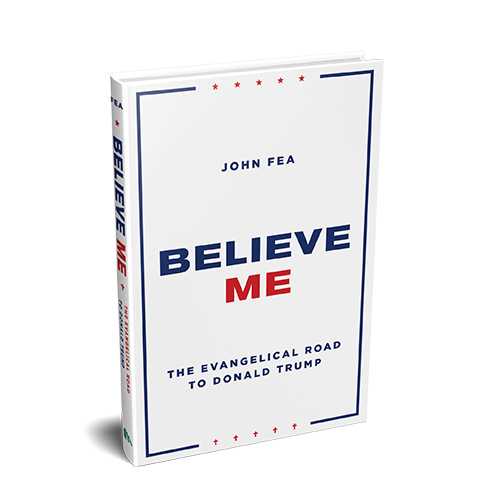 Another religious-liberty issue that concerns many of the court evangelicals is the clause in the IRS tax code commonly referred to as the Johnson Amendment.  The Johnson Amendment is a part of the code that forbids tax-exempt organizations such as churches from endorsing political candidates.  Since 1954, when the Johnson Amendment was added to the code, only one church has ever lost its tax-exempt status for violating it.  Trump first learned about the amendment during some of his early meetings with evangelicals in Trump Tower.  Since that time he has become fixated on it: he realized that the IRS would not allow evangelical pastors to endorse him or any other candidate without losing their tax-exempt status.  Trump promised his evangelical supporters that, if elected, he would bring an end to the Johnson Amendments.
For many evangelicals and their followers, Trump fulfilled that promise on May 4, 2017.  In an outdoor ceremony a the White House, with court evangelicals and other religious leaders by his side, Donald Trump issued an executive order on religious liberty.  Section 2 of the order included the statement: "In particular, the Secretary of the Treasury shall ensure, to the extent permitted by law, that the Department of the Treasury does not take any action against any individual, house of worship, or other religious organization on the basis that such individual or organization speaks or has spoken about moral or political issues from a religious perspective."  The statement was a reference to the Johnson Amendment without explicitly naming it.  After he signed the order, Trump told the faith leaders present: "You're now in a position to say what you want to say. . . no one should be censoring sermons or targeting pastors."
Court evangelicals cheered the new order, but in reality it did absolutely nothing to change the Johnson Amendment.  The order was little more than a symbolic gesture meant to appease evangelicals and keep their support.  What may have been a public relations victory for Trump and the court evangelicals did not amount to anything because the president does not have the authority to change the tax code–that job belongs to Congress.  And when Congress did overhaul the tax code in December 2017, the Johnson Amendment was not removed.
But the attempts to repeal the Johnson Amendment exposed something deeper: a serious flaw in the way that many conservative evangelicals think about the relationship between church and state.  According to a 2012 poll, eighty-six percent of evangelical pastors believed that clergy should not endorse political candidates from the pulpit.  Those who do want to endorse candidates from the pulpit, and have turned the Johnson Amendment into a political issue, seem more concerned about freedom of speech than they are about the way this kind of political partisanship undermines their gospel witness. There is an old Baptist saying about religion and politics that goes something like this: "If you mix horse manure and ice cream, it doesn't do much to the manure, but it sure does ruin the ice cream."  When the government starts telling evangelical pastors what they can and cannot preach in terms of theology, biblical interpretation, or ethics (even sexual ethics), we have a problem; but the Johnson Amendment is not this kind of problem.  Evangelicals should be thankful for the Johnson Amendment: it is a useful reminder from an unlikely source about the spiritual dangers that arise when sanctuaries are used as campaign offices.