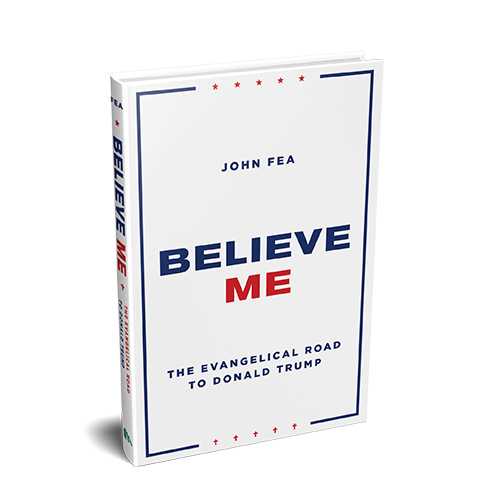 Over at First Things John Wilson, bibliophile extraordinaire and former founding editor of the now defunct Books & Culture, lists his "Favorite Books of 2018." Believe Me: The Evangelical Road to Donald Trump did not make the list.  Or did it?
Here is a taste:
If you've followed this list in the past, you know that I huff and puff a bit about its ritual nature. I enter a trance-like state (suburban surrealism!), and book covers begin to swim about in my head, incongruously paired, as beautiful as the canonical chance encounter of a sewing machine and an umbrella on an operating table. (Consider for instance the first three titles in the list below.) In this reverie—sometimes with snapshots of pages flickering—I jot down titles on the back of an envelope without attempting any sort of "balance" with regard to subject matter or any other criteria. Today's list would differ at least a bit from a list composed two weeks ago or two weeks hence.
Many books I've enjoyed this year are missing, not to mention those that might very well have been included but which I haven't yet had a chance to read: Uwe Johnson's Anniversaries, for instance, and Christopher Miller's study of literary impostors. Many important books are missing; John Fea's Believe Me: The Evangelical Road to Donald Trump is the most salient example. While I dissent from John's argument in some respects, I am grateful for his clear, uncompromising witness against the "court evangelicals" toadying to Trump, a witness not restricted to the book itself but amplified in settings all around the U.S. during a months-long book tour.
Read John's entire list here.
We also made the list of neuropsychologist Jason Kanz!