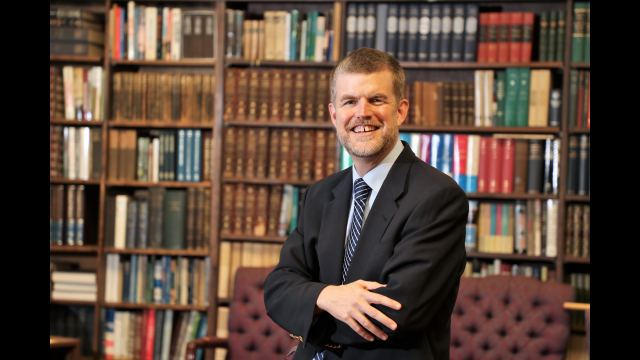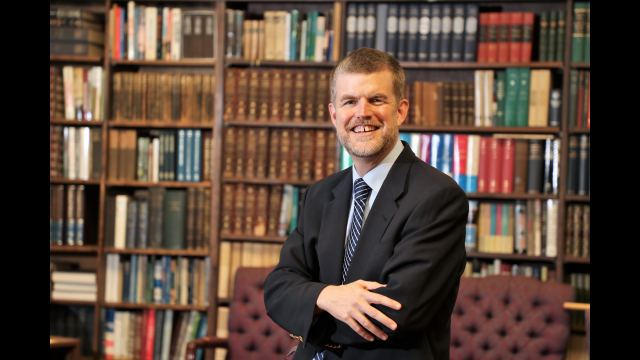 He is the inaugural holder of the James Vardaman Endowed Professor of History at Baylor University.  Well deserved, Tommy!
Here is a taste of the press release:
WACO, Texas (Oct. 18, 2018) – Award-winning author and historian Thomas S. Kidd, Ph.D., has been named the inaugural holder of The James Vardaman Endowed Professorship of History at Baylor University.
Kidd, who joined the Baylor faculty in 2002, is a Distinguished Professor of History in the College of Arts & Sciences and serves as associate director of the Baylor Institute for Studies of Religion, where he also co-directs the Program on Historical Studies of Religion.
The newly endowed professorship is named in honor of beloved Professor Emeritus of History and Master Teacher James W. Vardaman, Ph.D., who died in January 2018 during retirement from a 33-year teaching career at Baylor. The professorship was made possible by gifts from Vardaman's former students and other members of the Baylor Family, including a lead gift from the Eula Mae and John Baugh Foundation.
"We are grateful for the Baugh Foundation's support," said Baylor President Linda A. Livingstone, Ph.D. "Through their incredible generosity, they have provided sustaining, significant funding for our department of history through the establishment of The James Vardaman Endowed Professorship, and they have paid tribute to one of our most beloved educators and researchers. Dr. Vardaman's legacy continues to inspire through the professorship that bears his name, as evidenced by the many former students and colleagues who contributed to the fund in his memory. We are grateful for the resources to retain Dr. Thomas Kidd in this distinguished position, furthering a legacy of excellence in teaching and leadership at Baylor."
The focus of Kidd's research is 18th century North America, particularly the history of evangelicalism, and he teaches courses on colonial America, the American Revolution and American religious history.
He is a prolific author whose books include "American Colonial History: Clashing Cultures and Faiths," "Baptists in America: A History," "George Whitefield: America's Spiritual Founding Father," "Patrick Henry: First Among Patriots," "God of Liberty: A Religious History of the American Revolution," "American Christians and Islam" and "The Great Awakening: The Roots of Evangelical Christianity in Colonial America."
"Endowed professorships are critical to Baylor's future in order to recruit outstanding new faculty, confer added distinction and support upon exceptional current faculty and to help Baylor to reach its goal of becoming a nationally ranked Christian research university," said Lee C. Nordt, Ph.D., dean of the Baylor College of Arts & Sciences. "The Vardaman Professorship is a perfect example of honoring one of our former greats by conferring his name to a new endowed position assumed by a current faculty member of similar stature."
Kidd won a 2006-07 National Endowment for the Humanities Fellowship that designated his research for "Great Awakenings" as a We the People project, a special recognition by the NEH for model projects that advance the study, teaching and understanding of American history and culture.
Kidd's 2017 book, "Benjamin Franklin: The Religious Life of a Founding Father," has received high marks for its analysis of Franklin's beliefs, and was named one of the 2017 Top 10 Religion and Spirituality Books by Booklist Online. Two of his books, "God of Liberty" and "The Great Awakening," earned an Award of Merit from Christianity Today.
In addition to his books, he writes for the Evangelical History blog at "The Gospel Coalition" and also regularly contributes to The Washington Post, The Wall Street Journal and other media outlets.
"Since joining the Baylor history faculty, Thomas Kidd has become the most prolific historian we have ever had," said Barry Hankins, Ph.D., chair and professor of history. "In addition to winning numerous awards and citations for his work, he is generally recognized as one of the foremost experts on the history of religion in America. He is also one of the few historians who bridges the all-too-wide divide between the academy and the rest of the culture."
"Dr. Thomas Kidd is a visionary scholar who brings his research into the classroom," said Kim Kellison, Ph.D., associate dean of humanities and social sciences in the College of Arts & Sciences and associate professor of history. "Countless graduate and undergraduate students have benefited from his teaching and mentorship."
Kidd earned a B.A. in political science and an M.A. in history from Clemson University, and completed his Ph.D. in history from the University of Notre Dame in 2001.
He received a Baylor University Outstanding Professor Award in 2010, and has received faculty awards from Baylor University Student Government and the Baylor Graduate Student Association. In 2007, Kidd was named a "Top Young Historian" by the History News Network.