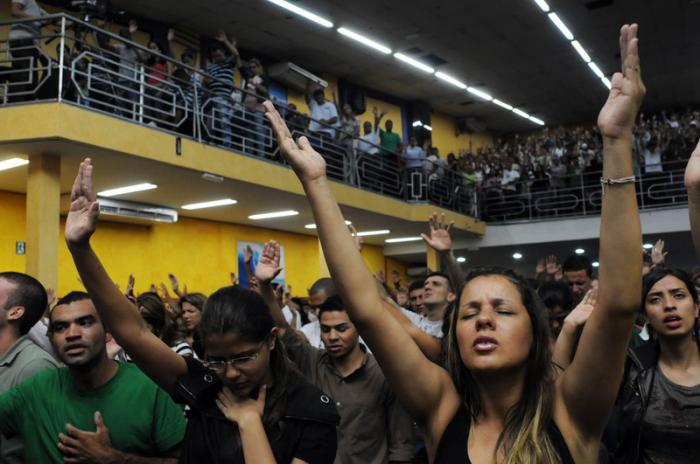 No, it is not. I think John Turner is correct in his recent piece at The Anxious Bench blog.
Here is a taste:
John Fea, in what has become a must-read age-of-Trump blog about American religion, quotes from C.S. Lewis's Screwtape Letters in a recent post:
Let him begin by treating the Patriotism or the Pacifism as a part of his religion. Then let him, under the influence of partisan spirit, come to regard it as the most important part. Then quietly and gradually nurse him on to the stage at which the religion becomes merely part of the "cause", in which Christianity is valued chiefly because of the excellent arguments it can produce in favour of [the cause] … Once you have made the World an end, and faith a means, you have almost won your man, and it makes very little difference what kind of worldly end he is pursuing. Provided that meetings, pamphlets, policies, movements, causes, and crusades, matter more to him than prayers and sacraments and charity, he is ours-and the more "religious" (on those terms) the more securely ours.
It's possible that I am entirely misreading the present climate, but if one did not know anything about religion in the United States and merely relied on media coverage of contemporary politics, one would presume that evangelicalism is a political movement. A HUGE majority of evangelicals typically vote Republican, and an even HUGER majority voted for Donald Trump (just about the least Christian major-party nominee since … perhaps Richard Nixon?). [As an aside, it's worth noting that Australia now has an openly evangelical prime minister]. The relationship between Trump and a small number of men and women whom John Fea terms "court evangelicals" receives considerable attention, as has the fact that large majorities of evangelicals support Trump's policies on matters such as immigration. And this week President Trump hosted a dinner for his high-profile evangelicals supporters at the White House. Sadly, my invitation got lost in the mail.
Evangelicalism is first and foremost a religious movement.  It is a movement that celebrates the centrality of the cross, the born-again experience, evangelism, service, and the inspiration of the Bible.  Yes, there are American churches that bring politics into the pulpit, but the majority of evangelical churches do not dwell on politics.  Most clergy do not think it is a good idea to preach on political themes or endorse candidates.  I have yet to find an evangelical church with a "politics ministry."
Evangelical congregations are primarily concerned about living holy lives of faith–a vertical relationship with God.  When most evangelicals think about moving beyond the walls of church, they think primarily in terms of missionary activity, serving neighbors in local communities, caring for the vulnerable, feeding the poor, and exemplifying acts of compassion.  I would even argue that this is true of evangelical churches and ministries run by court evangelicals such as Robert Jeffress, Franklin Graham, and others.
Because the day-to-day acts of compassion and love performed by evangelicals rarely make headlines, the general public only sees politics.  And because many evangelicals have not thought deeply about political engagement, when they do try to bring their faith into the public square it usually results in a big mess.
All of this reminds me of the generation of early American historians who tried to make connections between the First Great Awakening and the American Revolution.  Rather than interpreting the First Great Awakening as a religious movement, many historians, driven by their Whig sensibilities, seemed to suggest that this deeply spiritual movement was only useful for what it told us about the coming of American independence.  In the process, they failed to understand this important historical event.
Today, when we define evangelicals or evangelicalism in a solely political way, we get a  very limited understanding of what the movement is all about.  Turner's post is a good reminder of what really happens in evangelical congregations and para-church ministries.