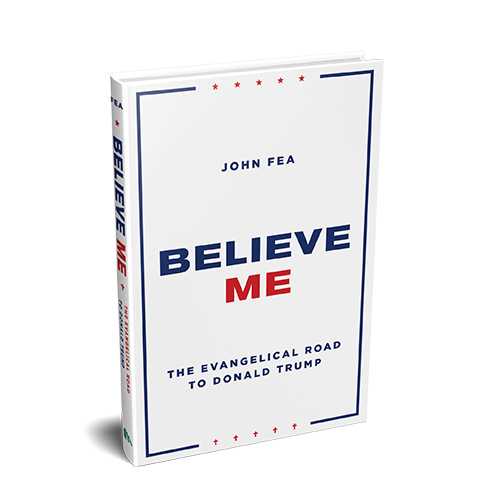 The Believe Me book tour is coming to Chicago.
September 24, 2018, 6:00pm at The Seminary Co-Op Bookstore at the University of Chicago.
Here are the details:
Join Things Not Seen's host David Dault and author John Fea for a live podcast recording and discussion of Believe Me: The Evangelical Road to Donald Trump. A Q&A and signing will follow the discussion.
At the Co-op
RSVP HERE (Please note that your RSVP is requested but not required.)
About the book: A historian's discerning, critical take on current American politics.
"Believe me" may be the most commonly used phrase in Donald Trump's lexicon. Whether about building a wall or protecting a Christian heritage, the refrain has been constant.
And to the surprise of many, a good 80 percent of white evangelicals have believed Trump—at least enough to help propel him into the White House. Historian John Fea is not surprised, however—and in Believe Me he explains how we have arrived at this unprecedented moment in American politics.
An evangelical Christian himself, Fea argues that the embrace of Donald Trump is the logical outcome of a long-standing evangelical approach to public life defined by the politics of fear, the pursuit of worldly power, and a nostalgic longing for an American past.
As insightful as it is timely, Fea's Believe Me challenges Christians to replace fear with hope, the pursuit of power with humility, and nostalgia with history.
About the author: John Fea is professor of American history and chair of the History Department at Messiah College in Pennsylvania. He is a self-described evangelical, a recognized expert on the historical influence of evangelicalism in American culture, and an award-winning author.
About the interlocutor: David Dault is the host and executive producer of the award-winning radio program Things Not Seen: Conversations about Culture and Faith. The show is heard weekly in Chicago in WYLL 1160 AM and is distributed nationwide through PRX, the Public Radio Exchange. Along with Fr. Dan Horan, he co-hosts The Francis Effect, a podcast that explores contemporary political issues through a lens of Catholic faith. He is a graduate of Columbia Theological Seminary and received his Ph.D. in theological studies from Vanderbilt University. Dr. Dault currently holds teaching appointments at Garrett-Evangelical Theological Seminary and Loyola University Chicago, and serves as a visiting scholar for thelogy and media at the Lutheran School of Theology at Chicago. His book, The Accessorized Bible: Scripture as Commodity and Ubiquity, is forthcoming from Yale University Press, and Dr. Dault is the authorized biographer of Old Testament scholar Walter Brueggemann. He lives with his family in the Hyde Park neighborhood of Chicago.
About Things Not Seen: Things Not Seen: Conversation About Culture and Faith is an independent radio show and podcast that features in-depth interviews with nationally recognized guests. Each week, we welcome authors, musicians, politicians, filmmakers, and more. Learn more at thingsnotseenradio.com
Event Location:
The Seminary Co-op Bookstore
5751 S. Woodlawn Ave.
Chicago, IL 60637
See map: Google Maps