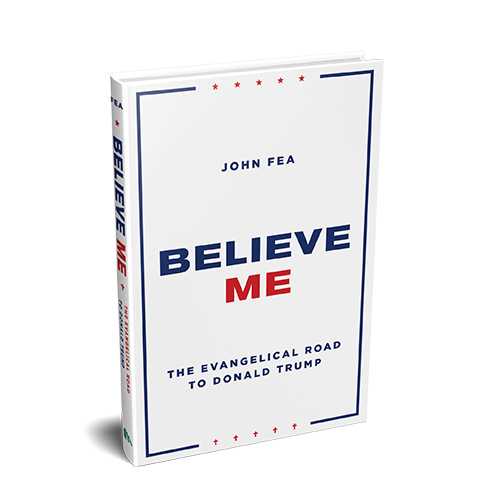 I get this question all the time.  Too many times to count.  This is the kind of question I should expect after writing a book about evangelicals and Donald Trump in which I suggest that "fear" motivated evangelicals to pull the lever for Trump in November 2016.
Some folks have tried to turn the tables on me.  They have accused me of being afraid of Donald Trump's presidency.  One Trump-voting blogger recently suggested that I would never have written such an "impassioned book if not motivated by fear for what Christian support for Trump was doing to the church's witness."
I have never thought of myself as a person of the Left, but I can understand why my critics put me in this box.  I prefer to think about the world from the perspective of my Christian faith.  Such an approach means that I don't feel comfortable in either of the two major political parties in the United States.  As a Christian, I believe that fear is inevitable.  It is a natural human response to change.  I think American history confirms this.  Nativism, xenophobia, racism, Christian nationalism, etc. are all products of fear.  Fear is the product of a broken–I would say sinful–world.
In other words, I expect human beings to be fearful.  But I also see Christianity as a counter-cultural faith.  If the world is defined by fear, then Christians must always counter fear with hope–not a rosy liberal optimism, but a deeply theological approach to hope rooted in eschatological faith.   Having hope in the midst of fear is not easy to do. But if I am, or have been, fearful about what Donald Trump's presidency will do to the republic or the church,  I am not living up to the demands of my faith.
I think there are a lot of folks on the Left who are afraid of the damage Trump will do, and is doing, to American democracy.  I expect them to be fearful.  I did not write Believe Me to tell them not to be afraid.  But for me, as a Christian, I agree with Pulitzer Prize-winning novelist Marilynne Robinson when she says "Fear is not a Christian habit of mind."  I wrote the book to my tribe.  And in this case, my tribe helped carry Donald Trump to the White House.